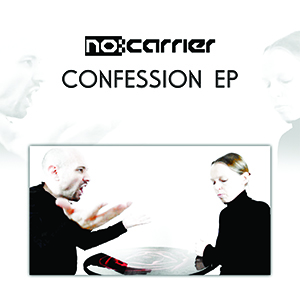 17 February 2014
There is a long history of fantastic Synthpop duos—*Neil Tennant* and Chris Lowe, Vince Clarke and Alison Moyet (or Andy Bell), Marc Almond and David Ball—and the list is endless. So, standing out amongst these large-looming figures can be tough and intimidating but no:carrier, comprised of Cynthia Wechselberger and Chris Wirsig have attempted just that, and are releasing their new EP very shortly, entitled Confession. The EP, which can only be described as stunning, has carved no:carrier their own path, and the group has fantastically found a way to stand out from the pack by taking all of the history before them to create something new.
No:carrier are clearly influenced a lot by the idols of Synthpop, and they have listened well. Specifically, they have taken a lot of notes from the industrial-pop-crossover of Depeche Mode, and inserted some dancier elements of the genre courtesy of Soft Cell or Pet Shop Boys. There is an element of jazz to their sound, or self-described by them as Electro Noire, and there is a slight similarity to a similar idea struck upon by Gary Numan in some of his criminally underrated albums later in his career. But their influence isn't limited to the 80s, because they've learned well from the Trip Hop of 90s acts like Portishead.
These are a lot of names thrown about, but it means that no:carrier have taken bits and pieces from every single aspect of electronic music, and created something purely and of their own. There are so many aspects, in fact, flowing in and out of their music—from industrial clangs to the spoken word style of Tennant—that instead of losing themselves in their influences, they've created something refreshing and new as well as a history lesson for fans of Synthpop and the uninitiated alike. no:carrier will release their Confession EP on the 24th of February.
comments powered by