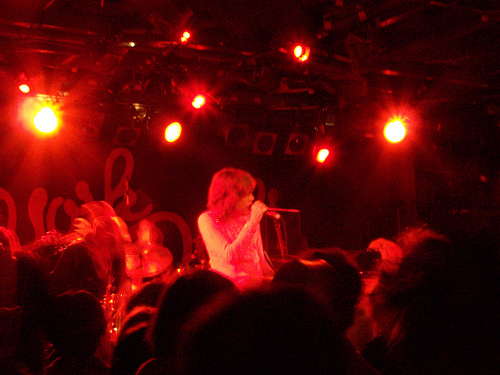 18 February 2008
I've been a fan of THE NEW YORK DOLLS since I was 16 and a high school friend made me a copy of their first, self-titled album on a cassette. He had also copied IGGY POP's then most current album Brick by Brick on the A-side of the 90-minute tape and since it's longer than 45 minutes, it took up about 10 minutes of the B-side, too. This didn't leave quite enough room for the entirety of the Dolls LP, but it didn't matter. I was hooked. While I can't say that I've listened to Brick by Brick (or any of Iggy's other solo albums past Zombie Birdhouse) in at least a decade and a half if not more (though I'm a big fan of his first three solo albums and of THE STOOGES as well), the Dolls side really stuck with me. I found the Mercury double LP with both of their early '70s studio albums in a record store in my hometown when I was 18 and while I love both albums, I regard the first one as one of the finest rock and roll LPs released by anyone, ever. I know I'm obviously not alone in making this determination, but all of this is just to indicate that when they reunited in 2004 at MORRISSEY's behest for the Meltdown Festival in London that year, I was really, really excited. I was happy to report that their first American appearance that year at Little Steven's Underground Garage Festival was a stunning success, despite the fact that they only got to play about forty minutes and that even though BO DIDDLEY was there that day as well, they didn't invite him up to play "Pills." Regardless, despite having only two original members (singer DAVID JOHANSEN and guitarist SYLVAIN SYLVAIN) and having only played for a short time, they were tight and energetic that day in front of the hometown crowd. Similary, when I saw them the following year at Irving Plaza, they ended up playing a high-energy, rockin' set galvanized by the hometown crowd after a slow, sluggish start.
Since that time, they released an improbable comeback album, 2006's surprisingly pretty good One Day It Will Please Us to Remember Even This, and I was looking forward to seeing them play these songs live. Specifically, I was wondering how they would translate live and if they would mix it with all the old classics. Unfortunately, on this night I have to say that the answer is not very well. So what was the problem? Well there was the awful sound to start off with. When I found out about this show, I was both curious and a little mystified that they were playing in a facility usually used for wrestling and boxing matches. In fact, in the '90s it was the local ECW (a then popular professional wrestling circuit) arena. Since professional wrestling and punk rock were connected in the '70s (most famously through THE DICTATORS, the Dolls' mid-'70s contemporaries and one of their eventual successors), this made sense, at least on one level. Unfortunately, though, the sound was so intensely awful, with the customary heavy bass, echo and boom that made even cavernous places like the Electric Factory here in Philadelphia or Roseland in New York, sound good, that I had trouble hearing Sylvain's and STEVE CONTE's guitars and David Johansen's vocals on many occasions throughout the evening.
Furthermore, much like the last time I saw them, they started out very slowly, playing a sloppy, out-of-tune version of the first LP classic "Looking for a Kiss." After their cover of the JANIS JOPLIN classic "Piece of My Heart." the band got better. It seemed that all of a sudden, they got tighter and the sound even got a bit better. After an inspired version of "We're All In Love" (the opening track on their last album), it seemed like they would redeem themselves. Unfortunately, though, this song as well as a rockin' "Babylon" (from their 1974 album Too Much Too Soon) were brief respites from an evening of mediocrity. The crowd, mostly full of younger punk kids in their teens and twenties, didn't even seem to be into it, and even though the good-natured Sylvain (whose 57th birthday was on this day) tried to whip up the crowd on more than one occasion, it just didn't work, although it was nice when his lady friend brought out a cake and the entire crowd sang "Happy Birthday" to him.
Regardless, the Dolls failed to take advantage of their brief momentum by dulling the temperament of the crowd with what seemed like an endless amount of songs from their last album. While I like that record, I wish they would've balanced their set better with the older material that most of the crowd invariably came to hear. By the time they got to such classics as "Jet Boy," the aforementioned "Pills," and "Trash" (my favorite), it was too little and too late. I was so bored, in fact, that we left before the encore. As odd as it was to leave the arena with the opening chords of the classic "Personality Crisis" audible outside, I knew it was the right decision as I'd seen enough.
The photo above is used with permission and from the flickr account of xrayspx and was taken on February 16, 2008 at the Paradise in Boston.
comments powered by