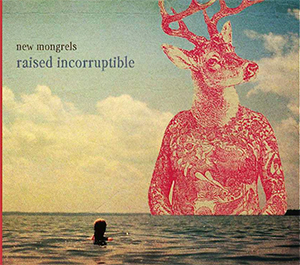 12 January 2014
The New Mongrels come with the impressive claim of existing for 148 years. Band member Haynes Brooke named the band after the "Smythe County Mongrels Society" founded in the 1860s by civil war veteran and Brooke's own great-grandfather, Harry. The Mongrels in this new formation have existed since the 90s as a large ensemble cast of circulating musicians creating American folk including members of groups such as the Indigo Girls.
It's been more than fifteen years since their last album. "The Mongrels are an unwieldy bunch to coordinate – and everyone has their own artistic pursuits," says Brooke. "The time has to feel right for a record to emerge." Well, with the release of their new album Raised Incorruptible this January, the time certainly sounds right.
Whether unintended or not, the focal point of this album is not the lyrics, or at least it shouldn't be. The lush and carefully constructed instrumentation and the terrifically beautiful harmonies are both often so superior and as a result overshadow the words that it becomes an album unnecessary to immerse yourself entirely in.
It's a fantastic record to just listen to and enjoy, and it even has the potential to affect you emotionally on a surface level. Even the New Mongrels' earlier recordings sometimes lacked the material to back up everything else, but as a whole they always deliver an entirely genuine and heartfelt product.
As I said, however, the harmonies are truly beautiful here, and it no more evident here than on songs like "Raised Incorruptible" or "Two Trees." The cast may be numerous and even unwieldy to manage, but they pull it off seamlessly as one cohesive unit, working together to create something more harmonious and pure than most folk today.
Although it's been more than a decade since their last outing, Raised Incorruptible picks up right where they left off. The band sounds tighter than before and the chemistry is even stronger. They might have already existed for 150 years, but one can only hope the New Mongrels will exist for 150 more. Raised Incorruptible is set to be released January 14th.