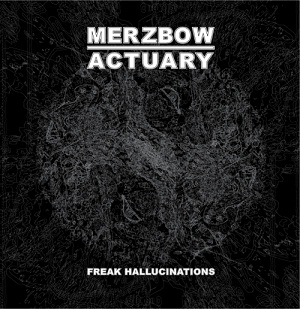 17 October 2012
Though Merzbow's Masami Akita is probably the single most prolific noisemaker in the world, his vinyl output has been extremely sparse. On this rare 12" outing, he joins forces with San Pedro's premier black-grind-noisemongers for an epic release that will be a worthy addition to any noise fan's collection.
Merzbow's side presents "Sugamo Flower Festival," an extended track that nods to his squiggly squelching in the '90s that defined albums like Electric Salad and Metalvelodrom. There's even a bit of the electric throb heard on Pulse Demon about halfway through the piece. It's a classic Merzbow track that asserts his dominance in the genre and proves that he is still the reigning king of noise.
For their side, Actuary bring three eerie tracks, haunting soundscapes forged from the deepest, darkest nightmares lingering in the subconscious. Ritualistic synth tones meander under over-modulated static and demonic voices. Cavernous bells reverberate against ear-splitting frequencies on a great wall of noise, and warlike rhythms summon the screams of an anguished fallen angel spewing his hatred for all that is heavenly. This is an unsettling suite of turmoil, psychosis and blackness, a fitting soundtrack for the darker side of Halloween.
In the end, this 12" is a perfect encapsulation of the noise genre, what it is and what it can be. The old guard meets the new in a celebration of mutual admiration. The master taught his disciples well.