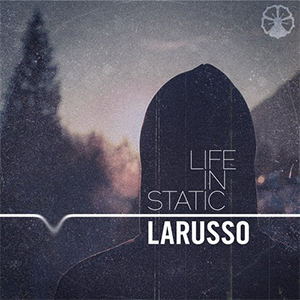 5 June 2014
Gone are the days when I could hop on my bike, effectively leaving the suburbs of New Jersey, and ride down to the Lawrence Shopping Center where I would grab a slice, rent 10 Things I Hate About You from Blockbuster yet again, and buy an extremely overpriced MxPx CD from Sam Goody. At least twice a month I get this itch, and each time I fall apart knowing I never can. The only way I can participate in my youthful activities ever again is to relive my pop punk days with bands like Larusso.
On their new album Life in Static, the Salt Lake City quartet craft an alternate universe where alternative/pop punk never really left the mainstream charts at all, ball bearing necklaces and lip rips never went out of style, and Scott Raynor never left Blink 182. I must admit, in my heart there is a soft spot and a guilty pleasure for pop punk, but thankfully Larusso is so good it doesn't make it embarrassing to love them at all. The lead single "The Voice" is a beautifully melodic song, championing the sincerest side of the genre and best representing the strengths of Life in Static.
Influenced by bands like Yellowcard, Larusso clearly wear their hearts on their sleeves. On songs like "Daniel With An L" and "Recovery" the band clearly prefer the tugging-at-the-heartstrings style rather than the humorous side than tends to over-saturate the scene, but they casually throw in songs such as "Set Phasers To Fun" to show they obviously don't take themselves too seriously. Towards the end is the stunning, piano-led "Take Me Away", and the album closes with the gorgeous acoustic "Chemical" replete with harmonies and strings. Life in Static is an album definitely worth checking out, due August 15th.
comments powered by