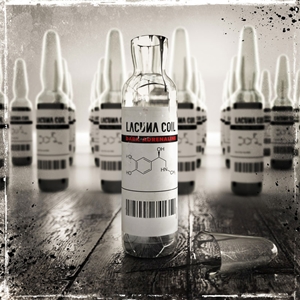 23 January 2012
I would like to think that my opinion of Lacuna Coil has not been altered by their increasing relative popularity. I do remember thinking nearly a decade ago that their third full-length, Comalies, was a watershed moment in their career and that they wouldn't be my friend Joe's and my little secret band anymore. That thought was crystallized as their two subsequent both peaked in the top 30 on U.S. Billboard. Was that fact what contributed to what I perceived as each getting progressively less good? Personally, I don't think their success, necessarily, has gone to my or the band's heads.
A more telling reason for the band's decline since Comalies is the increasing American crap metal influence. The bi-product of success is having to tour more and that they have – with the likes of shlock bands like Korn (I hearby coin the term "Kornholed"). The producer for this and the previous album, Don Gilmore, has a résumé that reads more like a "who cares" than "who's who?" of acts. Linkin Park is the heaviest band that he had worked with previously. Bullet For My Valentine? Avril Fucking Lavigne? Granted, every producer has their share of clunker credits. Rick Rubin is hardly above error. Even Steve Albini probably has a few he would take back. It's ultimately the band's duty to find the right person to help make the best record possible. They are not without blame.
The truth is the band was at its best when being its most European and mysterious. Their music used to be able to envelope you. Cristina Scabbia's voice was a clarion call for your surrender. Now, they sound overly slick and neutered. There is a distinct simplification that comes across most obvious in the basslines. The hypnosis is no longer as effective. Scabbia's voice is still incredible but the dream-like aura surrounding it has dissipated. "Kill The Light," is the true standout track as the band strikes its best example of heavy and celestial. One thing that has gradually improved since the band's inception has been the interweaving of Scabbia and co-vocalist Andrea Ferro ("The Army Inside,"). Ferro used to be the downer on every track but he has improved and provided the balance that he was always intended to deliver. The album's first single, "Trip The Darkness", "End Of Time", and "Intoxicated," are the other tracks that really sticks in my mind. Their cover of R.E.M.'s classic "Losing My Religion," is a miss compared to their previous cover of "Enjoy The Silence," but who hasn't covered that song? The real crime is that there is a fifth excellent track but only available on the iTunes version. I've never understood why people (like me) who like to enjoy physical copies are punished in this fashion.
It actually pains me a bit to write this because, as I said, I was a huge fan of Lacuna Coil's and the album is actually good on the whole. It's just not special. I want to lose myself in it but it is just too uneven. The tracks I love, I love. The tracks I don't, I really don't. Dark Adrenaline can take solace in at least knowing that it is the band's best album in 9 years.