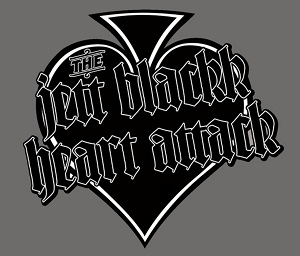 27 September 2010
The Jett Black Heart Attack take it all the way back to the 70's with their debut album Needle to the Groove. Don't call it a flashback, but the band must have certainly been looking at those old Creem Magazine from back in the days of bands like KISS, Angel & The Godz.
Opening up with the title track (and the once familiar sound of a record needle cracklin' on vinyl), lead singer Dave Case (also of Helmet) states:
"When i was young my world was spun by the sound a record needle made / rock n roll on 33's and 45"s,i knew right then my soul had been saved."
The modus operandi of Jett Black Heart Attack is what we used to call hard rock. Economical guitar breaks, 4 on the floor drums and lyrical content about what's important in life: getting laid and rocking out . Crunchy guitars abound on songs like "Hit And Run" and "Little Miss Untrue". At no point do the vox get historonic (ie Axl Rose) and the songs are all under 5 minutes. The band gets in, gets out and leaves smoke coming out of your stereo. This is music that was meant to be played out of big ass speakers or a modified Plymouth Duster.
comments powered by