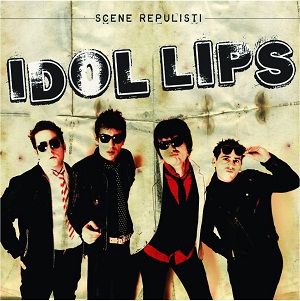 29 August 2012
White Zoo Records does it again! This little Italian/Spanish label sets a high standard for quality and, so far, every single one of their releases has been a number one hit barn burner. Scene Repulisti is no exception, establishing the label as the foremost purveyor of Mediterranean punk.
Idol Lips are a party punk band – loud, raucous and drunkenly in-your-face in that Humpers and Johnny Thunders and the Heartbreakers way. It's the kind of music that makes you want to guzzle beer amongst friends in your favorite scummy punk rock dive while the band plays a most awesome set that makes the hangover the next day totally worth it. The songs are tight but loose, sloppily controlled in that Brian James-era Damned way. "You Gotta Choose" drags you out of your seat and demands you to dance, and "More Than Fun" is bass-heavy and rollicking in a drunken stupor. "D.T.K." nods to The Humpers' "Zombie," while the opening "Down by L.U.V." owes a bit to The Candy Snatchers' "Buzzsaw" before adopting a full-on Thunders sneer. There's even a stellar cover of Rik L Rik's "Soul Power" to round out the excellence.
Forget whatever trendy crap Pitchfork is pushing – this is the punk rock'n'roll that should be blasting from your turntable. Get some cheap beer, invite some friends over and blast this LP til the neighbors complain. Hell, you only get two days off, you may as well enjoy them!
comments powered by