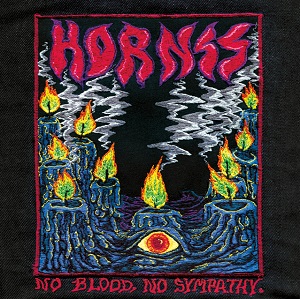 30 May 2014
Rising from the wreckage of San Francisco punk band, The Jack Saints, Hornss erupt with volcanic ferocity, boldly announcing their existence with a debut album that sheds the confines of two-minute trash rock in favor of slower tempos and outright heaviness.
Immediately, No Blood, No Sympathy attacks with bone-crushing fuzz, though honestly, it's more a return to the members' roots than a total transformation. Many moons ago, guitarist/vocalist Mike Desertt and bassist/vocalist Nick Nava played in Solarfeast, a Hawkwind-fueled California desert noise rock band. Even the first Jack Saints demo, Are Those 4 Tracks on Your Arm?, bore the marks of desert icons like Kyuss and Fu Manchu. Now, with drummer Bil Bowman and about 20 years of playing together, Mike and Nick have focused the sum total of their energies into their best album yet. Rather than take the easy stoner rock route of Cathedral worship, Hornss mix things up by blending Saint Vitus headiness with Motörhead rage and Melvins might. It's heavy, but exciting, encouraging beer-fueled nocturnal orgies on sandy white plains rather than conjuring old men plodding through muddy swamps in iron boots.
As sad as it was to hear that The Jack Saints were no more, Hornss more than make up for it with this awesome slab of savage fury. Turn down the lights, put on a horror movie, crack open a beer and zone out on the sheer volume of No Blood, No Sympathy because it feels so damn good.