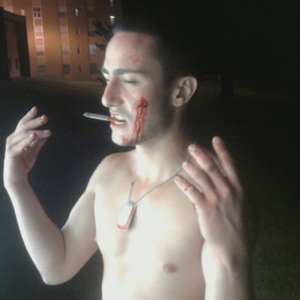 1 April 2012
Jawdropping new cassette-only release from all around badass Nashville label Jeffery Drag. Ghost Dance, from small town Missouri are captured here spitting blood and starting fires in the infamous confines of underground Nashy venue, Mt Swag.
First in the set is the straight ahead rock high-kick, "Fever Queen", a balls deep guitar laden attack that touches Hendrix 's "All Along the Watchtower" for good luck before driving it off the edge of insanity. This tour-tight band busts the next jam in your face, "Spazzzzzz" that loops a trippy slide guitar over hypnotic chugging riffs and the vocals howl and snarl, reaching that nasty plateau of garage brilliance I've mostly heard in Euro bands like The Monsters. Man, Ghost Dance is killing it by now, you can feel the walls getting sweaty and the swaying of moshing, charged up kids right through the mix! The on the topical "Tiger's Blood", they twist a demented four note riff right off the edge of the cliff before keepin 'er easy with a chiller tempo of hypnopsych like 90s era Flaming Lips, "It Tasted Good" gives way to the full charge again on penultimate set closer "Reptar". The final tune on this awesome little tape starts off comically with a bit of cel-phone interference and drops some high-speed garage punk doowop, which gallops to an upbeat trib to the grease-punks sound of 60 years ago.
Apparently some studio tunes are being cooked up as we speak and we may be treated to a 7" later this year. While we wait for that nugget, we got Live at Mt Swag: Vol 2 to rock the party, a moment of raw unadorned basement garage punk perfection wrestled to the ground like a beast and trapped on cassette.