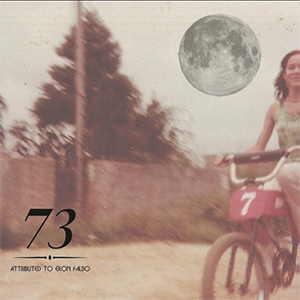 22 April 2014
Brazilian-born musician Eron Falbo is getting ready to release his debut album, 73, an album in which he very lovingly and accurately wears his influences of Bob Dylan, Leonard Cohen, and Johnny Cash, on his sleeve. Falbo sounds like a kid in a candy store on this album, grabbing and diving head first into any style and genre that interests him. He is such an exciting musician, it was enough to grab the attention of famed-Dylan producer *Bob Johnston*and bring him out of retirement to produce this record.
Falbo mixes the lyricism of Dylan and the phrasing of Cohen on the opening song, "A Baby-Step of Faith", a piano-led ballad that slowly builds velocity into a ghostly storm before falling apart just as it began. The next song, "Sacagawea's Son" continues the Dylan pattern, but Falbo's rougher vocals and the edge of it make this sound as if it could be a lost cover of Dylan from the late-60s buried deep within a Nuggets compilation.
Just about every song differs in style from the one before it and the one following it, and while that may suggest a lack of direction for others, it seems as if he exploring every angle of his influences from Country, Psychedelic, and even hints of Glam among others. It works because although he reaches out to anything that strikes his fancy, at the core and center of this album is Falbo's clearly definable personality—it's why the slightly R&B, dreamy stylings of "Only Me Too" can be followed by the rave-up cover of John Lennon's "I Found Out" without seeming incongruous at all.
There's so much life and excitement in this album, it's almost impossible not to love, and if that's not enough, the production and care to detail is sure to push it over the edge. There's a genuine love of music in Falbo's body, and it shows through in everything he does. It's a captivating record, if merely for the question of what great things are undoubtedly in store for Falbo. 73 will be released May 27th by Pisces Records.
comments powered by