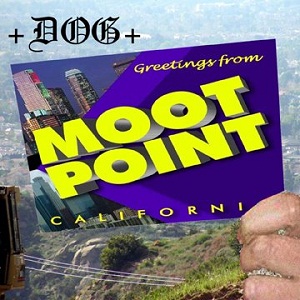 It seems like noise really is becoming the new punk rock. Sure, we can trace it back at least to the early electronic experiments of the 1950s, and perhaps even further to Edgard Varese, but when I hear an album like Moot Point, I can't help but think of the suburban angst that embodied the early LA hardcore/punk scene. In fact, this noise album is equivalent to X's Los Angeles, Circle Jerks' Group Sex or Black Flag's "Nervous Breakdown" EP, a seminal statement on life in the LA wasteland.
The track titles really say it all. The opening "Greetings!" sarcastically draws us into the banality of suburban Los Angeles, aka Moot Point, CA with pulsing static that builds to a rhythmic catharsis along the lines of someone enthusiastically proclaiming "Welcome to Hell!" "Beaten" is a near nine-minute drone punctuated by arrhythmic pounding, but it's really on "Meltdown 101/405" that the album truly gains direction. Here, static and feedback merge and collide, the soundtrack to tedium becoming road-rage at this torturous intersection of freeways at rush hour. "Endless Suburban Shitholes" follows with a railroad-like rhythm, the sound of driving on the freeways through the San Fernando Valley after a great night in Hollywood or Downtown LA. A wall of static-y feedback sums up "99.9% Stupid," while the quiet "Mist & Fog" recalls early mornings in the mountainous regions, and "Sherman Oaks Diaspora" describes the depressing mini-mall sprawl of Ventura Blvd. It all culminates to "Our Souls Being Sucked into Space," the delayed rumblings and squelches of tech-obsessed suburban culture as, bit by bit, their personalities beam to the stars.
I spent my first 22 years growing up in Los Angeles and, like those early punk releases, Moot Point perfectly encapsulates the experience of LA life for the outsiders who don't buy into the bullshit. Punk noise? Yeah, that sounds about right.
blog comments powered by

Disqus