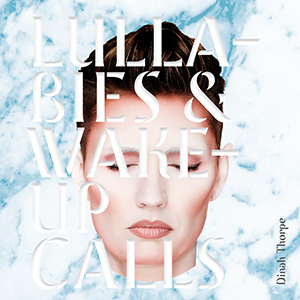 11 February 2014
Toronto's Dinah Thorpe is set to release her new album, Lullabies and Wake Up Calls, another offering of her perfect and unique concoction of art pop. Thorpe manages, somehow, to pull off a seemingly impossible feat of featuring sparse instrumentals while still managing to sound densely layered. Some songs like "Carsick" or "Mining For Gold" truly are spare in their delivery, but others like "Brick Wall" sound a lot denser than they actually are. Without sounding anything like the Velvet Underground, it's as if she went for their idea of recreating the Wall of Sound with as little instrumentation as possible.
Occasionally, Thorpe's lyrics have a tendency to hit you over the head too hard, and the meaning is sometimes too obvious, verging on the cliché, but every line is sung with such conviction and total confidence that she still manages to pull it off wonderfully. I'm usually not one for lyrics such as these, as much as I agree with her beliefs, but it's almost as if only she could perform songs like these and still do it so well. A song like "Morning Rush Hour in Cartown," for instance, is exactly about what you think it is, and it's as if she's echoing the prophecies of J.G. Ballard.
There are others out there today doing the same sort of art pop as Thorpe, but not only has she carved out her own individual brand, while others wile away their time with meaningless lyrics, few are as bold as Thorpe. Yet let it not be mistaken, while her melodies and instrumentation may be jagged at times, it is in no way abrasive, and often, paired with her vocals, the music is extremely beautiful. Her amazing, breathy vocals suit wonderfully to her socially aware and progressive lyrics, and the interesting melodies at play. Lullabies and Wake Up Calls will be released April 15th.