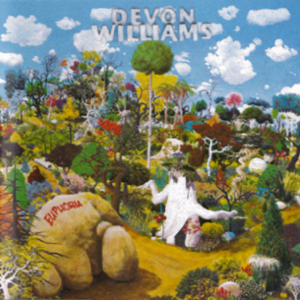 23 May 2011
Working in the same vein of dreamy, romantic West Coast pop as Jeremy Jay, but far less prolific and even more unheralded, Devon Williams is apparently in such little demand that he's been able to release his long-awaited second album in a cassette-only limited edition of 250 in March and still be selling them in May. Slumberland Records will give the album a more lavish (read: ordinary) release later this year, and favorable press will hopefully ensue, but for now, count the following among Euphoria's many charms:
1. It's sad that the cassette is now more of an aesthetic choice than a fully legitimized format, but I wonder how many of the bands on the Burger Records roster would see it that way. Warped, shimmering tapes are ideal for the trebly, opulent, full-color pop world of Devon Williams, but with him, the implication seems to be that an era ended too soon, and the new treasures of a form(at) are being withheld. Euphoria's tape sleeve, with its red block letters and "see label for sequence" advice, presents a lovingly generic homage, and the album ends in a similar what-could-have-been moment: sounds from the factory of 80s hit-making swell and assemble, promising an unannounced track 13, booming drums ready to carry the procession into a new "Method of Modern Love" before it all fades out, too quickly. I don't know of a better way to hear such sounds than on tape: somehow the album sounds expensive, but it's also as beautifully indistinct as the soft yet perfectly manicured cover art.
2. Speaking of the cover art: Its vision of a resplendent, tamed, natural paradise, paired with the silvered jangle of the music (as I once phrased it), is enough to almost make me believe Los Angeleno Williams as a Southerner. Let's Active's Cypress, so melodically sharp but also such a neglected byway of American pop music, would seem to be a very hard album to take as inspiration and rework into something new, but I reckon that's what Williams has done, dropping the dark reds and browns (from the cover art and the tone of the music) in favor of bright pastels. I single out Let's Active, as opposed to more distinctly Southern R.E.M. or their Georgian peers, primarily because Williams the singer owes everything to helium-voiced Mitch Easter and nothing to Michael Stipe.
3. "Silvered jangle" might imply that Euphoria avoids the sentimental, but the album is just as often syrupy and string-bestrewn, recalling the fine songs Bruce Johnston contributed to The Beach Boys' early 70s records. Think of "Disney Girls (1957)" when trying to imagine the weary nostalgia of "Tired of Mulling," etc.
4. Euphoria's drums (and the instrumentation in general, let's say) arrive via the theory of "Don't Talk (Put Your Head On My Shoulder)," from that earlier but just as important Beach Boys epoch. The body's response to love is generally more erratic on _Euphoria_—especially on the sublime opening pair of "Revelations" and "Your Sympathy"—than the steady, climactic heartbeats of "Don't Talk," but the queasy, timeless love is the same.
5. Williams' magnificent 2009 single "Sufferer" (its b-side "Who Cares About Forever" was even better) becomes Euphoria's centerpiece, unchanged but even more potent amidst eleven more songs of the same shaky, yearning flush.
6. 2008 debut Carefree was much better than carefree, but Euphoria is the right word this time. Devon Williams has created an album that's sometimes downcast but always visionary; Euphoria must be a place.
comments powered by