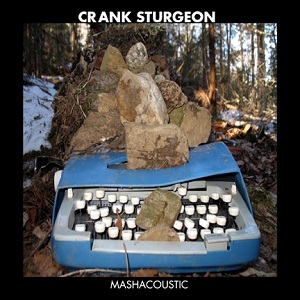 7 January 2012
For twenty years or so, Maine's Crank Sturgeon has assaulted audiences and listeners with dadaist, performance art-based noise. With Mashacoustic, the veteran of mass distortion joins the Love Earth Music imprint.
Mostly, the tracks on this umpteenth release sound like the squelch of a short wave radio without an antenna. High and low frequencies collide among static while metal-on-metal grating, a super-distorted acoustic guitar and various power electronics swirl in a furious storm of sound. It's reminiscent of Merzbow's earlier recordings, i.e., Antimonument and Batztoutai with Material Gadgets, before Masami Akita settled into his wall-of-noise staple.
There are exceptions, of course. The opening "Floodganges" is spoken word beat poetry that seems to be a dig at the hipster contingent, and the 37 seconds of "Hyepheyphyepyepheyp" recalls Non's "Make Red," only much less sinister in tone, almost more a party loop. "And His Last Chup" could be a blues player having an epileptic fit. The final "Forty Candles; Live @ the Apohadion 2.26.11" gives us some insight into the humor, psychosis and confusion of a Crank Sturgeon gig, with Mr. Sturgeon's voice being heard interacting with his equipment and the audience, asking for beer and discussing his performance in the middle of said performance.
Few bands last five years, let alone twenty. Crank Sturgeon's longevity is a testament to his passionate drive to make absurdist aural art. It may not be the easiest thing to listen to, but there's a certain silly fun traipsing through all the squelch and static that makes the painful frequencies all the more endearing. Here's to another twenty, forty or sixty, and a few more after that for good measure just to make sure we all got it.