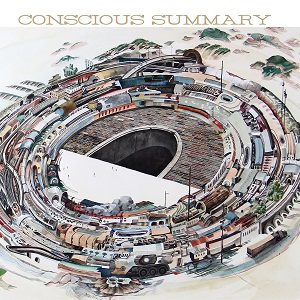 10 October 2012
Known primarily for harsh noise, Love Earth Music branches out every now and then, delivering genre-bending releases that solidify its status as LA's most important noise/experimental label. While it contains elements of harsh noise, Conscious Summary's 7" effectively departs from the mold, bringing more music than power electronics.
"Prescription: Lullaby" starts things off with a bit of psychedelic folk pop. Though generally upbeat, a darkness lurks overhead, the black cloud in the sky sure to bring on a bad trip. Honestly, it sounds more like a Syd Barrett solo recording than a noise track, and that's not a bad thing. On the flipside, "Saw Is Bird" begins with the fluctuating static and squelching tones that have come to define LEM's releases, though almost halfway through, the psychedelic folk pop returns, this time a lumbering traipse through mushroomland. It gains speed and the trip becomes more intense until, just like that, it's over and we're back to normal, at least as much as we can be under the circumstances.
This release truly pushes the boundaries of experimental music. Obviously, it's not the first time acoustic guitars, over-modulated distortion and pop sensibilities have come together, but they have never done so in quite this way, which is what makes Conscious Summary so unique in their approach and, subsequently, makes this 7" an important release that further broadens the spectrum of experimental music.
comments powered by