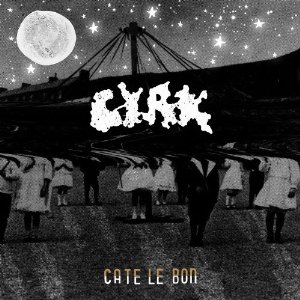 3 February 2012
Let's consider for a moment Cate Le Bon's "Ploughing Out Part 1," the way I first heard it, removed from the "Part 2" that locates its hidden energy, blasts it open and resolves it in the realm of barely contained noise, thus ending her new album CYRK. "Part 1" begins as a gentle, reflective acoustic number, reminiscent of that brief moment in time (1967) when quietly joyful guitar could help render a lightness in Nico's voice that one might not have otherwise suspected. The song continues in that mode, and then, after Le Bon is "just happy to be here," fifteen seconds from the end, when the listener anticipates only an effortless ebb (though a smart one might note the threat of subtle crests earlier on), comes the teasingly bold denouement, of sorts: the bass commences four measures of rising notes, easing off a little at the end of each one but still the enemy of melodic resolution, gathering the other instruments into an intensifying swirl. It's the sort of thing that might be played on cello in a baroque pop number or that might have had orchestral surroundings on Imperial Bedroom, but the moment rises on its own buoyant logic. And it's absurdly, beautifully impractical.
Of course, in the world of two-part mini-epics, trying to say something about that song-ending energy without knowing what "Part 2" does with it would be like hearing The Damned's "Smash It Up Part 1" and trying to explain that band's smashing masterplan. As for "Ploughing Out," the erupting frequencies of "Part 2" inherit those rising notes and fulfill their potential, eminently, but the moment is almost more remarkable out of context, where energy accumulates unbeckoned, and with nowhere to go, a sure sign that something dangerously weird is afoot in the musical world of Le Bon.
Everywhere else, too, CYRK thrives on the tension embodied in that song. Le Bon is the former protégé of Super Furry Animals' Gruff Rhys, and two albums in she's every bit as formidable an existentialist noisemaker, creating songs of oddly languorous intensity and obsession, ultimately caring only for rock 'n' roll but making it endlessly flexible, silenceable. Opener "Falcon Eyed" lays on alarm clock shredding (how else to describe it?) right after a mid-point drowsy lull in energy, immediately suggesting the rhythmically unmoored solos of Trout Mask Replica, but the point, or challenge, of Le Bon's compositions is to break the rules in every particular but not in the resulting whole. "Falcon Eyed" ends up an unquestionably stable product, against all odds, but takes liberties in the coloring.
Those are some of the album's breezier moments. When things get more dire, gone is circa '67 Nico and arrived is Nico circa '70, or Frida Hyvönen, though Le Bon sounds too perpetually tired to work her voice the way those women do. You might call Hyvönen and Le Bon sisters in opposition, both defined by what is solid in their songs and what isn't. For Hyvönen it's the fullness and weight of her voice on a slippery field of non-rhyming. For Le Bon it's the music that compels her, the loose gravity of the melody that keeps her together. "Now is not a good time to leave me on my own," she sings on the title track, and one imagines she's singing to the music that's backing her up. She might just float into space without it. Think of the way some of Kim Deal's more modest compositions can seem stuck in idle (most of The Breeders' Mountain Battles, for example: a rattle, an echo, a central melodic idea, anything more?) but how in their conjuring as music they always contain such obtuse energy that they challenge notions of the sleepy with bone-cutting rock 'n' roll. CYRK, too, cuts bones on the edge of a dream.
comments powered by