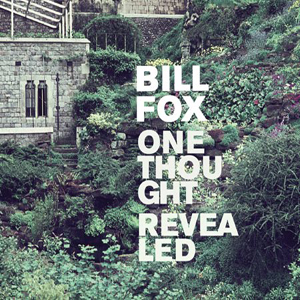 1 March 2012
It was with a sense of great revelation and mystery that I unpacked this simple, spartan new CD from iconoclastic Cleveland songwriting legend Bill Fox . Bearing the same traits as his last two full lengths (1996's Shelter from the Smoke and 1998's Transit Byzantium ), enigmatic, somberly pretty urban decay adorned by irrepressible Nature and Bill sitting on a couch, a little obtuse and unassuming, wearing seemingly the same shirt as on the Transit cover. Though the aesthetic is similar over the decades, musically this CD is a hefty departure from the four track reveries of Fox's oeuvre of the late 90's.
At this point, I have to digress into utter subjectivity and confess my huge love for the music of Bill Fox. However enigmatic, private and idiosyncratic his person is in the world, I don't care. If he had been forever lost in obscurity, those two albums of his (especially Shelter From the Smoke ) would be enough to sustain me for the rest of my life. It's a desert island album to me, one that's so transporting and has been transported by me to poignant and perfect moments in my life. As much as any spiritual or iconic Dylan tune, songs like "Let In the Sun" and "Get Your Workingman's Things" and well.. the tunes on Shelter have seen me though every travel situation, heart break or calloused schlep and darkness of spirit I've ever had to drag my ass through. In my own personal universe these songs qualify as Gospel, as simple empathetic epistles to moments, in time, with people, in places. I've been a sound proselytizer of the Bill Fox gospel, chucking on the CD on a long drive with friends or putting it on after a morning-after breakfast and joint, always having those within earshot stop and ask "Who is this?", smitten immediately. Timeless songs recorded crappily but coherently on a basic platform in a guy's living room that carry with them all the poetic underdog pathos of everyone from Blind Willie Johnson to The Who. The songs Bill Fox writes are so fundamentally real and vibrant they transport you right to where you're supposed to be if you're any sort of dreamer at all, they become part of your synaptic tapestry, in the Folkways archive of your mind and memory. I could go on, but nothing that I can say on a broader scale could rival the article written by Joe Hagan in a 2007 issue of Believer (it's not online but I do have a copy sent to me by Hagan himself, if you know me, email me and I'll pass it on) describing his uncovering of Fox's music and subsequent obsessive and failed attempt at contacting Fox for an interview. Where I differ from Hagan is I have been waiting, like the other distant sparks of Bill Fox fans I know are out there, for new music from the guy for almost fifteen years. To minimal pomp and fanfare, this comparatively shorter collection of songs is that lightening bolt out of nowhere has just casually and quietly been released on Jar Note.
I won't lie to you, I was a little jarred by the piano, organ, sax and random percussion throughout this new clutch of songs, least of all prepared for some idiosyncratic production and heavy digital reverb in the mix. Then I reflected a bit and ask myself what I really expected… why I should even have expectations about someone who resolutely makes music on his own terms, fully, surrounded by people who are friends. I relate entirely to that and with that mindset, immersed myself into the songs, grateful that we've all been given a little more. Opener "Whithering Soul" , with it's dark mariachi tempo and fluttering-ly distorted psychedelic organ line keening over top almost seems like it could be penned by Nick Cave, a transporting and simply beautiful melody with a dagger of sinister and cynical poetry acting as spine. We segue into the lilt of "Rock That Shades The Valley Heart That Shapes The Stone", kind of an easy going cowboy rambler with gorgeous lyrics that bear that overture of redemption and allegory in simple images like a "…gentle sundeck that waits for the dance of some dreamy daffodils." Next, "Babylonia" draws from a well of pure Carter Family picking and grinning under a reverie of words and images from the end-of-days that then tumbles into the cloud-scattered bounce of the yearning "Existence".
"Moonlight Staggers on a Lonesome Toe" conjures up the same heady vibe as the album's lead track, with organ and piano weaving in and out of the hypnotics of the driving chords and phrases. "Round the World" showcases one of the things Fox is so adept at; describing simple global concepts and the minutiae of society and it's organization and evolution using simplified and coarsely gorgeous words: "there's treasure in the fields out across the plains / it's also in the heart of man. / and nothing to despair as the earth goes round / it's gentle everywhere you stand.". I admit right here that the second to last track "Wreck of Mind" is too obscured by a huge, clattering and over-verbed percussion track to properly absorb the song, but that quickly gives way to the foreboding anti-lullaby of "When Darkened Skies Flash Out a Portent", a gentle, concise and fitting end to as troubling, captivating, poetic, literate, simple and cutting a Bill Fox album as his last two.
I love and respect this artist and care not how he does what he does, or if he wants to tour, disappear, or claim the inevitable throne of legend that would be his if he felt like claiming it. But I get why not, too, as much as it relates to my own struggles with poverty, aspiring through ugliness, mental illness and the immensity of simply being alive in this world full of knives. I will always support everything he does on it's own merit and expect nothing while appreciating everything. Sure, this could have been recorded with a cast of his fans (Nada Surf , M. Ward and Bob Pollard to name just a couple) in a big studio with vintage reverb tanks and mixed by the best and released on colored, gate-fold vinyl and maybe he would have played SXSW and appeared a time or two on a late night TV show and toured for a bit and been reified and deified in everything he does, like you're supposed to, right? Or Bill Fox could surprise us every decade or so with his hard-wrung ballads, recorded on whatever is around with some good old friends in garages and living rooms on cheap mics and 8 tracks. I will accept the latter, because it's all I ever want from anyone is that they live on their own damn terms. It's what I get from the music and for that I thank the man. If there was any chance that Bill Fox would read these words I'd tell him right here how thankful I am for the music. It's a hard fuckin' life and Bill Fox's music makes it better and a little easier to be alive.
Download an mp3 of "Whithering Soul" from Donewaiting.com HERE.
Order One Note Revealed with paypal from Jar Note HERE.