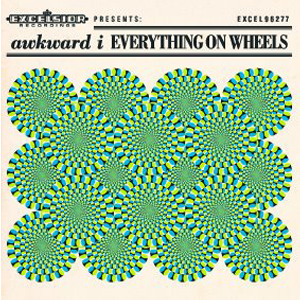 2 October 2011
Awkward I is the moniker of a Djurre de Haan , a young songsmith from Amsterdam who's mined a fresh new talent to emerge clutching a ream of engaging and mature tunes in his newest offering Everything On Wheels.
I'll be the first to say I cringe at the overdone occurrence of strings and glockenspiel in the modern rock tune (check both here), but the assured-ness and strength of the song writing transcends these perhaps overused colors. From title-track opener thru the wry humor of "Let's Get Ready To Die", the songs unfold easily, layer upon uncluttered layer, till the shining centers are revealed, and soon after they fall away into ever shifting and surprising patterns.
There is a classic ability and a return to a folky finger-picking style that's avoided typically in North America as a maudlin device but in awkward i's capable fingers employs the technique like cult-favorite folk masters like Roy Harper and Nick Drake. This finger-picked lilt underpins sweet and short portraits like "Sat Pretty, Lips Pursed", giving way to a denser Paul Simon -esque tumult on "Hannah Hung Heavy". Two parts of "Your Oxygen Mask" takes us onto darker-toned sonic turf before the sun comes back up on the happy-go-lucky skip on "Am I My Brother's Keeper?". Penultimate closer "The Unknown Character" weaves a painterly tale over evolving chords and the last tune "Your Autograph" is a dark lullaby sung a capella over a droning organ tone.
A very full, lush and charming album by one of Western Europe's brightest new lights, if you missed Awkward I's recent shows in North America, here's hoping the infectiousness of the music draws enough attention to bring him back again to grace our willing ears and hearts with his music.