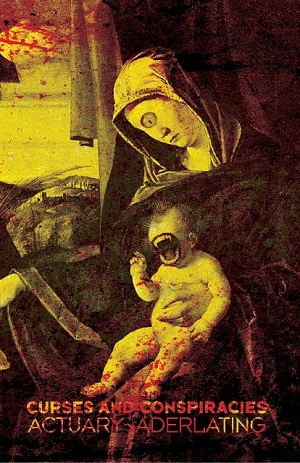 9 February 2012
Love Earth Music have been expanding their roster lately and this release (yes, it's a cassette) shows how the label is helping to both expand and define the boundaries of noise. Here, two bands from different extreme metal genres from different parts of the globe collaborate by supplying each other with percussion tracks.
Torrance, CA's Actuary describe themselves as grindcore, though their music here is more akin to being fed through a meat grinder in slow motion so as to feel every excruciating moment in detail. "Interior Interloper" is just such a car crash with frantic screaming, chaotic beats whirlwind noise. The following "Feat or Famine" slows the pace down with sinister war-like drums and tortured, distorted voices foreboding an apocalypse for all who care to listen.
Hailing from the Netherlands, Aderlating's black metal is spastic, frenzied and just plain insane. Their opener, "Goat Mass," sounds like an Abruptum LP being played at 78 with a middle part that could be Krzysztof Penderecki performing with Tod Dockstader, while "Sadist Devil Children" is a tornado of blast beats, low-end rumble, spoken vocals and frantic screams. It could be what goes on inside the head of a schizophrenic nun during a Latin mass.
It's painful, but also euphoric, endorphins flooding with every strike of the cat o' nine tails. The flesh tears, bleeds and scars. Just think, somewhere out there tonight someone is paying large sums of money to be abused by a dominatrix. Besides, when's the last time you bought something on cassette?