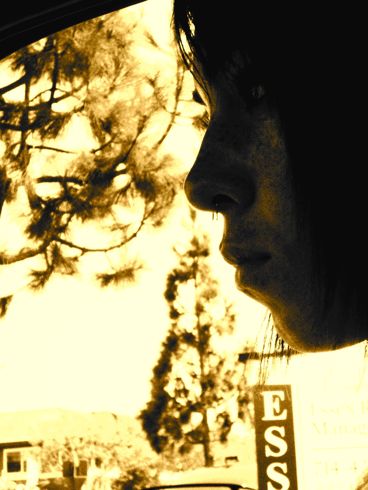 16 January 2011
One of the most moving releases I heard in 2010 was the 90-minute cassette entitled Ornitheology, by a mysterious individual by the name Chubby Wolf. Two long, 40-minute long songs that recalled beautifully the best moments of Brian Eno, yet the two songs struck me as something more…more. In doing research, I discovered two things about this mysterious band: a. that Chubby Wolf was the moniker of Danielle Baquet-Long, who performed in a group entitled Celer with her husband, Will Long, and, sadly, that Danielle had passed away suddenly, at the tragically young age of 27.
Her passing made the already sublime music on the Ornitheology tape even more meaningful. I had only discovered her music posthumously, but its beauty and its magic made me feel her loss to be even more tragic—already, I was enamored, but I also knew that, aside from a previous album, there would be no more new Chubby Wolf music.
Then I read a message from her husband, Will, and it made me smile: more music would be forthcoming. I felt compelled to send him an email, as I wanted to know more about this beautiful woman's music, and because she deserves to be known, if only after her was cut too short. After you take the time to read this, I implore you to seek out her music. You will not be disappointed—and though the masterpiece of Ornitheology is currently out of print, as you will read below, it is soon to be reissued—along with a ton of other (we can safely assume) equally beautiful music.
How did the two of you meet? Was it through music?
Dani and I met in August of 2001, through some mutual friends, on a beach in California. However, that was only a short meeting, and afterward I went back to where I was living, going to a university in Mississippi, while she stayed in Santa Barbara, also attending school. Once I returned, I heard from her via Instant Messenger. She didn't tell me her name, or introduce herself; we just went directly into talking about things. I knew who it was though, just from reading what she was saying. When we started talking it was light outside, and by the end the afternoon had turned into night. Music really didn't become a part of our friendship until around 2005, which is also when we started a relationship together. Until then it was almost entirely an exchange of words through letters, packages, email and IM conversations, and inconsistent, random telephone visits. Until then we just exchanged CDr's of other artists music. Neither of us had really done anything with music before, but it seemed like something fun to do together, as 2005 was also the first time we lived in the same place.
From what I've read, Celer was a labor of love and a product of your relationship. What does the title mean, and how does the band name reflect that, if at all?
I think Celer was very much about who we were together, and what we could create through that inspiration. The terms of it were very loose, often spontaneous; sometimes following one person's idea, sometimes both. Sometimes it was inspired by a true event or feeling, and sometimes it was something we wished was true. Even in the circumstance of the latter, creating something with that theme and surrounding comfort made it true, in many ways. The title was really more of something we picked fairly randomly from an old letter in French, from her father in the 1970's. It seemed right, and unique. The symbolism of the meaning was really purely accidental, as it literally means 'to hide' or 'to conceal'. In many ways I think that's very reflective of our music, with so many of the sources being completely hidden from their origins.
When she became sick, did she seek solace in making music? Did it help her?
I think that when you look back at her history, through her incredible creativity and output, it shows greatly that her impulsive and drive to create was some kind of therapy for her, just getting it out. Unlike so many diseases, in many ways her problems were really directly related, and so many of the emotions are a result. Though there were some physical health problems as well, the majority of her sickness came from bipolar disorder, post-traumatic stress, and depression. I'm not sure how much her creativity really helped her, but I think it at least allowed her to bring her demons out into the open, and confront them, even if it was impossible to make them disappear. I think this makes it so apparent why there are so many varying themes in her music and the music we made together. It ranges on a very heavy scale, but always with the utmost sincerity, even if the result is more realistic than enthusiastic.
What was the significance of the name "Chubby Wolf?" To me, I felt it to be a silly name, perhaps representative of a keen sense of humor, which is something I pick up on when I look at her song titles.
Yes, the name 'Chubby Wolf' was really a joke. She hadn't ever planned to make music on her own, until some label friends asked her to make something solo, and she started. She didn't want to use her own name, and she also had many arguments about the 'seriousness' of the experimental music scene, finding so much of it dry and unadventurous, academic and unromantic, so she thought using 'Chubby Wolf' would be a fun joke. She wanted the name to be silly, but for the music to still be serious, having opposing, mixed messages. The name actually came from her dog, which was in fact a chubby wolf. She was the owner of two wolf dogs, and the girl dog was a little fat.
Ornitheology was two long, beautiful tracks of uninterrupted ambient bliss, whereas L'historie is smaller pieces. How would she record? Were those smaller bits edits of longer pieces, like on Ornitheology?
When she did any of her solo work, it was much more improvisational, and casual than anything we did together. There would be much more home-studio time with the music we made together, but with her solo work, she would usually just decide spontaneously on a setup or method to use, record something and finish it within an extremely short amount of time, then move on to something totally different. I think that when the entire Chubby Wolf discography (once it is released) is looked at altogether, it will be incredibly easy to see an enormous variety of styles, far more than the music we made together as Celer. She always wanted to do something different, just because she was bored doing the same thing over and over. For instance, Ornitheology was a series of long-form tape loops of voice and instruments that she made, however she recorded it live, also directly improvising (through the same effects setup) on top of the loops, but onto the same running tape, for the duration of each track. L'histoire was far different as well. It was all originally toy piano recordings that she processed and shaped into the very quiet, minimal and almost aimless, wandering, anti-climax pieces. So many of her recordings I'm still somewhat unsure about her process, as she consistently recorded over her source material, having only the final tracks remaining at the end. However, she also sometimes made alternate versions of albums, which is especially apparent in the forthcoming album The Last Voices. From what I can tell, it contains 3 different versions. The first is a single, 85-minute track (which was also split in half for 2 CDs), second is a 45-minute 'club mix', and third is 85 minutes of 30+ shorter tracks. Each is all from the same source material, just arranged differently, and with different structural formats.
You've also stated that there are more archival recordings forthcoming in the next year. What will these be, what are they like, and do they represent Danielle in a different way from the previous releases?
Yes, there are quite a lot of Chubby Wolf albums to come out this year. Hopefully most all of them will be released finally in 2011. I think each one represents her in a different, and unique way, also apart from our music that we have released together. Here is a rundown of her solo albums, to be released..
Turkey Decoy – Improvised, blissed electronics, sample-ridded electric guitar, voice, streaming, more song-based, quirky tracks. To be released as a 12" LP on Digitialis.
Seasick – A more experimental, deep and rushing album, heavily arranged with oceanic field recordings, cello/synth/violin analog drones, to be released on Mystery Sea.
Los Que No Son Gentos – Far minimal, tonal, but completely pure and blue, song-based with instruments and voice, all made with laptop processing. To be released on Dragon's Eye Recordings.
Days To Dismember/The Lows, The Sows – A double-EP combined as one album, of far more epic strings, organic electronics, guitar, voice, field recordings. She started this in 2005 as her first experiments with a reel-to-reel. To be released on Home Normal.
The Darker Sex – Semi-improvised, epic minimalism of instruments and voice, in loose-song structure. To be released as a 7" on Low Point.
Envelope Petals – Similar to Ornitheology, however set in a single, evolving track, more vocal-based, but possibly more lush and pure as well. To be combined with a full CD of remixes from artists such as mondii, Yann Novak, Lissom, Christopher Willits, Maile Colbert, and others.
Maudlin & Elusive – Similar to her more song-based, improvised electronics albums such as The Darker Sex and Turkey Decoy, yet a bit darker. Apparently it has a cover of The Neverending Story theme song as well, though I have no idea which one.. Release to be announced.
It's a Small Place To Be – Companion album to Maudlin & Elusive, in a similar style, but possibly more accessible, while remaining completely mysterious. To be released as a 12" on Students of Decay, and a CD later
on my label, Two Acorns.
The Stairway of Abstraction – A piece for an installation she made for the Winchester house in 2007, it is a continually repeating loop made from voice, piano, strings, and toy drum set. To be released on Two Acorns.
Ornitheology – Will be reissued as a 2CD on my label, Two Acorns.
Bouquets of Vancant Jouissance Live to radio recording she made in 2009, of improvised electric guitar, voice, and laptop. Highly unusual. To be announced.
The Blissful Cessation-A single half-hour track of improvised acoustic guitar and heavy realtime processing, release to be announced.
In addition to these, I am also planning to publish a book of her photography from India, Nepal, and Pakistan, as well as a series of books of her writing, containing her poems, random musings, notebook scribbles, letters, and various writings.
You've stated that because she was an integral part of the Celer project, you have retired it. Are you still making music?
Yes, it wouldn't really be the same doing it without her, and people would be equally confused as to whether it was material that she contributed to or not. So, I thought it best to just let it be what it was. Regardless, there are still quite a few of our albums to be released on labels this year, so that will continue to happen. For myself, I am still making music, though just because I'm very busy and have recently moved to Japan, it is taking a while to get started. However, I do plan to make music on my own, to run my label and be involved in everything as much as possible, and most importantly I'll start making new music with another person very soon as well, for a new project. Love, as always, is my only inspiration.