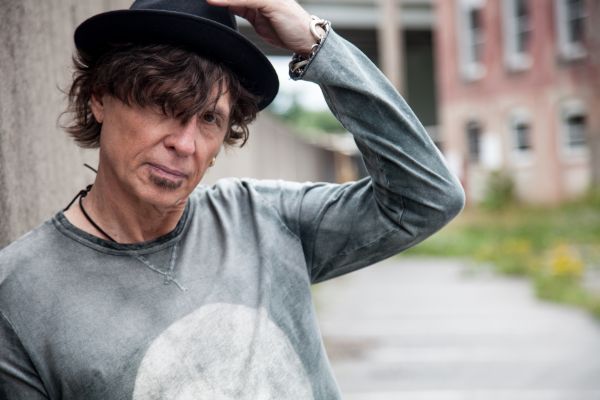 2 February 2018
Dave Goddess; Photo Credit: Peter Gourniak
The real thing. Deep down, we remember what that means. A voice that isn't auto-tuned. A band that's not sweetened to the point of blandness, but whose rifle-shot riffs shake you and whose message moves you. Songs that rock your soul and break your heart—ragged, urgent, full of spirit and power.
Songwriter, lead vocalist, and guitarist Dave Goddess of the Dave Goddess Group both seeks and finds the real thing in his self-produced new EP, Last Of The West Side Cowboys. Five songs that will reawaken your love of rock 'n' roll. And remind you why you loved it in the first place.
Known for their sweat-soaked live performances, DGG has built a devoted following in their hometown of New York City and beyond. And the buzz is growing louder. In fact, The Philadelphia Inquirer claimed, "Amid the drive and clarion uplift, Goddess has poured his heart and soul into the best songs of his life, songs that resonate deeply beyond their passion and energy."
The Big Takeover premieres the new video for the title track off the EP and Dave Goddess delves into the details of the spark of the song and the video.
In the words of … Dave Godess, "I live on 10th Avenue in NYC. A while back I heard a story that really sparked my imagination. Apparently, in the past there were trains that ran up the middle of the street bringing goods from the Meatpacking District to midtown. It was a very dangerous proposition. Many people were run over—mostly children. That stretch of road came to be called "Death Avenue." So the powers that be created the "West Side Cowboys"—a band of riders that led the trains up 10th Avenue, swinging lanterns and clearing the tracks."
"A quick Google search reveals that the Cowboys rode from 1850 to 1941. Eventually New York built what is now The Highline—an elevated platform to get the trains off the streets and the West Side Cowboys were out work. The final ride was taken by a guy named George Hayde on his horse Cyclone."
"I thought to myself, working cowboys in NY! If that's not song material, what is? So I tried to imagine the seedy Meatpacking District of 80 years ago with its tenements, prostitutes, and hundreds of slaughterhouses. I invented a backstory about George Hayde and wrote the tune about his last ride. When I was finished I realized that my song was just as much about obsolescence as the Cowboys themselves. What does a workingman do when his job goes away because times are changing? It's a scenario we're still dealing with today."
comments powered by