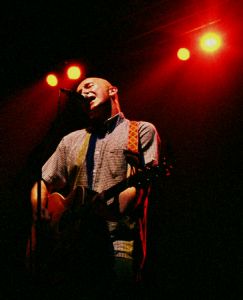 7 May 2006
GRANT MACLENNAN died in his sleep on Saturday May 6th, 2006. He was only 48 years old. It's been several hours since I found out the awful news, and I'm still stunned. This is awful not only because he died so young of seemingly natural causes, but also especially sad because it seems like he had so many great years of music-making still ahead of him.
Although I only heard them for the first time three years ago, I still consider MacLennan's band THE GO-BETWEENS one of my favorite bands of all-time. I was first exposed to them via their 1988 LP 16 Lovers Lane, my favorite album of theirs and one of the best albums of the '80s. I bought a vinyl copy of it at a record sale for $3 and let me tell me, it was the best $3 I've ever spent. After playing it incessantly during that summer of 2003, I was hooked. Eventually, I acquired their entire back catalog as well as most of Grant's and ROBERT FORSTER's solo records. I was also lucky enough to see The Go-Betweens (who rarely toured in the U.S.) play live last June at Southpaw. It was also a memorable evening because I met my girlfriend Anne at the show, which is another big reason why his death has hit me so hard despite the fact that I never met him or knew him personally.
In tribute to Grant, I played 16 Lovers Lane earlier tonight since it contains some of his finest songs. In fact it's a tour de force for both Grant and Robert Forster, but Grant's songs always stood out on that album. "Love Goes On, " "Quiet Heart," "Streets of Your Town," "Was There Anything I Could Do?" and "Dive for Your Memory" are all timeless classics and many of them were written about former Go-Betweens member AMANDA BROWN, with whom Grant was involved with romantically at the time. Fittingly, many of these songs are about the first rush of love as well as the day-to-day realities of being in a relationship with only the workman-like "Was There Anything I Could Do?" feeling slightly out of place in that regard. In fact, this was a constant theme in his work, though far from the only one. Regardless, "In the Core of the Flame" from the excellent 1986 LP Liberty Belle and the Black Diamond Express also stands out in this regard as does "This Night's For You" from last year's Oceans Apart, easily their best album since 1988 and the best of their three albums since their return in 2000 with The Friends of Rachel Worth.
While The Go-Betweens are a band who weren't nearly as appreciated as they deserved to be during the '80s, they seemed to have gained many new fans since their reunion. Here's to hoping that many others will continue to discover their fine back catalog and with it an appreciation of the songwriting gift that Grant McLennan shared with us in his all-too-brief life.
R.I.P. Grant.