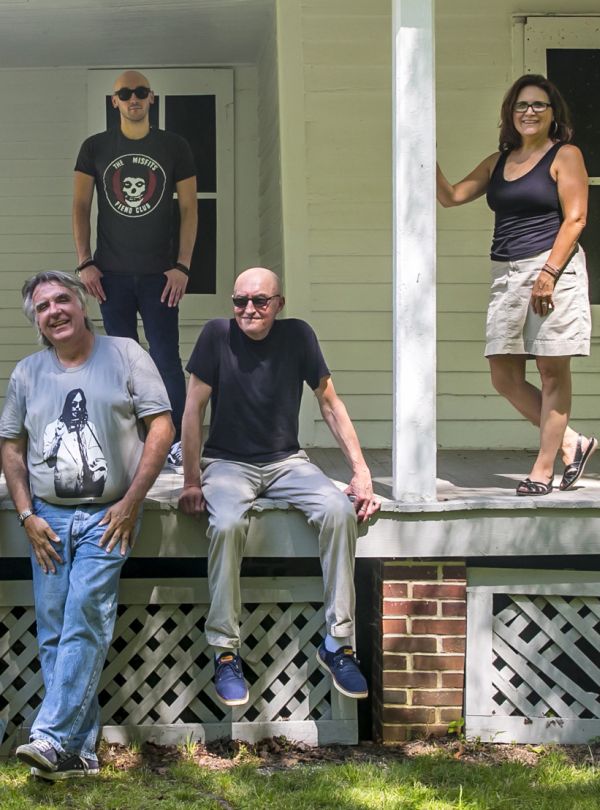 24 November 2017
Speed the Plough; Photo Credit: George Kopp
The Big Takeover is excited and delight to premiere a track off NJ-based veteran indie band Speed the Plough's upcoming studio album, …And Then. "Marina" is a mesmerizing indie folk stunner awash in plaintively bittersweet stringed instruments, restless piano notes, subdued acoustic guitar and bass, and dual male and female vocal reflection.
…And Then was recorded this year by John, Toni, and Mike Baumgartner and Ed Seifert, joined by former Speed the Plough bassist Dan Francia and drummer Ken Meyer (Life in a Blender, The Thousand Pities) at Mix-o-lydian Studios and at the group's home studio, Ruff Tracks. It's being released exclusively via streaming and download services, and also as a physical package with artwork, booklet, and download card on December 8th.
The album represents a return to the band's more stripped-down origins… sparse, a little psychedelic, heartfelt. And, in a departure for this outfit, this collection boasts a pair of covers – one by Eno and Bartok apiece; Speed the Plough are trying to keep good company! Two more tracks comprise an even bigger surprise.
Speed the Plough rose out of the ashes of The Trypes, a group formed in 1982 by the Baumgartners, Marc Francia and Elbrus Kelemet, and later joined by The Feelies Glenn Mercer, Bill Million, Dave Weckerman, Stan Demeski, and Brenda Sauter. The new album boasts two bonus cuts performed by the original members of The Trypes – John, Toni, Marc, Glenn, Brenda and Elbrus – revisiting songs from the band's beginnings.
The core trio of John, Toni and Marc began playing as Speed the Plough in 1984 and would lead numerous iterations of this outfit over the years, with alumni that included Rich Barnes and Chris O'Donovan (Wild Carnation), Stanley Demeski and Brenda Sauter (The Feelies), NPR host Jim DeRogatis, John Neilson (Wharton Tiers), and veteran DJ Frank O'Toole.
Speed the Plough released four full-length albums on the East Side Digital label: Speed The Plough (1989), Wonder Wheel (1991), Mason's Box (1993), and Marina (1995). In addition, they released a limited-edition single on the French label Acetone and had songs featured in two independent films: Strangest Dreams (1990) and Paradise Park (1993).
The highly-regarded indie label Bar-None Records released the Speed the Plough compilation, The Plough and the Stars in September 2013. The band's eighth album, Now, was released by Steve Fallon's Coyote Records in January of 2016, the first new release on that legendary indie label in more than two decades.
And now …And Then comes along – and comes home, showcasing a stripped-down, yet revitalized band that has been on a long and winding journey for almost three decades.
comments powered by