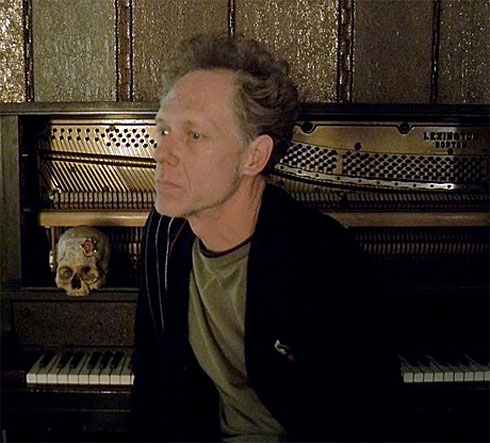 21 June 2012
In the bad news comes in twos (before it come in threes) department, drummer/engineer/producer Tim Mooney has also died recently, June 13. The news was initially reported by his longtime American Music Club bandmate Mark Eitzel who paid tribute to the fallen San Francisco (and Petaluma) fixture while wishing well to his surviving wife Jude and daughter Dixie. The excellent studio that Mooney had been active in South of Market in San Francisco, called Closer (yes, named after the Joy Division album), had shut down recently, or so I'd been told by my good friend Eric Moffat (who knew Tim better than I), when I inquired while in town a month ago, hoping to stop by and say hello. Now I (and others) won't get that chance again, alas.
Eitzel's announcement/tribute is here and Tim's Facebook tribute page is here
The cause of death was undisclosed (update: I've seen a report that the family now states: "We have received the results of the autopsy and the official cause of death was a blood clot, but they also discovered that he suffered a small heart attack recently, that we were oblivious to"); his age was 53; other details are still as yet unreported; but this much is true: He was a nice man, who was very patient with my endlessly peppering him with questions about his days (and recordings) in The Sleepers (1978-1981), one of the truly remarkable punk and post-punk era late '70s/early '80s bands of all time, as well as his association with the also incredible same-era bands Negative Trend and Toiling Midgets. Still going strong the following three decades, he added his signature mood parts and creative rhythms for AMC on a host of sensational albums. And Red House Painters fans also were familiar with his playing from his work last decade on both a Mark Kozelek solo record and a Sun Kil Moon album. Kozelek's tribute can be found here
Me, I guess I will remember him most of all from drinking with him at my old apartment/Big Takeover office in the East Village on Eldridge Street, when all of AMC stopped by one night after soundcheck before their show at Bowery Ballroom on their triumphant reunion tour. (I was interviewing them; the feature appears in issue 55 if yo u want to read it.) I just looked up the date — it was March 30, 2004. Tim and I talked Sleepers and Negative Trend for a solid half hour or so before he had to go back to the venue. I showed him some stuff I had on the Sleepers, including a compilation album he hadn't seen that included live recordings. It was fun. He was a real gentleman, I thought. And he seemed pleased to be getting lots of praise from a fellow drummer, while I asked him about his playing. The understated aspects of his style had always caught my ear, not only in AMC but on Joy Division-esque Sleepers tracks that still fascinate me like "Theory." (I remember being 18 and playing that track six times in a row, just studying how the drums were all but hiding, the tribal toms and pitter-patter playing nipping out behind corners.) Just remarkable work.
If you want even a modern example, never mind what he was doing in his 20s, just listen to "Ladies and Gentlemen It's Time" (in fact I began one of my breakthruradio.com shows with this very song two weeks ago!) and especially "Patriot's Heart," both from that 2004
AMC
reunion album that Tim also produced and engineered,
Love Songs For Patriots
, and listen to the way Tim's building, shuffling, unusual drumming takes two already gripping tunes and makes them
explode
as they go along.
Like late Sleepers singer Ricky Williams he will be missed!
If you want to contribute to his memorial fund, you can do it here via paypal or via checks to his wife:
Jude Mooney
13 Coady Court,
Petaluma, CA 94952
Here's two other links which capture what bands thought of working with him in his studio (he was also known for producing popular acts such as Portastatic, Her Space Holiday, Chuck Prophet and BT favorite Penelope Houston)
comments powered by