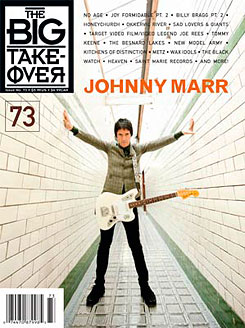 5 November 2013
Pre-order - Subscribe - Renew - Great gifts!
Subscribers: Update Your Address ASAP (if changed)
Once again the big news is that Big Takeover #73 Fall 2013 issue was completed in Brooklyn, NY, Helena, MT, and Oakland, CA this month! The issue stars ex-Smiths guitarist now solo star Johnny Marr on the cover, and features the concluding part twos of our awesome, long interviews with The Joy Formidable and the Bard of Essex Billy Bragg, as well as fabulous history interviews with Target Video film/video legend Joe Rees and Sad Lovers & Giants, while catching up with New Model Army, No Age, Tommy Keene, Honeychurch, and Okkervil River. (And shorter chats with Besnard Lakes, the reunited Kitchens of Distinction, Metz, Wax Idols, Heaven, The Black Watch, Saint Marie Records' Wyatt Parkins, and more!
It will begin shipping any day now, so you should see it quite soon! And remember, we only come our twice a year, every Spring and Fall, so you don't want to miss one of our jam-packed 140-page issues! Below is a quick description of its contents.
IMPORTANT: If you are a subscriber and you need to update your address, please tell us right away, as we need to have the shipping order ASAP. Send updates to me at jrabid@bigtakeover.com
And since the issue will soon be shipped to subscribers and stores, now is an excellent time to pre-order it if you would like to receive it, or subscribe if you've been meaning to, or renew your subscription if it has run out. And remember, Big Takeover issues, back issues, t-shirts, CDs (including the limited edition Springhouse CD album, From Now to OK), and our other fun stuff (Big Takeover beer cozies, magnets, buttons, signed posters, etc.) and subscriptions also make the perfect Holiday/birthday/whenever gifts! Especially in this time when we are all trying to economize.
And X-mas and Hanukkah are coming!
(NOTE ABOUT T-SHIRTS- NEW KID SIZES! In addition to our four mens and three women's sizes, we now offer six children's sizes, 2T, 3T, 4T, and onesies 6 months, 12 months, and 18 months! For the cool kid in your world!)
If you want to subscribe or renew or give the gift that keeps on giving, just go to our secure online Yahoo store (and feel free to indicate which issue you'd like to start with (or have your friends start with), issue 71 (Beach House cover) issue 72 (Joy Formidable cover),or the upcoming 73 (Johnny Marr cover). It's only $20 for four issues (save 23% off the newsstand price including average sales tax), or $32 for overseas, or $26 for Canada. Or, for those in the U.S. you can send us a check made out to "Big Takeover" for $20 to the following address:
The Big Takeover
1713 8th Ave. Suite 1-4
Brooklyn, NY 11215
NOTE THIS IS OUR NEW ADDRESS!
Or if you want to pre-order just the upcoming issue 73, you can send us a check for $6 to that address (or paypal to jrabid@bigtakeover.com) or order online.
Here, again, is what's in the issue:
Interviews
Johnny Marr (Smiths, cover) * Joy Formidable pt. 2 * Billy Bragg pt. 2 * No Age * Honeychurch * Okkervil River * early '80s U.K post-punk pioneers Sad Lovers & Giants * Target Video film/video legend Joe Rees * Tommy Keene * New Model Army * Besnard Lakes * Kitchens of Distinction * Metz * Wax Idols * Heaven * The Black Watch * Saint Marie Records' Wyatt Parkins, and more!
Editorials
Rabid: "Farewell to Maxwell's, Fond Memories, and The Costs of Gentrification" * Conard: "A Band Called Punk" * Sommer: "I Name the Most Underrated Artist of Our Time"
Live Reviews
Goat * The Lost Patrol * Mission of Burma * Real Estate (with The Feelies' Glenn Mercer and Cassie Ramone)
Hundreds of CD and Vinyl Reviews
Belle & Sebastian * Bevis Frond * Black Hearted Brother * Bye Bye Blackbirds * Camera Obscura * Glen Campbell * Neko Case * The Chambermaids * The Cheatahs * The Chills * Hugh Cornwell * Jon DeRosa * D.O.A. * Dot Dash * Fatal Film * Flaming Lips * Adam Franklin * Goat * Guided by Voices * Hawkwind * Jimi Hendrix * History of Apple Pie * Hüsker Dü * Joanna Gruesome * The Last * Little Black Dress * Magnet School * Paul McCartney * Mega City 4 * Minor Alps * Elizabeth Morris * Lisa Mychols * Willie Nelson * Nilsson * Nomads * Yoko Ono * Sam Phillips * Otis Redding * The Redettes * Rogue Wave * Frankie Rose * Scud Mountain Boys * Sebadoh * The Sharp Things * Sloan * Superchunk * Swervedriver * Three O'Clock * 10-15-75 * Irma Thomas * U.K. Decay * Yuck * VA-My Hometown * VA-Dangerhouse Complete Singles * and more!!
Hope you all pre-order it, or buy it when it's out! And/or hope you subscribe, as that is still by far the best way to support the print magazines you love if you want them to keep going. It means a lot to them!
And hope you can share the gift of reading with your friends!
Cheers!
Jack R
P.S. -- Remember, Big Takeover subscriptions (and shirts, cds, and back issues, and other items) make the perfect holiday gifts! Why not cross a few of your favorite music friends and relatives off your list with us?!