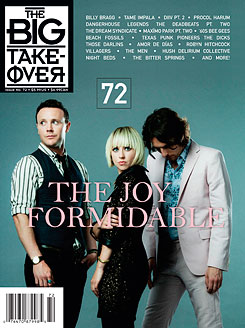 9 May 2013
Pre-order - Subscribe - Renew - Great gifts!
Subscribers: Update Your Address ASAP (if changed)
Once again the big news is that Big Takeover #72 Spring 2013 issue was completed in Brooklyn this month! The isue stars Joy Formidable on the cover, and features the concluding part twos of our awesome features on Maxïmo Park, late '70s L.A. Dangerhouse post-punk pioneers The Deadbeats , and DIIV, as well as fabulous history interviews with '60s Bee Gees guitarist Vince Melouney, Procol Harum frontman Gary Brooker, and Dicks Texas punk legend Gary Floyd, while catching up with Billy Bragg, and the reunited Dream Syndicate, as well as newer greats Tame Impala and Beach Fossils,
It will begin shipping any day now, so you should see it quite soon! And remember, we only come our twice a year, every Spring and Fall, so you don't want to miss one of our jam-packed 164-page issues! Below is a quick description of its contents.
IMPORTANT: If you are a subscriber and you need to update your address, please tell us right away, as we need to have the shipping order ASAP. Send updates to me at jrabid@bigtakeover.com
And since the issue will soon be shipped to subscribers and stores, now is an excellent time to pre-order it if you would like to receive it, or subscribe if you've been meaning to, or renew your subscription if it has run out. And remember, Big Takeover issues, back issues, t-shirts, CDs (including the limited edition Springhouse CD album, From Now to OK), and our other fun stuff (Big Takeover beer cozies, magnets, buttons, signed posters, etc.) and subscriptions also make the perfect Mother's/Father's Day/birthday/whenever gifts! Especially in this time when we are all trying to economize.
(NOTE ABOUT T-SHIRTS- NEW KID SIZES! In addition to our four mens and three women's sizes, we now offer six children's sizes, 2T, 3T, 4T, and onesies 6 months, 12 months, and 18 months! For the cool kid in your world!)
If you want to subscribe or renew or give the gift that keeps on giving, just go to our secure online Yahoo store (and feel free to indicate which issue you'd like to start with (or have your friends start with), issue 70 (Nada Surf cover) issue 71 (Beach House cover),or the upcoming 72 (Joy Formidable cover). It's only $20 for four issues (save 23% off the newstand price including average sales tax), or $32 for overseas, or $26 for Canada. Or, for those in the U.S. you can send us a check made out to "Big Takeover" for $20 to the following address:
The Big Takeover
356 4th St., Upper Floor
Brooklyn, NY 11215
Or if you want to pre-order just the upcoming issue 72, you can send us a check for $6 to that address (or paypal to jrabid@bigtakeover.com) or order online.
Here, again, is what's in the issue:
Interviews
The Joy Formidable (cover) * Billy Bragg * Tame Impala * Procol Harum * The Deadbeats Pt. 2 * The Dream Syndicate * DIIV pt. 2 * '60s Bee Gees * Maxïmo Park pt. 2 * Beach Fossils * The Dicks * Those Darlins * Amor de Días * Robyn Hitchcock * Villagers * The Men * Hush Delirium Collective * Night Beds * The Bitter Springs
Editorials
Rabid: "The Broken Democracy in (In)Action: the Election That Changed Little, And The Party That Learned Nothing" * Conard: "In Desperate Need: The Overdue Comeback of Emitt Rhodes—And Our Fascination With Tortured Artists" * Sommer: "The Pop Mistake, the Obscenity of the Beatles Legacy, and the Need for a New Bebop"
Live Reviews
Bad Religion * Lotion (and Edsel) * The Monkees * Bob Mould * Ken Stringfellow * Veronica Falls * The Who
Hundreds of CD and Vinyl Reviews
Corin Ashley * Atoms For Peace * Devendra Banhart * Jello Biafra & the Guantanamo School of Medicine * The Black Watch * David Bowie * Catholic Discipline * Nick Cave & the Bad Seeds * Chatham Rise * The Cheatahs * The Dimes * Steve Earle & the Dukes * The Effigies * Ex Cops * The Flaming Lips * Girls Names * Goat * Guided by Voices * Jimi Hendrix * The History of Apple Pie * The History of Colour TV * The Holydrug Couple * Honeychain * Hookworms * The House of Love * Iggy & the Stooges * The Lost Patrol * Taj Mahal * Johnny Marr * Blind Willie McTell * My Bloody Valentine * Willie Nelson * The New Mendicants * The Orange Peels * Charlie Patton * Popstrangers * Savage Republic * The Servants * Ron Sexsmith * The Sharp Things * Slowness * Christopher Paul Stelling * Toy Love * Scott Walker * Wire * Yeah Yeah Yeahs * VA-Down Under Nuggets * and more!!
Hope you all pre-order it, or buy it when it's out! And/or hope you subscribe, as that is still by far the best way to support the print magazines you love if you want them to keep going. It means a lot to them!
And hope you can share the gift of reading with your friends!
Cheers!
Jack R
P.S. -- Remember, Big Takeover subscriptions (and shirts, cds, and back issues, and other items) make the perfect gifts! Why not cross a few of your favorite music friends and relatives off your list with us?!