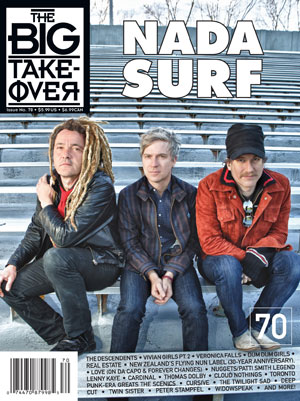 23 June 2012
Great birthday gifts including four children's size t-shirts, men's and womens' shirts, beer cozies, magnets, 30th Anniversary Festival posters (signed if you want), buttons, subscriptions, back issues, and CDs!!
Good news! Big Takeover #70 Spring 2012 issue with Brooklyn's Nada Surf on the cover and concluding part two of our awesome interviews with Vivian Girls, as well as special features on The Descendents, '60s stars Love (on Da Capo & Forever Changes), Nuggets/Patti Smith legend Lenny Kaye, Veronica Falls, Dum Dum Girls, Real Estate, Cardinal, and New Zealand's Flying Nun label (30-Year Anniversary) is out on the stands! A full description of its contents, including several juicy sample quotes, are sprinkled below!
Remember, we only come out twice a year, every Spring and Fall, so you don't want to miss one of our jam-packed 184-page issues!
And since the issue has been mailed to subscribers and is appearing in the best book, record, and magazine shops near you, now is an excellent time look for it there or contact us via our secure online Yahoo Store to order it if you would like to receive it in the mail, or subscribe if you've been meaning to, or renew your subscription if it has run out.
And just a reminder that there's still time for the perfect gift: Big Takeover magazine subscriptions and back issues!
And speaking of which, for more great gift ideas, here's a reminder about our six new children's sizes for our T-Shirts in three colors, as well as our new Big Takeover Accessories (Beer Cozies, Buttons, and Magnets!) and (signed if you like) Color 30th Anniversary Festival Posters!
That's right, Big Takeover issues, subscriptions, back issues, t-shirts in three colors, black, white, and burgundy red in 13 sizes (including our new children's sizes, 2T, 3T, 4T, and 6MO, 12MO, and 18MO onesies!!!!! The coolest gift ever for the kids!), and our accessories (BT beer cozies for only $5, BT buttons for only 50 cents, BT magnets for only $1, and 12 X 18 color BT Anniversary Festival Posters for $4, which I will sign if you want me to!), as well as our related CDs (including the limited edition Springhouse CD album, From Now to OK), also make the perfect birthday and X-mas (or Hanukkah) gifts! Especially in this time when we are all trying to economize.
This means our t-shirts still come in three colors (black, white, and dark red) and are only $12 for adults and $10 for kids's shirts and onesies, even including postage!).
Also, all but two of our back issues are still available (if your friends like a specific band we've featured; and there's always the mega-deluxe gift, the complete set of all of our 70 issues to date.
And we are also offering used, good-quality CD copies of the three out of print SPRINGHOUSE CDs from 1991-1993 as well as sealed, limited edition art-package copies of Springhouse's 2008 third LP From Now to OK (see why it got an 86 in Paste!), as well as CDs by EVEN WORSE, LAST BURNING EMBERS, DOUG GILLARD, NON-LINEAR THINKERS and EDP!
So if you want to subscribe or renew or give the gift that keeps on giving, just go to our secure online Yahoo store (and feel free to indicate which issue you'd like to start with (or have your friends start with), issue 69 (Vivian Girls cover) the new issue 70 (Nada Surf cover), or the Fall, 2012 issue 71. It's only $20 for four issues (save 23% off the newsstand price including average sales tax), or $32 for overseas, or $26 for Canada and Mexico. Or, for those in the U.S. you can send us a check made out to "Big Takeover" for $20 to the following address:
The Big Takeover
356 4th St., Upper Floor
Brooklyn, NY 11215 USA
Or if you want to order just issue 70, you can send us a check for $6 to that address or order it.
Here, again, is what's in the new issue 70, with some sample quotes:
Interviews
Nada Surf (cover)
"[Before writing] 'Clear Eye Clouded Mind,' I was reading the [2006] Cormac McCarthy book The Road, and I was just feeling out of touch with nature, that I've been staring too long at the computer. And 'No Snow on the Mountain' is pretty literal. I read this [2008 *Mark Lynas*'] book Six Degrees [Our Future on a Hotter Planet], which is about what will happen with every degree the median temperature goes up, and it got too terrifying. Our album's title, which is an expression of my dad's, also resonated with me because climate change is indifferent to your belief in it. A climate change denier isn't going to be saved by that. 'It can't be happening, I didn't believe it.'"
The Descendents
"None of my Cool To Be You songs were about teenage themes. 'One More Day' was about my trying to take care of my father before he passed away; 'Anchor Grill' was about falling victim to the world's responsibilities, and falling out of love with your partner, and having your life turn into a bunch of boring, workaday bullshit; and the song about my daughter, 'Maddie,' involved some strange parental stuff. We were mixing a song, and Jason Livermore turns to me and says, 'Going for the over 30 crowd, huh?'"
'60s stars Love
"[Regarding "Stephanie Knows Who":] Arthur [Lee] and Bryan [MacLean] were both vying for the affections of the beautiful Stephanie [Buffington] sometime before the Da Capo sessions got underway. But I think perhaps most people underestimate the damage done to Arthur and Bryan's friendship when Stephanie went back to Bryan, just before the album was recorded. I mean, yeah, "Stephanie Knows Who," [i.e the song title] and it's Bryan, not Arthur like he thought! I know it sounds like a lot of soap opera crap, but that episode became a cancer that eventually destroyed the band."
Dum Dum Girls
"I grew up in a house full of music and I was the weirdo in my middle school listening to Jefferson Airplane. I was a studious, quiet darkling with a disconnected understanding of music history. When I went off to college, I started piecing it all together. I had a real late-bloomer punk phase at 20."
Lenny Kaye (Nuggets, Patti Smith Band guitarist)
"Nah, Jac Holzman [Elektra Records founder] gave me complete free reign [compiling 1972's Nuggets]. In fact, after the first meeting we had about Nuggets, in which he described his vision of an album made up of those songs that were the one good cut on every album… I think he had just gotten one of the first cassette machines and was looking to consolidate his record collection. And he gave me a list of about four or five songs. But I was kind of a young rebel, so I just put together the songs that I liked."
Vivian Girls part 2
"IIf you want to get really psychoanalytical, I think the reason that I like America so much, is that my parents are immigrants. And when I was growing up, I was kind of a rebellious kid. My parents tried to instill Polish pride in me, so I was like, 'No, I'm an American' and wanted to fit in with my classmates—and everyone thought I was weird."
Flying Nun label 30th Anniversary (founder Roger Shepherd)
"The U.S.A. seemed huge to us New Zealanders, and we were overwhelmed by the expenses. There are many ex-pat New Zealanders in London, but some in the U.K. snubbed their noses at us, the commonwealth and all. In Australia, you must make them think that you're an Aussie band before they embrace you. They are chest-beating, brash patriots and us Kiwis are too quiet!"
Veronica Falls
"[On making the whole album in 3-4 days:] Up until [The Beatles*' 1966] Revolver-era, people were not spending that much time. Like *The Hollies [1967 #11 hit] "On a Carousel," that's an amazing single. I think that they had to be better singers then, because they couldn't do the editing you do now."
Real Estate
"People say that we sound like The Beach Boys because they're trying to make some kind of shore reference. That said, I think it's cool that Brian Wilson is playing with those guys again."
Cardinal's Richard Davies on bandmate Eric Matthews
"We actually only ever played one Cardinal show in the early days and it was a disaster. It was at the Middle East [Cambridge, MA] in front of our girlfriends and the soundman—with Eric shying away from the microphone and me shouting and encouraging, 'Sing, man, sing!' But I don't think Eric actually likes playing live."
Other Interviews
Thomas Dolby * Cloud Nothings * Toronto punk-era greats The Scenics * Cursive * The Twilight Sad * Deep Cut * Twin Sister * Peter Stampfel * Widowspeak
Editorials
Rabid: "Turn out the Lights on the Age of Reason: A Clear Electoral Choice in 2012" * Polk: "Lamenting the Decline of Major Labels" * Sommer: "The Beatles Century Is Over"
Live Reviews
Chameleons-Vox (and Black Swan Lane) * Hugh Cornwell * Damned * Joy Formidable * Pains of Being Pure at Heart * Scud Mountain Boys * Swervedriver * Waldos (and Fleshtones) * Wedding Present (and Jet Age) * Zounds
Hundreds of CD Reviews
The Avengers * Chris Bailey & H-Burns * Bats * Beach Boys * Björk * The Chambermaids * C.I.A. * Cold Heart Re-Press * Dandy Warhols * Miles Davis Quintet * Deadbeats * Decemberists * Deep Cut * Desario * Diodes * Dirty Three * John Doe (and Exene) * exlovers * Ben Folds * Guided By Voices * Jimi Hendrix * Honeychurch * Jet Black * Janis Joplin * Lambchop * Mark Lanegan Band * The Lucy Show * The Manic Low * Maximo Park * John Mayall's Bluesbreakers * Moonbell * Of Montreal * Puddle * R.E.M. * Frankie Rose * Ruts D.C. * Shins * Paul Simon * The Sound * Strawberry Whiplash * St. Vincent * Strawberry Alarm Clock * Successful Failures * Superchunk * Rufus Thomas * Sharon Van Etten * M. Ward * Paul Weller * Whipping Boy * Yuck * Bloodied But Unbowed (Vancouver '70s punk film) * Smiths tribute * and more!!
Hope you all pre-order it, or buy it now it's out! And/or hope you subscribe, as that is still by far the best way to support the print magazines you love if you want them to keep going. It means a lot to them!
And hope you can share the gift of reading with your friends! And happy summer, everyone!
Cheers!
Jack R
IMPORTANT: If you are a subscriber and you need to update your address, please tell us. Send updates to me at jrabid@bigtakeover.com