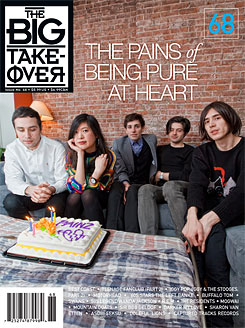 21 June 2011
Order! Subscribe! Renew!
(Great gifts, too, for you or others, including four new children's size t-shirts, men's and womens' shirts, beer cozies, magnets, 30th Anniversary Festival posters (signed if you want), buttons, subscriptions, back issues, and CDs!)
Good news! Big Takeover #68 Spring 2011 issue with Brooklyn's The Pains of Being Pure at Heart on the cover, Best Coast, and concluding part twos of our awesome Teenage Fanclub & Iggy Pop of Iggy & the Stooges (part 2) interviews, as well as fabulous history interviews of The Left Banke, Buffalo Tom, Motorhead's Lemmy, Wanda Jackson, R.E.M., and the recently reunited Swans is out on the stands! A full description of its contents, including several juicy sample quotes, is just below!
Remember, we only come our twice a year, every Spring and Fall, so you don't want to miss one of our jam-packed 184-page issues!
And since the issue has been mailed to subscribers and is appearing in the best book, record, and magazine shops near you, now is an excellent time look for it there or contact us via our secure online Yahoo Store to order it if you would like to receive it in the mail, or subscribe if you've been meaning to, or renew your subscription if it has run out.
So if you want to subscribe or renew or give the gift that keeps on giving, just go to our secure online Yahoo store (and feel free to indicate which issue you'd like to start with (or have your friends start with), issue 67 (Teenage Fanclub cover), the new issue 68 (The Pains of Being Pure at Heart cover), or the Fall, 2011 issue 69. It's only $20 for four issues (save 23% off the newstand price including average sales tax), or $26 for Canada, or $32 for overseas. Or, for those in the U.S. you can send us a check made out to "Big Takeover" for $20 to the following address:
The Big Takeover
356 4th St., Upper Floor
Brooklyn, NY 11215 USA
Or if you want to order just issue 68, you can send us a check for $6 to that address or order it.
And just a reminder that there's still time for the perfect gift for yourself or those you genuinely like instead of just pretend to: Big Takeover magazine subscriptions and back issues!
And speaking of which, for more great gift ideas, announcing our six new children's sizes for our T-Shirts in three colors, as well as our new Big Takeover Accessories (Beer Cozies, Buttons, and Magnets!) and (signed if you like) Color 30th Anniversary Festival Posters!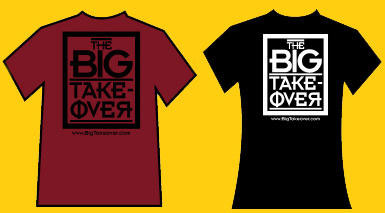 That's right, Big Takeover issues, subscriptions, back issues, t-shirts in three colors, black, white, and burgundy red in thirteen sizes (including our new children's sizes, 2T, 3T, 4T, and 6MO, 12MO, and 18MO onesies! The coolest gift ever for the kids!), and our brand new accessories (BT beer cozies for only $5, BT buttons for only 50 cents, BT magnets for only $1, and 12 X 18 color BT Anniversary Festival Posters for $4, which I will sign if you want me to!), as well as our related CDs (including the limited edition Springhouse CD album, From Now to OK), also make the perfect birthday or holiday gifts! Especially in this time when we are all trying to economize.
This means our t-shirts still come in three colors (black, white, and dark red) and are only $12 for adults and $10 for kids's shirts and onesies, even including postage!).
Also, all but two of our back issues are still available (if your friends like a specific band we've featured; and there's always the mega-deluxe gift, the complete set of all of our 68 issues to date, including the two that are out of print!)
And we are also offering used, good-quality CD copies of the three out of print SPRINGHOUSE CDs from 1991-1993 as well as sealed, limited edition art-package copies of Springhouse's 2008 third LP From Now to OK (see why it got an 86 in Paste!), as well as CDs by EVEN WORSE, LAST BURNING EMBERS, DOUG GILLARD, NON-LINEAR THINKERS and EDP!
Here, again, is what's in the new issue 68, with some sample quotes:
Interviews
The Pains of Being Pure at Heart (cover)
"I like that idea--that every band grew up liking some other band and wanted to be another band, and then they got it wrong, and made a new thing or just became their own thing. It's very reassuring to know The Ramones grew up wanting to be something other than The Ramones, and then turned into The Ramones--just because of who they were, and how they played music. It became their own sound."
Best Coast's Bethany Costentino
"To be completely honest, I don't even smoke that much weed! I did, but I pulled back on that. Yet I can never lose the "weed girl" image. I'm always going to have the 'weed cat girl' thing for the rest of my life. It doesn't matter if I say I hate cats and I hate weed."
Teenage Fanclub, part II
Gerry: "I think when we used to go on tour all the time, for 10 years, it was harder [to get along]. I think we tour just long enough now!" Raymond: "It's like we committed some crime and were sentenced to go on tour for 10 years." [Loud laughter.]
Motorhead's Lemmy
"Having grown up, and learned about religions, I think it's just an excuse for crowd control. It's just another government, isn't it, really? And all the different ways to worship the same geezer; what's the [expletive] point? Catholics and Protestants have been at each others' throats for hundreds of years--and some of the worst [expletive] excesses and murders and tortures--for what? For what? What do you got to show for it? A bunch of dead people who went to their deaths screaming."
'60s greats The Left Banke
"The Rolling Stones were staying at The City Squire [in the mid-'60s], and I was walking up to get the subway to go down to the Village. And I saw all these girls screaming their heads off, running down the street. I had hair almost down to my shoulders, so I ducked into this doorway, and there in the doorway was [singer] Steve Martin standing there, whom I didn't know. And all these girls ran by screaming, and they looked at me for a second, and they thought that I was one of them [the Stones]. Then the Stones pulled up in a limo and the girls screamed and ran over there. And I said to Steve, 'Hey, isn't that a great way to make a living?' And he said, 'Yeah, it sure is, man!' And that's how we met!"
Iggy Pop (Iggy & the Stooges, part II)
"The rock star of today is a politician, and the worst thing he can do is say something he really means. That's how it is, dude! I would just say whatever I meant."
'50s star Wanda Jackson
"I don't see that much change in the kids. What's cute today is the girls and guys that wear the vintage clothes, drive the classic cars--it keeps me feelin' like a teenager. The only difference is there'll be a girl with a cute little dress with crinoline skirts and a ponytail, and then she's got tattoos all over her arms and a stapler thing in her tongue! [Laughs.] That wasn't part of our look, but that's this generation's, I guess."
The Swans' Mike Gira
"Most thinking, feeling human beings--we seek something bigger than ourselves, and we seek to lose ourselves in something. That can have awful consequences, in fascism, for instance, or in fundamentalist religion. Or it can have beautiful effects, as well--as in beautiful, transcendent music, or in long, slow, beautiful sexual acts. Having been raised in the womb of the mid-to-late '60s, taking LSD all the time, one kind of gets addicted to the idea of reaching these high places."
R.E.M.
[On friends Mark Linkous and Vic Chesnutt's deaths:] "You know, suicide... it touches every single person who knew them. And there's always, 'You didn't kill yourself 10 years ago, so why did you do it today?' And Alex Chilton too--he's been huge musically to me, but we'd never been great friends, although I saw him in New Orleans like two months before he died. That's what a lot of the [new] record--we're at a positive place with the band, and it just felt that this could be dealt with, and that you live with it."
Buffalo Tom
"Being on SST was in and of itself a reason to listen. They played a kind of gatekeeper function. Now that function is relegated to Stereogum or Brooklyn Vegan . They're probably way more important than even Rolling Stone was, or Spin. The question I'm left with is just that there's so much stuff [now]. It's like everybody's got a voice, and it's democratized, and it's great. But it's also hard to really try to weed through it all. Like the difference between Deerhoof and Deer Tick, and Panda Bear and Grizzly Bear ..." [Laughs.]
Darker My Love
"Seeing as 'shoegaze' [more or less their mid '00s style] is mainstream music now, I'm very happy to have made a stripped-down roots record without that very popular reverb-drenched sound. And you can pull quote me on this. Because it's true."
Other Interviews
The Residents * Mogwai * The Mountain Goats * Sir Bob Geldof * Sharon Van Etten * Asobi Seksu * Doleful Lions * Captured Tracks Records
Editorials
Rabid: In Defense of Government * Polk : What's Left of the Dial; the KUSF Debacle * Villanueva : Analog Will Never Die and Other Musings * Sommer: Cranky and Hopefully Incisive New York Hardcore Scene Memories
Live Reviews
Belle & Sebastian * The Clean * The Decemberists * Depreciation Guild (farewell gig) * Mitch Easter * exlovers * Gang of Four * Guided by Voices (and Doug Gillard) * Joy Formidable * Killing Joke * The Parties * The Posies * Superchunk and Let's Wrestle
Hundreds of CD Reviews
Richard Ashcroft * Corin Ashley * Bambi Kino * Berlin Brats * Black Francis * Maggie Bjorklund * Bright Eyes * David Byrne * Exene Cervenka * Ray Charles * Cheifs * Citizen Fish * Eric Clapton * Leonard Cohen * Edwyn Collins * John Coltrane * Crystal Stilts * Death Cab For Cutie * The Disciplines * Dum Dum Girls * Eleventh Dream Day * The Feelies * For Against * Golden Bloom * Bill Hicks * Hotels * Husband & Wife * Idaho * Iron & Wine * Jayhawks * Jonny * Low * J Mascis * Alison Moorer * Off! * Elvis Presley * Radiohead * Paul Revere & the Raiders * Haroula Rose * Robert Scott * Secret Shine * Sloan * Social Distortion * Simon & Garfunkel * Elliott Smith * Patti Smith book * TV Smith * Jon Spencer Blues Explosion * Poly Styrene * Tindersticks * Mike Watt * Wild Nothing * Phil Wilson * Wipers * Wire * Steve Wynn & the Miracle 3 * Yardbirds * and more!!
Hope you all order it from us, or buy it on the shelves now it's out! And/or hope you subscribe, as that is still by far the best way to support the print magazines you love if you want them to keep going. It means a lot to them!
And hope you can share the gift of reading with your friends!
Cheers!
Jack R
IMPORTANT: If you are a subscriber and you need to update your address, please tell us. Send updates to me at
jrabid@bigtakeover.com
comments powered by