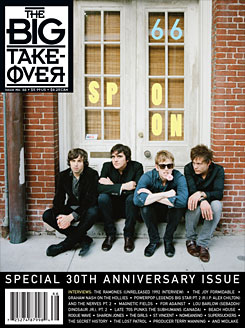 11 July 2010
Once again the big news is that Big Takeover #66 Spring 2010 Special 30th Anniversary issue with Spoon on the cover, and concluding part twos of our awesome Lou Barlow, Big Star (R.I.P. Alex Chilton), and The Nerves (original "Hanging on the Telephone" fame) interviews, as well as fabulous history interviews with The Ramones (a previously unpublished 1992 interview), Graham Nash on The Hollies, and late '70s Vancouver punks Subhumans Canada, can be found out on the stands, and at your favorite magazine, book, or record store!
Remember, we only come out twice a year, every Spring and Fall, so you don't want to miss one of our jam-packed 192-page issues! Below is a quick description of its contents.
IMPORTANT: If you are a subscriber and you need to update your address, please tell us right away, as the postal folks are inconsistent about forwarding our issues. Send updates to me at jrabid@bigtakeover.com
Now is an excellent time to order the new issue if you would like to receive it, or subscribe if you've been meaning to, or renew your subscription if it has run out. And remember, Big Takeover issues, back issues, t-shirts, CDs (including the limited edition Springhouse CD album, From Now to OK), and subscriptions also make the perfect birthday and holiday gifts! Especially in this time when we are all trying to economize.
If you want to subscribe or renew or give the gift that keeps on giving, just go to our secure online Yahoo store (and feel free to indicate which issue you'd like to start with: issue 64 (Decemberists cover), issue 65 (Sonic Youth cover), or the new 66 (Spoon). It's only $20 for four issues (save 23% off the newstand price including average sales tax), or $32 for overseas. Or, for those in the U.S. you can send us a check made out to "Big Takeover" for $20 to the following address:
The Big Takeover
356 4th St., Upper Floor
Brooklyn, NY 11215
If you want to order just the upcoming issue 66, you can send us a check for $6 to that address or order online.
Here, again, is what's in the issue:
Interviews
Spoon (cover) * The Ramones (unreleased 1992 interview!) * The Joy Formidable * Graham Nash on The Hollies * powerpop legends Big Star pt. 2 (R.I.P. Alex Chilton) * and The Nerves pt. 2 * Magnetic Fields * For Against * Lou Barlow (Sebadoh/Dinosaur Jr.), pt. 2 * late '70s Vancouver punks Subhumans Canada * Beach House * Rogue Wave * Sharon Jones * The Girls * St. Vincent * NoMeansNo * Supersuckers * The Secret History * The Lost Patrol * producer Terry Manning * Midlake
Editorials
Rabid: 30 years—the editorial! * Ackerman: Paul McCartney, an appreciation * Sommer: What Was the First Punk Rock Song?
Live Reviews
Jello Biafra & the Guantanamo School of Medicine + Citizen Fish + M.I.A. * Adam Franklin * Leatherface * Mission of Burma * Bob Mould + Jon Auer * Rogue Wave * New Model Army * The Rifles * Sloan * That Petrol Emotion
Hundreds of CD Reviews
Animal Collective * Devandra Banhart * Black Rebel Motorcycle Club * David Bowie * Built to Spill * Buzzcocks * Catherine Wheel * Leonard Cohen * Jackie DeShannon * DJ Spooky * Dum Dum Girls * Echo & the Bunnymen * Engineers * The Eyes * Fabulous Poodles * Jason Falkner * Fanfarlo * Flaming Lips * Flipper * Waylon Jennings * Nick Garrie * Hammock * Juliana Hatfield * Robyn Hitchcock * Innocence Mission * Kraftwerk * Len Price 3 * Little Black Dress * Jesse Malin * Bob Marley * Massive Attack * Meatmen * Midway Still * Mott the Hoople * Nada Surf * New Pornographers * Nushu * Pernice Brothers * Plimsouls * Robert Pollard * Emma Pollock * Elvis Presley * Quasi * Otis Redding * Sonny Rollins * The Scruffs * She and Him * Frank Sinatra * Small Faces * Snowglobe * Standard Fare * Subhumans Canada * Successful Failures * Sufjan Stevens * Teenage Fanclub * B.J. Thomas * Tindersticks * Trash Can Sinatras * Verbow * Verlaines * Voxtrot * Rufus Wainwright * White Stripes * X * X-Ray Spex * Zombies * and more!!
Hope you all order it, or buy it at a cool store some place! And/or hope you subscribe, as that is still by far the best way to support the print magazines you love if you want them to keep going. It means a lot to them!
And hope you can share the gift of reading with your friends!
Cheers!
Jack R