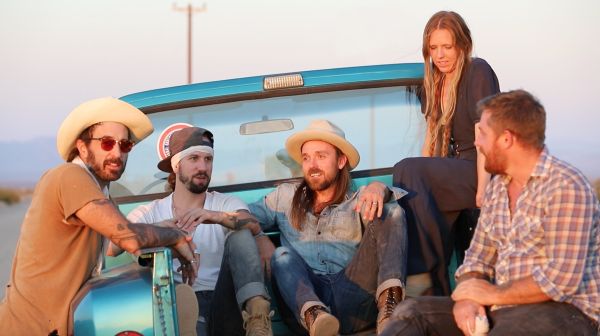 6 November 2019
The Adobe Collective – Photo Credit: JD Rudometkin
The Adobe Collective effortlessly embody what is rapidly becoming known as the "high desert sound." The band are releasing their new album, All The Space That There Is, on January 10th next year via Love/Sands Records.
Based in Joshua Tree, CA, their surroundings reflect a kind of no-frills authenticity that is baked into their music – cosmic desert Americana with flashes of psychedelia, country, and indie rock. At times hard-hitting, and at other times heartfelt and tender, they let the rhythms of the California desert guide their creative path.
Founded in 2011 by husband and wife duo Tim and Faith Chinnock at their 1937 historic adobe house just minutes from the entrance to Joshua Tree Park, the current line-up includes Caleb Winn, Chris Unck, and Tyler Saraca.
All The Space That There Is is a complex album filled with a sense of wonder — three-part harmonies here, lush synth layers, steel guitar flourishes, and epic drum swells there — and meant to give a peek into the challenges and successes of making an authentic life in the American Southwest.
The Big Takeover is pleased to host the premiere of the video for "Blind," a radio-friendly indie pop number running on electric guitar leads and catchy, interweaving three-part harmonies.
The video occasionally shows the band members delivering a rousing performance of the track, but is mainly focused on a storyline driven by a regretful Tim Chinnock who has been ignoring what was right before his eyes – the love of his life, Faith Chinnock.
Tim comes to realize Faith's importance in his life as he kicks up dust in the scrub brush-dotted desert environment, searching for her in an abandoned, broken-down house.
He falls to his knees, his hopes dashed, until she suddenly appears to him, blindfold in hand. She ties the blindfold around his eyes, a symbol of the removal of all the extraneous distractions so he can just focus on their love.
Chinnock digs deeper into the universal meaning of the song's lyrics, explaining, "Sometimes it seems like there's always something better just around the corner no matter how good it is right now. It's like I'm blind to how good this life is. But this time, instead of fighting against that blindness and beating myself up for it, I decided to embrace it and found out I was able to look so much deeper inside myself to connect with the goodness there… and suddenly goodness was showing up all around me."
Pre-Sale LINK for All The Space That There Is
Website
Facebook
Twitter
Instagram