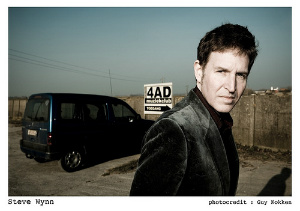 1 April 2014
Over 30 years into a fruitful career, Steve Wynn may still be best known for his work in pioneering Paisley Underground band the Dream Syndicate, the band that brought the dark, driving influence of the Velvet Underground back into psychedelic rock. But he hardly rested on his laurels after that band's late 80s demise. With a solo catalog nearly 20 records deep and side projects like Danny & Dusty (with Dan Stuart of Green On Red and various Long Ryders), Gutterball (a collaboration with House of Freaks) and Smack Dab (with Paco Loco of Australian Blonde) along the way, Wynn never slowed down, almost casually releasing guitar-based rock & roll masterpieces like Here Come the Miracles, My Midnight and Tick…Tick…Tick.
Now Wynn is busier than ever. Besides continuing to write and play with his band the Miracle 3, he's one-fourth of the National Pastime-themed conglomerate the Baseball Project with Scott McCaughey of the Minus 5 and Young Fresh Fellows, his wife and 3 bandmate Linda Pitmon and either Peter Buck or Mike Mills holding down the bass slot. Wynn and ex-bandmates Mark Walton and Dennis Duck have also surprisingly revived the Dream Syndicate, playing a slew of shows across the States and Europe with 3 guitarist Jason Victor standing in for retired six-stringer Paul B. Cutler.
We spoke to Wynn in early March, right before he headed down to Austin, Texas to play the South By Southwest Festival with the Baseball Project and the Miracle 3, including performances with both at the Lou Reed tribute concert.
BT: Since you and the Miracle 3 usually play more in Europe than in America, do you enjoy coming to SXSW to play for the American fans – especially since it seems to be the only time you come to Austin?
SW: Yeah, sadly, and it's funny, because Austin was one of the first places that the Dream Syndicate would play outside of L.A. back when we started out. So I've got a long history with Austin. And it's really more a matter of geography than anything else – it's kind of hard to get there when it's a one-off, and South By Southwest is obviously a good time to go there and play to a lot of local people and also to people from all around the world. I guess it's the same reason country singers play Branson, Missouri and Celine Dion plays Vegas – it's a way of being in one place and having everyone come to you.
BT: Why do you think your reception is better in Europe than in America?
SW: Probably a lot of reasons. From the beginning, the Dream Syndicate toured there a lot, back in a time when a lot of bands doing what we were doing didn't go over there. So we have a real good history on all the countries. And music fans are very loyal over there. Maybe unlike in the States, people will stick around and keep listening to you and keep up with what you're doing until you let them down musically. You remain in people's hearts unless you start playing bad music laughs. And here you have to ride trends and where people's heads are at and what's popular this month. And that sounds harsh – it's not true across the board – but it's a little more that way over here than it is over there.
BT: Speaking of the Dream Syndicate, how have those shows been going?
SW: Going great! We've just played Toronto on Saturday and had a good show, so if I sound a little dragged down…It was a one-off. In fact, I think that's what we might end up doing in Austin at some point. The Dream Syndicate manages to bring in a decent amount of people, so we can have the luxury of just flying into a city and playing and going back home. We've been able to do a lot of short runs with the band, which is a lot of fun.
BT: I hate to use this term, because I know a lot of the bands from the era don't like it, but how were the Paisley Underground reunion shows with Rain Parade, the Bangles and the Three O'Clock?
SW: I think we've all kind of decided to own the name chuckles. The Paisley Underground thing defines some kind of thing that happened in a certain moment a long time ago that we were all part of, and I think we're proud to have been part of that whole thing. So it's not a bad thing to say. Though I never thought we were very paisley – we were more underground than paisley in the Dream Syndicate, so I guess that's our connection.
But the shows were fantastic. All four bands are active now and playing great music – arguably better than they were back then, even. Just really a lot of confidence, and also a lot of knowledge of what we were all doing back then and what it meant to people. So I think everyone kind of mixes what they've learned along the way with a reverence to what happened back then and attention to detail on those days. So the shows were great, and besides all that, besides the music and bands enjoying it and that kind of connection, we had a good time hanging out. It's a really amazing thing to take four bands that were gigging 32 years ago, and everyone's still just really nice, really gets along, not a bad person in the bunch, and there's as much fun happening offstage as onstage.
BT: That's always good.
SW: It is good. A lot of these reunion things you hear about, it's kind of like, "Well, we all hate each other, but we'll do it for the money," or "We all hate each other but we have nothing else to do" laughs. In our case, everyone's lives kind of worked out OK, and most of the people in all the bands have kept playing music and being creative. But we also all realized that that was where it all started, and it was a very cool and special time that means a lot to all of us.
BT: I kept hoping when I was reading about it that that show might go on the road somehow.
SW: That'd be so hard, sadly. I wish we could – we've all talked about it, all four bands have talked about it. But I think it's 18 people between the four bands, and shuttling that many people around whether it's a matter of money, logistics and schedules – I'm amazed we even did two laughs.
BT: I don't suppose anybody filmed those or recorded them?
SW: Not that I know of, and that's too bad. It should have been documented. I mean, there were photos, and like always these days there were plenty of YouTube videos and bootleg recordings online, but as far as doing it well – you raise a good point. It should've happened.
BT: Well, as long as all four of you are still active, we still have a chance to see y'all separately.
SW: And that's the thing. I know the Bangles have been most active – they've been going pretty strong for ten years or so after their first breakup. I know the Three O'Clock are doing shows, Rain Parade are doing it, and, I gotta say, the Dream Syndicate are having a great time with this. We've all decided we don't want to overdo it – we don't want to drive it into the ground. We're just enjoying playing together and trying to hit every city we ever loved playing at least once – just check them off. So Austin definitely would be in the future. I guarantee that. Hopefully before the year is over we'll get to Austin.
BT: You know we have a festival here called Austin Psych Fest.
SW: Yeah, I do know it. It's in May, right? Somebody told me about it and we're doing Europe that same period. I was going to look into that – it seemed like a perfect thing for us. Maybe next year.
BT: That brings up the question of a Dream Syndicate tour. You were talking about doing more one-offs than tours.
SW: In Europe it's harder to do a one-off, though. We did a one-off last year, in the Arctic Circle in Norway, which was pretty insane. It was 24 hours of flying, three flights, we got to a place where the sun never set, played one show, stayed for an extra day to hang out, and went home laughs. And we like doing stuff like that. We enjoy hanging out. I feel very comfortable on airplanes laughs – I spend a lot of time on them.
In the States, it's very easy to do that. We could just hop a plane, land in Austin, shakes ourselves, grab a quick shower, get a cup of coffee, get on the stage and rock out – not that hard. Austin might be the meeting point for the four of us, because two of us live in New York, one in L.A. and one in Las Vegas, so that's actually a good place to meet.
BT: This begs the question that I'm sure you've been asked about 15 million times now – with everything going great guns with the Dream Syndicate, would there be a possibility of a new record?
SW: We're talking about it. I think we'll do it. With each show we do, the band is sounding like a new band, like a contemporary band, not like a revival show, but actually something's kind of evolving. And I'd like to get in the studio and get that documented. So I think before too long we'll do something new.
BT: That would be awesome.
SW: Yeah, I'm pretty excited about it. Also, when we made The Days of Wine & Roses and Medicine Show, we were very young, not really thinking in terms of what's going to happen tomorrow or the next show, but what we wanted to do at that moment. As time went on with the band, towards our last few records, like any band we were sort of aware, we were thinking of, "Well, how do we get to more people?" and "There's a lot of expectations on the band." And I like our last two records [Out of the Grey and Ghost Stories] a lot – quite a bit. But that was the way we would go into the studio at that point, with that in mind, which should never be the case. But I think it was. So I like the idea of getting back in the studio right now with the idea of just making a record that excites us, which is what we were all about at the beginning. All we were trying to do was make our own favorite record. And I think if we did a new record we'd be doing that exact same thing now.
BT: I also wanted to ask you about your guitar players. Because you've kind of got an artistic throughline between Karl Precoda, Paul B. Cutler and Jason Victor, and I would even argue Chris Brokaw [guitarist for Come who played on several of Wynn's mid-period solo records] to a certain extent. You have a specific taste in guitar foils. I'm curious as to where you find these folks.
SW: I don't know. I've been really fortunate over the years to be surrounded by really creative, inventive and responsive players. I guess I look around and in the right places. But I think also, the kind of music I write gives a lot of freedom for players. I don't come in with something super arranged and detailed and say, "Play this and don't draw outside the lines." I try to let people go out on a limb and do something that really excites them, and you get good playing that way.
But it's not just that. I've been playing guitar almost my entire life, and I really enjoy playing. But I'm most excited when I'm sort of doing battle with another guitarist who surprises me and excites me. And all the ones you named, and other players I've played with, do that. With Chris, with Karl, with Paul, with Jason now – they're always doing things I hear and say, "Well, no kidding – is that what you have to say? Well, check this out!" laughs And that's fun.
BT: I think the last time I saw the Miracle 3 was at Mellow Johnny's [a bike shop in Austin that hosts Seattle radio station KEXP's live performances during SXSW].
SW: Oh, yeah – that was fun!
BT: And that's exactly the impression I got between you and Jason playing together that day. It looks like so much fun, like you're having such a good time.
SW: He and I have played together now for almost 15 years, and we have a lot of similar or complimentary tastes in music, and we enjoy talking about it, we still get excited about it like we did when we were kids. And I have to say, I've really never played with a guitarist with whom I have that kind of telepathy. I can watch his body language, hear something he plays, watch his fingers, and I know where he's going to go next, and vice versa as well. So it's really exciting to play with someone like that. And that's why with the Dream Syndicate right now, and with the Miracle 3, the highlight of the show is when we do "John Coltrane Stereo Blues," which is a very loosely structured song that leaves room for a lot of improv. That's great, to play that kind of a song, not know where you're going, knowing it could fail at any moment, and still having the little victories along the way when it works out.
BT: This is going to be a Miracle 3 show at SX, right?
SW: Yes, it's going to be with the current Miracle for that week being Jason, Linda Pitmon, me and Scott McCaughey on bass – he's going to be filling on bass. The Miracle 3, Baseball Project and Minus 5 will be this kind of fluid thing throughout the week. So you'll see the three bands and they'll kind of resemble each other laughs.
BT: Let me ask you about the Miracle 3. Not that the records you made before weren't any good, but starting with Here Come the Miracles it seems like you're making the best music of your life the last few albums.
SW: Thank you. I feel the same way, I really do.
BT: Why do you think you're really firing on all cylinders right now?
SW: I don't know. Something happened around that time – maybe what I was saying earlier about making records just to amuse yourself, which I did at the very beginning and I think I started doing again with Here Come the Miracles. At that point there was really nothing to lose – there was nothing that really needed to be done except making good records, making things that were fun. And I think that freed me u. I don't know – it's hard to say. Going down to Tucson with Linda and Dave DeCastro and Chris Cacavas – the four of us went down there and hit something really great. And I think that gave me the confidence to keep doing exactly that for the next fifteen years – just making music that I liked.
I love the music I make with the Miracle 3. And we've been kind of laying low lately – we haven't done a lot because in a way the Dream Syndicate kind of replaced that in the last couple of years. They're similar enough bands that I don't want them going full speed at the same time. But there's definitely going to be more Miracle 3 stuff down the line.
BT: That was my next question: when the next Miracle 3 record might be?
SW: Yeah, I know. I've got the Baseball Project, my solo records and the Dream Syndicate all happening at different speeds at different times, but all active things, as well as other projects that I'm doing. Which I like, because I can just do whatever's the most interesting at that moment. But then things fall by the wayside for a couple of years. You get older and time moves faster and all of sudden it's like, "Oh man, it's been four years since the last Miracle 3 record – that's wrong! [laughs] We gotta do another one!" But I'm sure it'll happen pretty soon.
BT: You'll have to work on another Danny & Dusty record at some point, too.
SW: That one's harder, because Dan lives down in Waxaca. He lives in Mexico now. I guess it's a good excuse to go down there. When we did the last record he was living in Staten Island – that was easier.
BT: I've seen you play SXSW a few times, especially that year when you were trying to play more than anyone else had in those few days, and on the Live Tick DVD, of course, and you're always smiling. You seem to be having the best time of anybody in the room. Do you love what you do now more than you used to?
SW: That's an interesting question. I always loved doing it, but there were times when I lost a little bit of track of what I liked about it. Maybe at certain points in the later period of the Dream Syndicate and my earlier solo years I started thinking too much about what I was trying to do. And now it's just pure pleasure. I'm never happier than when I'm onstage – I just love playing music. I love the chance to exist in the moment. You reinvent it every night – you either do something great or you fall on your face, and you get another chance the next day to do it again. That's great – there's nothing like it. What you see, that joy, is for real.