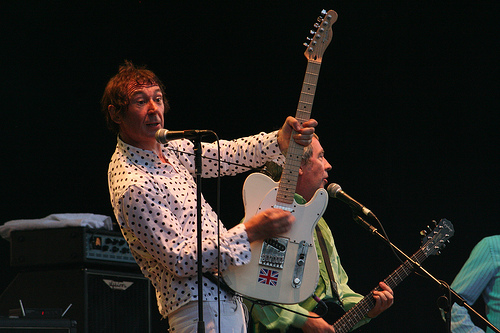 16 May 2010
THE BUZZCOCKS should certainly need no introduction to the average Big Takeover reader, with their particular brand of razor-sharp songwriting and well-earned plaudits as one of punk rock's originators and innovators. Rejuvenated in the early '90s with a well-received reunion on the live circuit, the band has tapped back into their sugar and spike songwriting style, turning out five excellent records that stand shoulder to shoulder with their lauded earlier work; if you stopped listening at A Different Kind Of Tension, you might want to reconsider that decision. I caught up with co-founder and singer/guitarist STEVE DIGGLE via phone on May 7th to discuss their impending American tour where they will be playing their first two records in their entirety, among other things. Thanks to Theo at Mute Records for arranging this, and to Steve for giving his time.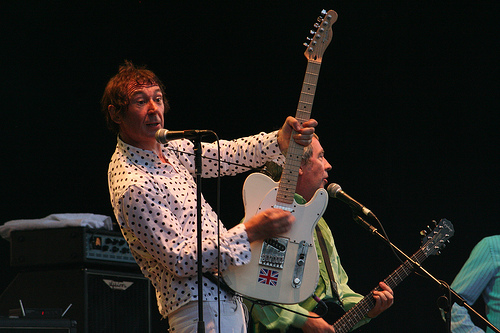 [photo courtesy of Brian Marks ]
The Big Takeover: Hey Steve, how are you doing?
Steve Diggle: I'm good, thanks.
First off I want to wish you a happy birthday.
SD Thank you very much. Yes, it's today (laughs).
So I assume you know that this is for The Big Takeover?
SD Yes, I didn't know it until just now.
I know that you have known Jack for some time so this is a natural fit for getting some new interview material on the site.
SD Absolutely, yes I go back a long way with Jack.
On the new tour that you guys are doing which you did it last year in the UK, now you are bringing the first two records in the concert format to the States. That's an increasingly common occurrence and I have seen a bunch of bands do it. How did you come about that decision and what other records were under consideration?
SD Well, what happened was we were looking to do a new album and because we were on tour we didn't really get time to do it, we were hoping we were going to do it at the end of the year. But then at the beginning of last year they were bringing the 3 digi-packs of the 3 first albums with extra tracks so we figured since we don't have time to do a new album we might as well tour highlighting those first three albums that did come out here in Europe and now they've come out in the States. We've toured all around Europe already so we are finishing up this tour of doing these albums in the states, so its just a highlight of what those albums were at the time and to kind of back up the release of them really.
I think it's a great idea because for the casual BUZZCOCKS fan they pretty much know Singles Going Steady and that may be about it, whereas your proper albums don't have a lot of overlap and there's some great material on there.
SD Yeah, that's true. I mean like you say many people know us from the Singles Going Steady record well then they are pretty new comers then they might be surprised to hear them. I mean when the first album came out it was kind of clever you know became a classic album and influenced a lot people around the world, it was quite a powerful album.
Absolutely
SD Even if you put that against the SEX PISTOLS 's album, THE CLASH album, their first 2 albums, I have to say it sounds kind of futuristic and a bit more avant garde really. You know they were more like regular rock and roll which is still great but we put an angular kind of experimental things in slightly you know which made that more unique I think. It gave the Buzzcocks that really distinctive sound and particularly the first album you know that was quite an important album really in many ways.
Speaking of the Sex Pistols I saw JOHN LYDON 's PUBLIC IMAGE LTD a couple nights ago, and saw THE DAMNED play last year. It seems like a lot of your colleagues from that generation are still enduring and are playing to one or two different generations from the original day. What do you think makes that kind of music so enduring?
SD Well when you think about it that time when all that music came out it was music for the day, for the moment. We didn't realize it would last 33 or 34 years later. That's just a testament to how good the stuff was then, how good the songwriting and how good all the bands were. And so it's amazing how the Buzzcocks and all our contemporaries are still around and the music is still around at least with most of them and it still stands up to this day, you know? I think the thing is now we need generations of new young bands but some of them don't seem to have that outlook and also I think it's a sign of the times with all these credit crunch financial problems that a lot of major companies and record labels are not investing in their rock and roll bands, they just invest in that lowest common denominator stuff. I think its difficult for bands to get through at the moment as well at that level, its a sad plight. They probably invest in some cheap bit of regular kind of crap that will jump in the charts and sell millions of albums. They haven't really thought about what's on there.
And its very fleeting, here today gone tomorrow.
SD Yeah that's absolutely correct, I don't think it gives people a break these days. I think we are around for all the right reasons as well that fact that it was, in our case, that we were a brilliant unique band that inspired a lot of people so and you know we didn't predict or think about that at the time but we are still here and still doing it.
Part of that testament is the number of bands that have covered Buzzcocks songs, ranging from CAMPER VAN BEETHOVEN, THEE HEADCOATS, JAWBOX, PETE YORN? What has been your favorite re-interpretation of a song and why?
SD Well, I will probably say "Harmony In My Head." I was really surprised when Camper van Beethoven did it, you know. But I figured it was a good choice for them to do as well (laughs). I tell you what- "Ever Fallen In Love" it's been covered that many times it's a bore to me now. It's a great song and all that but quite a few people have covered that song and its like hey look at the rest of the catalogue, there's other things there.
Tell me a little bit about your experience when you were on the warped tour a few year back.
SD Yeah that was kind of great. We were kind of like the godfathers on that tour (laughs). A lot of young kids coming up that kind of said they started out listening to the Buzzcocks and then they'd work with their own bands. So we got to talk to quite a few of them and hang out with them because you are kind of in that big field all day and there's lot of time to just sit so we got to talk to lots of the bands there. That was kind of good, it was quite an enjoyable tour, a real good vibe.
I have actually never been to one but I have heard that it is a good kind of communal all day music event, people hanging around having a good time and checking out a bunch of stuff that they may not really know about.
SD Yeah absolutely, that was the vibe definitely. You know, people were enjoying themselves and discovering that it's a great showcase for a lot of new bands that they just wouldn't have expected and they watched them and were a bit surprised, you know.
Have you caught any of the reformed MAGAZINE shows that happened in England last year or if you have been in contact with HOWARD DEVOTO [original Buzzcocks founding member] at all.
SD No, I haven't been in contact with him, we don't really keep in contact. But I did want to go to the shows in London but I was away somewhere doing a festival in Italy. When he was doing those shows we always seem to be away we were so busy last year and this year. So unfortunately I haven't seen any. I really wanted to see one of those shows though yeah, if he comes around again I will catch him then.
I wouldn't mind if Howard decided to tour the US, it would be nice to see some of those songs onstage.
SD Absolutely yeah, I mean you never know I don't know whether they've got plans for the states but I'm sure may do it at some point.
How about John [Maher, original drummer] or Steve [Garvey, original bass player]? Are you in touch with them at all, or are they just living their own lives post-Buzzcocks?
SD They are all living their own lives but Steve will come see us when we do the states. He usually comes when we play Philly or sometimes he comes to the New York show as well.
I think I saw you guys first on the 1992 tour when Steve was playing and MIKE JOYCE was on drums, how did you end up getting him in the band for that line up?
SD Well John left to do this dragster car racing business he has and then we auditioned quite a few drummers in London but none of them seemed to fit the bill really at that audition and when I got back to Manchester, I was living in Manchester at the time, a friend of mine said you know Mike Joyce is not doing anything so I kind of figured that would be good. One, we'd have a drummer from Manchester where we were kind of based at that time, and I'm a big SMITHS ' fan and it turns out that Mike Joyce is a big Buzzcocks fan so he know kind of where we were. I phoned him up and we invited him down to the rehearsal studio and made Steve Garvey kind of audition him really I think pings away somewhere. So we got on really well with him so that's how he joined us.
But then we've got 2 new guys in the band now. We've got a guy now called DANNY FARRANT on the drums he's been with us four years in fact now. Still a new guy compared to us.
(laughs)
SD Strangely enough. And we've got for the last two years now we've got CHRIS REMINGTON on bass who's played in my solo band for years.
Stay tuned to part two, and check out the tour dates for any dates local to you.