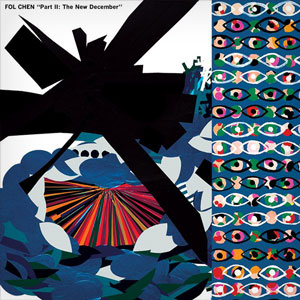 16 September 2010
Fol Chen (Asthmatic Kitty Records) is a bit like the old Churchill quote: "A riddle wrapped in a mystery inside an enigma." Of course he was talking about the Soviets, but one can only assume he had a rascally California outfit in mind. While Fol Chen's charm is partly based on their shroud, their pop sensibility and musical diversity shoulder the artistic load. Nevertheless, their good-natured stunts are notable: live Craigslist-invited auditions for a new singer; having the metal unit Viscera perform their songs live instead; sampling their audience for source material for a third album. Fol Chen is supporting their 2010 release of Part II: The New December, the disjointed, post-apocalyptic narrative follow up to Part I: John Shade, Your Fortune's Made. Starting Sept. 22, you can catch Fol Chen touring with !!! and Oct. 27 they will tour with Apples in Stereo (tour dates are listed after the interview). For now, members Samuel Bing and Patrik-Ian help shed some light on their bizarre, yet fluid lyrical manifestations, their love of Prince and Boards of Canada, and more.
"I don't care if the germs eat our books and our brains/All I want is to see your face again." "In Ruins" is a beautiful lyrical piece. Did Samuel write this piece, and how did an elegant Brian Cox come to perform it?
SAMUEL BING: Yup, I wrote that. It's weird to see it out of context. So goth! As for Brian Cox, that was all the doing of Chris Wilcha, who directed our videos for "Cable TV" and "In Ruins." Wilcha had a connection to Brian Cox, so he sent an email, and miraculously got the green light to shoot the man for an hour the next day. Wilcha had to hop on a redeye from LA to NYC that night, then set up and shoot the thing the next day.
Part II: The New December covers a lot of lyrical ground, but there is a grand production of industrial and instrumental sounds? What influence do experimental artists like Boards of Canada or The Books have on your sound?
SAMUEL BING: I'm a Boards of Canada fan. They really nailed that woozy, sickly, menacing thing, and made it beautiful. I love that sound. For making our records, I actually have an FX preset I made that's just called "Sickly." We treat it like reverb or delay – "Let's put some Sickly on that trumpet," or, "The bass needs more Sickly."
Some electronica-infused acts struggle to translate their sound in front of a live audience, but you guys are noted for having improved to the point of perfection. Do you do anything differently live? Did you make a concerted effort to improve your live act?
SAMUEL BING: This is a tough one. I think it's hard to reproduce a very digital, studio-constructed record in a live setting without using samples and loops and drum triggers, and we work really hard to integrate that stuff without losing sight of the fact that we're not just trying to "sound like the record," but also transform it and put on a show. Because I frankly don't see the point in playing live at all unless there are people on stage doing shit. We just toured with Baths, and Will [Wiesenfeld] is so charismatic and engaging (and his music is so good) that he can pull off the "guy pushing some buttons thing" and make it look easy. But the fact is that most people don't have that gift, and watching them on stage with a laptop or sampler just sucks, and is a worthless live music experience, even if the music itself is genius. Not everyone has to be Iggy Pop, but it would be nice if some of these dudes would remind me exactly why I'm standing in a room watching them play the CD I can listen to at home.
Fol Chen contributed "The Beautiful Ones" to Purplish Rain, a tribute album to Prince's seminal album put out by Spin magazine last year. Tackling the make-or-break song to Apollonia seems daunting. How did this project come about? How fun was it?
PATRIK-IAN: We have a dream board, and we pin photographic representations of our wishes and dreams to this dream board. We pinned up a copy of Spin, a purple crayola, and strand of Prince's hair we got at a concert at the Palladium. We left it out in the rain and voila! They asked us, and we did it. It was a dream project. A real dream.
SAMUEL BING: I don't recall any of this, but I'm sure Patrik is spot on.
The L.A. Times actually said "If Prince had decided to take up esoteric mathematics instead of sex-god funk, that career might be something Fol Chen could get behind." How accurate is that statement?
PATRIK-IAN: Fol Chen stands behind any statement that includes the words Fol,
Chen, and Prince and doesn't say we suck.
Reviews and critics are comparing you to artists all across the board – Sleigh Bells, of Montreal, Prince and even the Beach Boys and Everything But The Girl – how does that make you feel and how would you describe your own music?
SAMUEL BING: We don't mind any of the comparisons! Most of the stuff we get
compared to is really flattering. What sometimes bugs me is when people insist that we are actually influenced by some of the bands they hear in our music, especially when we've never even listened to those bands. We got a lot of of Montreal comparisons on our first album, and I'm sure we should be flattered, but (hand on bible) we've never listened to them! And now I'm curious, but I'm worried that it will bum me if I heard them!
Mixed media courses through Fol Chen veins. Performance art (masked identities), entertaining music videos (see Cable TV for synchronized swimming in an empty pool), and linear, smart narratives within dance songs – you must have influences from all over the spectrum. Who are some – literary, visually, sonically – and describe what you glean from them.
SAMUEL BING: This one is too hard to answer, so I will just link to this instead:
You've toured with Liars (and are a sometimes member) and Baths – are there any bands out there that get you excited to see?
SAMUEL BING: I just like to be surprised. We did a residency at the Echo here
in Los Angeles last month, and I loved playing with a bunch of bands I hadn't seen before, and who were all doing ambitious stuff: WOOM, Sister Crayon, Jessica 6, Light Pollution. And we can't wait to hit the road with !!! (starting Sept. 22) and Apples in Stereo (starting Oct. 22).
A lot of reviews of Part II end questioning what the lyrics actually mean. There is a playful darkness that presides over the poetry. What thoughts and ideas actually influenced the songwriting?
SAMUEL BING: Like the music, the lyrics are built from scraps, which I think gives both elements a less linear feeling. I co-wrote the words to a few of the songs ("The Holograms," "Men, Beasts or Houses," and "The Holes") with a crazy-gifted writer named Kelli Anne Noftle. She has a way with images and sounds that really inspired me, and she was able to express things in ways that would never have occurred to me.
Did your newspaper ever mutate? I bet not.
SAMUEL BING: Not yet…
FOL CHEN TOUR DATES:
09/22 Washington, DC Black Cat $
09/23 Boston, MA Royale $
09/24 Northampton, MA Pearl Street $
09/26 Toronto, ON Lee's Palace $
09/28 Ann Arbor, MI Blind Pig
09/29 Chicago, IL Bottom Lounge $
09/30 Louisville, KY Headliners Music Hall $
10/01 Cleveland, OH Beachland Ballroom $
10/05 Pawtucket, RI The Met Cafe $
10/22 Denver, CO Bluebird Theater $
10/23 Colorado Springs, CO Armstrong Hall $
10/24 Salt Lake City, UT The State Room $
10/26 Seattle, WA Crocodile Cafe $
10/27 Portland, OR Mississippi Studios %
10/28 Arcata, CA The Depot at Humboldt State %
10/30 San Francisco, CA The Independent %
10/31 San Jose, CA Blank Club %
11/02 San Diego, CA Casbah %
11/03 Tuscon, AZ Plush %
11/07 Houston, TX Walter's On Washington %
11/08 Dallas, TX Granada Theater %
$ = w/ !!!
% = w/ the Apples in Stereo