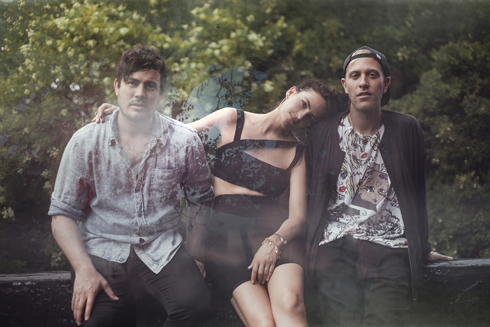 22 October 2013
My friend Amber Crain from When the Sun Hits turned me on to Blouse when she played tracks on her radio show on Strangeways Radio. Starting in 2011 with their dreamy synth pop, this Portland, Oregon band ditched the electronics for real instruments on their latest venture, the excellent album Imperium on Captured Tracks. Songs twist off in unusual ways and may not follow traditional song structures, but that keeps it interesting. Slot them somewhere Beach House and early Barbara Manning and take off from there. Vocalist Charlie Hilton (CH) was willing to answer some questions and thank you to her and also to Sara Casella for setting this up.
Let's talk about your grand new album, Imperium. How has it been received so far?
CH: It's been interesting, kind of hot and cold. Some people love it, and other people don't, but we don't mind the polarity. It's always a little fascinating at first, to see how people react to something you've done. But we stopped paying attention about a week after the release. It's an impossible thing to measure, and kind of pointless. Getting mixed up in a feedback loop is a dangerous thing for artists to do.
The band veered from synth-driven dream pop to regular instruments on Imperium. Was it a conscious decision on the band's part, or something that just evolved naturally?
CH: It was a conscious decision we made when we started the recording process. We love our first record, but we were feeling a little too comfortable with synths and drum pads and we wanted to challenge ourselves. Jake Portrait (bassist and producer) proposed the idea of avoiding those sounds all together, which was a little terrifying at first. I had no idea what this record was going to be like, if it would even sound like us. But in the end, it was very rewarding.
Any favorite tracks you'd care to discuss, and are there any stories behind specific tracks?
CH: Yeah, my favorite track is one that almost didn't make the cut. It's called "In A Glass". The song is about Jake leaving the band to tour with UMO (United Mortal Orchestra). This was the first time I've recorded a song with someone that was also about them. It was pretty healing.
"Trust Me" is my favorite track, and it comes off as a cross between Barbara Manning, The Sound, and The Cure. Is there any validity to my musical assumptions?
CH: Not really, but I'm glad you like it. I've never listened to Barbara Manning or The Sound, but there might be a little early Cure in there, like Faith maybe? When I first wrote it, I made a demo with only synth and an electronic snare. This was before we had made plans to forgo those sounds. It's more organic on the record, but the cello and snare definitely hint at the song's origins.
The beginning of "Eyesight" starts off sounding like sacred music before veering into high gear. Any chance this might become a single off the album? I think it has that potential.
CH: No, I don't think there's a chance that this will be a single. It's one of my personal favorites, but I can't imagine people wanting a single that has no real chorus. A few of the songs on this record have bridges instead of choruses, which is weird because I usually hate bridges. They can feel so formulaic if they're not done right. But this is kind of a bridge-y record, which gives the thing an uncanny mood. That said, I love that intro. It was something Jake did when he mixed the record. And we did all the vocals in a tiny closet with no lights, a predicament that made a lot of sense for this song. I remember feeling around for the mic a lot.
You started on Subpop and migrated to Captured Tracks? How were your experiences on both labels?
CH: We were never signed with SubPop, so we can't say much about being an artist on their roster. But we did a 7" with them. We'd been fans of that label for so long, so it was kind of unbelievable that they were putting out one of the first songs we recorded. As for Captured Tracks, we love them. We were just starting out as a band when we signed with the label, and they've been great mentors, and just really cool people. They're a young label too, so it's felt very special to be a part of their history, to see them grow. I feel like every time we're in New York, they have a bigger office.
What most influences your work? Do literature, art, and film ever come into play?
CH: Yes, of course! Literature, fine art, film, music—they're all after the same thing. They put you in a very specific mood, and even if it's just for a second, it's as good as if it lasted forever. And it's so important to feel that, for something to do that to you, even just once. It lets you know that you're not alone and that somehow existence is meaningful or beautiful. So you experience other art and you can take that mood with you because it's yours now, you know it, and you can transform it into something else, like a song. Truman Capote, Henry Miller, and Dostoevsky are some of my favorites. Architecture can be incredibly moving, even the kind that exists only on paper, like Boullée's Cenotaph for Sir Isaac Newton. I love the installation work by Olafur Eliasson and James Turrell. And film, it's probably my favorite medium because it can be so powerful, like a total work of art. Sometimes, you forget you're even a person at all. But you can't just look at culture. There's always science, the mysteries of existence, nature, history. I can't imagine making music without these things.
Where is the band's biggest fan base? Do you find Europe more receptive than the US for your brand of reverb heavy space pop?
CH: I have no idea where most of our fans are right now, it's kind of a difficult thing to measure. We did well in Europe last year, but we haven't been there in a while, so maybe things have changed. It's hard to know until you go out and see if anyone comes to your shows. For some reason, I'm always surprised when anyone comes at all. I'm always like, "Wow, you came! OMG, Thank You!" It's a very lucky thing, to have people's interest, to have their ears. I never want to take it for granted. We're touring Europe in November, so we'll find out soon.
Is that a real cello on "1000 Years", and if so, who contributed that piece?
CH: Yes it is. Our friend Tammy Barnes came in and played on a few songs. You can hear her in "Trust Me" and "Capote" as well. She was brilliant.
I really love how the music starts off vanilla and sometimes becomes spiked with jagged edges. Before the listener knows it, they are sucked into your dream. Do you set out to get this effect? I think it's really effective.
CH: Yes, it's an intentional effect. We want to suck you in and take over your body! Jake is responsible for a lot of that. He's an amazing producer, and he played a lot of jagged edged guitar on the record. We like using contrast because it makes the listener just a little uncomfortable.
What are your plans going forward?
CH: Well, I had mentioned Europe next month. We're working on a few videos, remixes and some US tour plans for next year. Who knows what else!
Catch up with the band on Facebook.