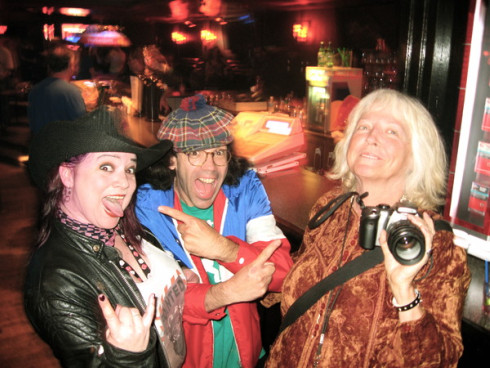 24 December 2012
Photos courtesy of bev.davies (Minutemen, Gun Club; photo of bev at end by Keith Kristmanson); and Nardwuar the Human Serviette (all else)
There's gotta be a few people out there who didn't get a calendar for Christmas!
Music freaks looking for a very cool seasonally-appropriate gift for 2013 – especially one for themselves – might want to circle down to their local record stores for tireless Vancouver media maven and manic Evaporators frontman Nardwuar the Human Serviette's compilation album, Busy Doing Nothing: because contained therein is a full 40-page calendar of photographs taken by Vancouver music scene documenter bev.davies. Bev is certainly the only person I know who has toured with DOA, photographed everyone from Captain Beefheart to Madonna, hung out with Philip K. Dick and Neil Young, and been on the scene to experience both early folk-cafe Joni Mitchell shows and vintage Toronto and Vancouver psychedelic bands like The Ugly Ducklings, The Painted Ship and Mother Tucker's Yellow Duck. It's kinda hard to believe she's only one person! I won't even get into the whole Brian Jonestown Massacre thing…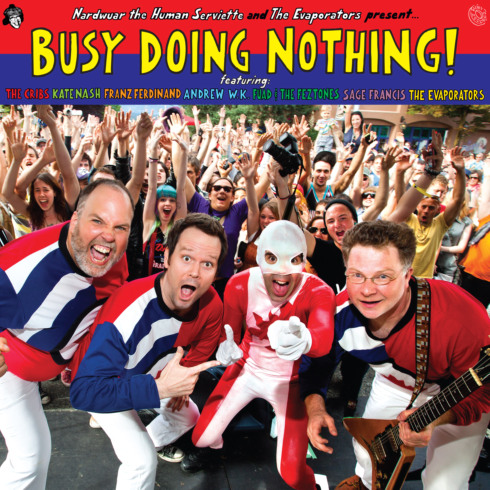 I review the album here – it's a giddy celebration of all things power pop, which sees no less than Franz Ferdinand covering a Pointed Sticks song ("Real Thing"), Fuad and the Feztones doing The Evaporators' own "Welcome to My Castle," as well as appearances by The Cribs (covering The Dishrags -relevant live clip here), Kate Nash (covering "My Chinchilla" by Vancouver girl group Cub), Sage Francis (guesting with The Evaporators on "Hot Dog High") and many others. There's also a generous helping of Evaporators' originals, such as the lead single, "I Hate Being Late When I'm Early," done with frequent Nardwuar co-conspirator Andrew WK. The video gives a behind-the-scenes peek at Nardwuar's gig at Vancouver college radio station CiTR, while side two of the albums – the Evaporators' side – ends with a segment from Herr Nardness' first-ever interview with Franz Ferdinand. The Evaporators even cover a lesser-known Pointed Sticks song, "All the Bad Girls," and Nardwuar, Andrew WK, and Jill Barber do a charming country/ rockabilly tune, "Bring It On Home," originally performed by Doug Rutledge and Donna Woodward in 1975 – a Canadian truck drivin' classic.
Fun as all that is, the prize in this particular Cracker Jack box is the glossy black and white compendium of bev.davies pics inside, including several never before seen images, like a picture of The Gun Club onstage in Vancouver (Nardwuar made bev really dig for that one – the calendar zooms in on Jeffrey Lee in action but the complete photo is below, and not to be re-used without permission!).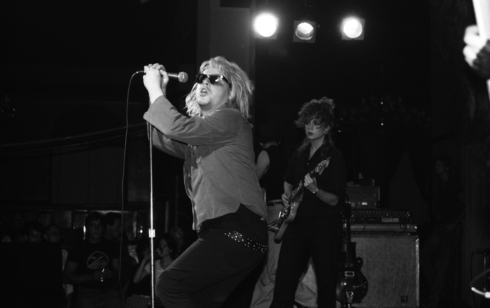 In addition to the photos for each of the 12 months – also including Iggy Pop, The Slits, The Cramps, PiL, minutemen, Joan Jett, James Brown, Girlschool, Pointed Sticks, The Dishrags, and New Order – the Busy Doing Nothing 2013 calendar includes bev's alternate angle of the same stagediver shot at an Adolescents' show by Ed Colver; an early image of U2; a clip of Mike Ness and Brent Liles of Social Distortion at a Pasadena Stiff Little Fingers gig, and a shot of extras made up as "skunks" at the Vancouver shoot for punk cult classic, Ladies and Gentlemen, The Fabulous Stains. As with bev and Nardwuar's previous collaboration, the 2007 Mint Records Punk Rock Calendar, there is also a text portion, with Nardwuar interviewing bev about the photos, as well as excerpts from his conversations with John Lydon, Joan Jett, Mike Watt and others.
I spoke with bev earlier this month about her history with Nardwuar and the photographs. Note: for those who wish to buy Busy Doing Nothing, but who cannot find it in stores, it is available here.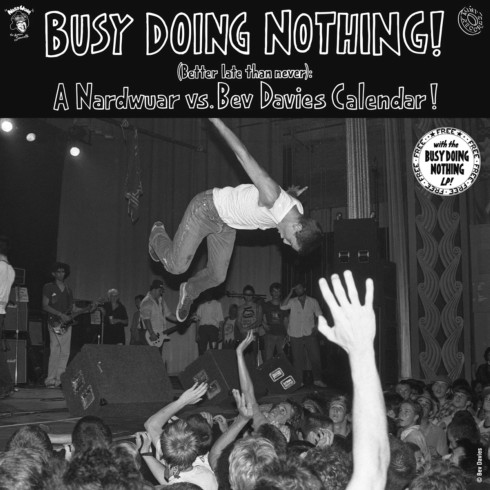 So how did you first meet Nardwuar?
I met him at Joey Shithead 's garage sale, before he started having them at the Railway Club and he actually had them in the backyard of a place that he was living. And I got a hold of Joe and asked if it was okay – that was about 1998, I guess – if I brought a suitcase of pictures to sell and let people look at. And I sat in the backyard and Randy (Rampage) and Brad (Kent, aka Brad Kunt) and some people gathered around and had great stories and it really was quite fun. And there was this quiet, quiet guy sitting looking at all of the pictures, and every now and then he'd ask a question – you know, who's this, or when was this taken, or whatever, and then after he finished looking at everything, he gave me his card and said, "I'd like to interview you." And that was Nardwuar.
Wow.
So then we started doing interviews after that. What he would do is, he would come over to my place, and we would look at photographs that were already printed. He was dying to get into the negatives, but that was just impossible – I wouldn't let him do that, but I have a lot of photographs that were printed. And then we would talk about them, I'd tell him stories, and then he would put pictures aside, go home, and write the questions up. And then come back and do the interview. And they were going into Chunklet, they were going into Chart, and maybe something else. And one of the reasons was, they were audio – they weren't video – and they had to be transcribed. And both of those magazines were quiet happy to transcribe tapes. So Nardwuar would just send off the tape to them!
Any impressions of him at the time? I mean, he has a reputation for being extremely well-researched, and having all sorts of intensely obscure music trivia at his fingertips.
Yes, and way before you could just sit down at a computer, he was doing that. I don't know how much now he uses the computer for research. He always takes great pride in being well-researched, but now that's sort of overlooked, in a way, because anybody can sit down at a computer.
Does he ever draw on you for information to help him with an interview he's doing?
Oh yeah, constantly! Sometimes before he's going to interview somebody he'll ask me, what is the one question that I would ask. One time he did that was, he was going to interview Joan Jett at the Warped Tour here in Vancouver. And he said, what would you ask her, and I said I don't know – and then I said, "I'd ask her about that little baby pacifier around her neck." So he did, and it became a sort of turning point where she talked about her realization that people were following her, style-wise, when she looked out into the audience and everyone had baby pacifiers around their neck.
There's an excerpt from that interview in the calendar.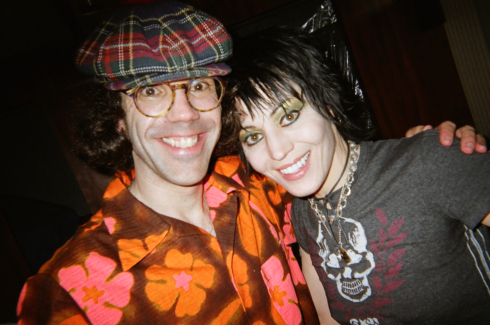 And then of course, Nardwuar and I are both Neil Young fans and we have met a couple of times to meet up with Neil Young, because we ambushed him!
Were you helping Nardwuar get in touch with Neil, or…?
No, we'd just go, let's do it! Somebody had written in The (Georgia) Straight or The (Vancouver) Sun that Nardwuar was trying to get an interview with Neil Young, and so – it was my Monday off; I worked for the government and I had a modified workweek, so I had a Monday off – and I was at home, and Nardwuar phoned and said, "Someone just phoned me from Gastown and Neil Young is having lunch in the restaurant, do you want to go?" And I said, "Absolutely, yes!" And so I was standing there in front of my place and I had my cameras on and I thought, "What if I dreamt that? What if I'm standing out here and he's never going to show up?" And then I thought, "That's okay, because no one knows why I'm standing out here; it's not like I phoned ten people and said, 'I'm going to go ambush Neil Young!'" It was just me standing outside.
(Laughter)
And then he showed up, and we went, and we couldn't see in the restaurant. It was in Gastown, and he was going – "is that Neil sitting over there?" And we're at the door of the restaurant, and there's an outside door and an inside door. And I said, "Well, I can't really see." And Nardwuar pulled his glasses on – they're not very thick, and I could actually see that yes indeedy it was Neil. And so then we walked around and went to the street door of the restaurant, and someone from Neil's entourage – he doesn't travel with a big one; he doesn't travel in vehicles that are obviously limos, though they are; they aren't stretched or anything like that – and that vehicle came up and we're going, "woo, he's coming out the door!" And someone came and checked us out and figured that Nardwuar and his photographer and me were no threat whatsoever. And then Neil came out, and Nardwuar said (adopts an excitable Nardwuar-voice) "I was wondering if I could do an interview with you!" and all that kind of stuff. And Neil was just walking past us and ignoring us, and I said, "Neil, it's Bev." And he said, "Bev!" and turned around and came up and gave me a hug and then he talked to Nardwuar for awhile. It wasn't a very big interview, but there's a picture of the three of us, what we look like. Nardwuar does an alphabetical thing where you can look up the interviews on his website, and this one is called, "Neil Young kinda."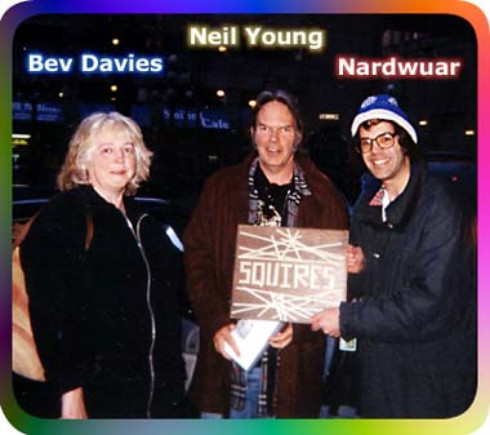 I think I've seen that same photograph reproduced in Kevin Chong 's book Neil Young Nation.
Yep. And we didn't go to the show. That's one of the things we don't ask.
Yeah, and it's not like Neil really needs the press…! Now, you first did a calendar in 1980…
I didn't know Nardwuar then.
No, no, of course not.
I don't think he was even around! The first gig that he went to was Skinny Puppy at the York Theatre in 1985.
Speaking of gigs, when did you first see The Evaporators?
The first time I saw them was at (popular Vancouver venue) The Commodore, and he asked me if I wanted to go. They had Thee Goblins, opening for them, which is an in-joke – it's really the Evaporators with white bags over their heads. It was a huge audience – not sold out, but really decent-sized – of the most normal, nerdy looking people on the face of the earth! I wasn't used to going to concerts with any of those people, I don't think. And I assume most of them were university students. The audience looks a bit wilder now. At that time – they didn't wear bowties, but everything was really conservative, in terms of how they were dressed. A lot of greys.
Was Nardwuar dressing conservatively then?
No. But when he shows up to interview me, he just comes up dressed normal, unless he's going somewhere else. But what's funny is, when he gets really excited about something, he switches into the Nardwuar voice. You've been talking to this person in a normal voice, but when he gets excited… (bev does an indecipherable imitation of an excited Nardwuar).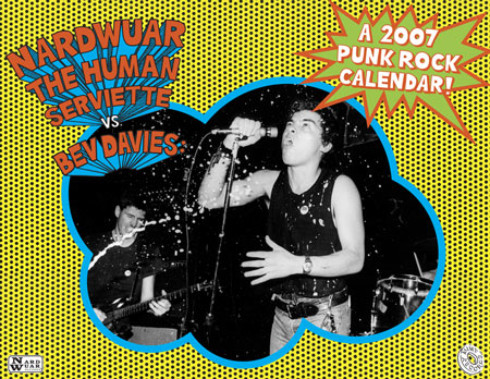 So whose idea was it to collaborate on the first Mint Records calendar back in 2007?
It was his. And if you look at the calendar – if people who are reading this article have the opportunity to find it somewhere – you'll see that the interviews beneath the photographs are the interviews that Nardwuar did with me about that band. So the Motörhead picture would be one example – the story of how that picture came to exist. I thought the interviews that he was doing were being buried in magazines like Chunklet from the States and Chart from Toronto, but they all got pulled out of there and put into the calendar. "Ahh! I thought these were long gone!" "No, not really."
Is it a good thing or a bad thing?
Well, it's a good thing, because it goes with the pictures. It wasn't what I believed was happening at the time, but I think my friend Anton Newcombe has explained very well that everything you say to the press is there forever. And they'll pull it up at the most appropriate, or inappropriate, times, depending on their schedule. Which is what Nardwuar does with the new calendar – he has excerpts of his interviews with Joan Jett and Mike Watt and John Lydon and so forth. So the new calendar has his interviews and some comments from some of the bands that are on the new album.
And (Stephen) Hamm (Evaporators' bassist, formerly of Slow, Tankhog, and Canned Hamm, among others) is there, he comments a lot, too. But do you have a favourite photo in there?
Let's see (sound of bev flipping through calendar). The Cure, that's nice. You'll notice when you look at the wall and the couch behind Robert Smith that it's exactly the same ones as are behind Lux Interior. It was backstage at The Commodore, with the fake wood paneling.
Do you have others like that?
Probably I do. I know I became obsessed for awhile with the couch they had before, with the leopard skin pattern: "I'm going to photograph everyone sitting on the leopard skin!" But that's a cross-referencing that I haven't managed to do… The Iggy picture, I've always really liked this photograph of Iggy. One of my favourites is the John Lydon one with his hand towards his ear, listening to the audience.
As I remember that gig, a lot of people got annoyed with PiL, and were chanting for DOA to come back on the stage or such. I wasn't there, but I remember reading about it at the time – that DOA kind of stole the show.
I think they wanted to see the Sex Pistols come on afterwards! DOA built it up, and then the audience wanted to see another punk band! PiL is not. I just remembered another question, when he was interviewing John Lydon, Nardwuar asked me, "What would you ask him," and knowing that this photograph was in contention to be in the calendar, and knowing that he had pajamas on, or something that looked like pajamas, I asked him to ask about Johnnie Fingers from The Boomtown Rats, who wears pajamas onstage.
Ah, okay, so that's where that came from.
Nardwuar didn't seem to be that familiar with Johnnie Fingers and the pajamas, but I showed him some pictures. And in the interview with John Lydon, John Lydon criticized one set of pajamas and said how much better his were, they didn't have a drawstring or something. I'd have to read the interview again, it's a very good interview.
No elastic on the sleeves, I think it says in the calendar.
Yeah. He was saying that they're not really pajamas, but…
They do look it. Stylin', though.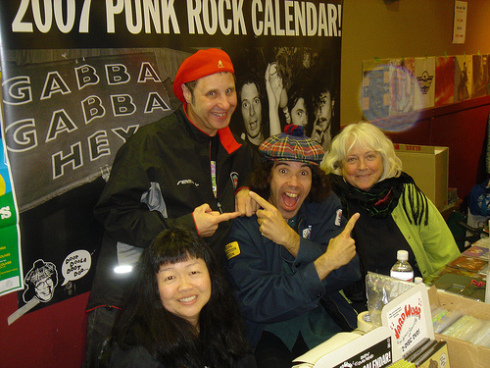 When he asks me these things I can't always think up a whole string of questions, but if I'm asked to think of one… (Looking through the calendar). And I love, in the Girlschool photo, that two of them have Clash shirts on. It pulls another whole band in. And I won some kind of bet that night with Randy Rampage – I owed him money from London, from King's Road; I don't remember what I bought, but I was supposed to pay him back, but we bet it. I don't remember what the question was, but at the concert that night, we knew they could answer the question, so we bet whether I was right or he was right, to see whether I would pay him double back, or nothing. And we asked them the question and I won!
One of them was Lemmy 's girlfriend, right? Do you know which?
I have no idea… New Order is the band I have absolutely no memory of. I remember the Gun Club, and not knowing a lot of their music. I knew a lot of New Order's music, because I know Joy Division 's music. So to go and take these pictures and have no memory of that and not be a drinker – to have no reason to have no memory…
It's something!
And I like the one on the back, of Social Distortion. I've never seen them play – I know they've come to town a few times in the last few years, but I've never seen them.
How did you end up with the photo?
That's taken outside Oki Dog, which is just inside Los Angeles from Hollywood, and I was down in California at a Stiff Little Fingers concert with DOA opening, and they were backstage with passes on and stuff. And I was backstage, and DOA was leaving town that night, as soon as they packed up that night, and I was flying out of Los Angeles the next morning and had absolutely nothing to do an no place to stay. And they said, "Let's go to Oki Dog's" and "Let's go party!" and I just went with them til the morning, out, going around. And we all had laminated Stiff Little Fingers passes on, so we could get in anywhere for free, because everyone thought they were Stiff Little Fingers or something. I don't think at any point they actually claimed they were, but they definitely look like a band…
Were there any photos that didn't make the final cut that we should talk about?
When Nardwuar was interviewing me, one of the pictures that he'd asked if I had was — there was a point in Iggy's career where he used to expose himself onstage, and then he stopped doing that. But I was at a concert out at UBC, at the Student Union Building, where he did do that, and I do have a photo of it. Far away and blurry, but, y'know. Nardwuar included that in the questions he was going to ask me, about that show, but it happened when he was going to interview me at my house, my Mom was there from Ontario. And my Mom had it in her mind that he was interviewing me and someone was going to be playing the tape, you know, so she had to keep really quiet in the background. She was the dining room and I was in the living room with Nardwuar and there was a fireplace between and stuff like that, but her and my son were like whispering and staying really quiet, and then Nardwuar goes (bev says in screechy-loud Nardwuar voice): "TELL ME ABOUT THE NIGHT WHEN YOU WERE GOING TO PHOTOGRAPH IGGY AND HE PULLED HIS COCK OUT!" And I just went bright red. There's never a point in your life when things like that don't embarrass you, or have the ability to embarrass you! I've never asked him if he did that on purpose – I think he was just interviewing me.
Did your Mom react? Did she have comments?
Nothing. It's like my Dad – I'd ask her, "how come Dad isn't mad about such-and-such," and she'd say, "he chooses not to know." So that's probably a question she didn't want to ask me.
She chose not to know. Did Nardwuar want to put Iggy exposing himself in the calendar?
No, it's not a good enough picture – it's shot from the side of the stage, and… I would never have allowed it.
Okay.
One that he tried to put in the 2007 calendar is actually in the current calendar. The one that we put out then was called a "Punk Rock Calendar," and he kept wanting to put this picture of U2 in it, at the US Festival in 1983, and I wouldn't let him. I wouldn't print it, wouldn't even consider it – all cred would have been gone if I put it in. So with this calendar, probably the first sentence out of Nardwuar's mouth was – "Let's do another calendar, and we can put the U2 picture in, right bev?" And I said yes, so we put it in.
I really have no fondness for U2, but it's a great photo.
I mean, there's other good photos of U2 that I have, but that's a really early photo: there they are at the US Festival, playing in the daytime, with The Clash headlining over them on the same day. And when they went off the stage, people were saying, "this will be the last time they ever play this festival in the daytime." Anyhow, Bono was on the stage, and it was this HUGE stage, and he was walking back and forth, agitated, across the front, and I started noticing him doing this. And then I noticed what he was doing – that he was pulling the microphone cord, making sure he had lots of loose cord. And in the back of my head I immediately knew what he was doing, because I'd seen Jello Biafra do it: getting ready to dive out into the audience. And that's what the photograph is – just as he's tilting into the audience. And he had to walk out on pipes, like, on a structure, out from the stage to as far as he is – because the stage would be another six feet to the right, in that picture. And the security people were all trying to grab him when he was tilting off into the audience. And then ALL of the press – there must have been ten of them in the press pit – - they turned to me and said: 'you got that picture.' And I said, 'Yeah.' None of them had probably shot Jello, so they didn't know what he was doing up there!
Ha!
I shoot with Canon, so it's really loud, but they knew – because I put the camera down as soon as I got it, and went "phew!"
There's a great tension in it. Did he actually crowd surf like Jello does?
Absolutely, he was out in the crowd.
Well. (Begrudgingly): score one point for Bono.
They had played Vancouver a few nights before they headed down there – they had played the Queen Elizabeth Theatre. And what he had done at the Queen Elizabeth Theatre is, when they were doing "Sunday Bloody Sunday," he had this huge pole with a white flag on it, and he headed out off the side of the stage and around and came up into the balcony at the very end – those points that go down into the balcony at the Queen Elizabeth Theatre? And he was walking the rail, waving that flag, and the security people were going nuts down below, holding their arms out in case he fell. It was amazing.
Do you have photos of that?
The danger of it just isn't in the photographs. If I'd been in the backstage area I probably could have got a shot that shows how far down the ground was and how high up he was, and what he was doing… but shooting the way I was…
One of the things that makes the US Festival one special is that you really see the panic on the crew's faces as they're rushing out.
They're figuring it out, at that point – "Oh my God, don't go into the audience!"
If we could come around to the Gun Club photo – Nardwuar really made you dig for that?
Yeah. They're listed on my list of people that I shot. A long time ago – a looong time ago, because it's with a dot-matrix printer, so it really is a long time ago – I made a list of all the people that I'd photographed at the time. And The Gun Club was on there, and all there was besides was the date – which is all I need to find the negative, is the date – and when Nardwuar saw it, he went, "You photographed The Gun Club?! Ohmigod!" Same with the Minutemen picture – it was not something he thought about asking about, or a picture I'd shown him or anything like that. It was something he went after specifically by name.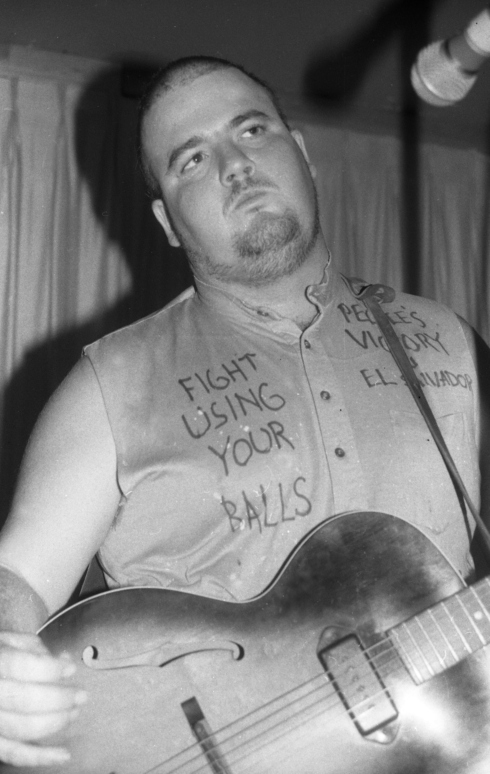 That photo mattered to me, because I don't think, at that point, that I'd heard the Minutemen, and I saw this photo in, I think it was Discorder. It was certainly a photo of d. boon with "Fight Using Your Balls" written on his shirt. And that phrase is so… unusual that it made me curious about the band. I think that was my introduction to them.
Who wrote that on his shirt?
Mike Watt, the bassist. And he and Nardwuar talked about it in the interview. Seems to have really brought back memories for him.
I remember giving a photograph once to Dee Dee Ramone. Or maybe it was Johnny Ramone? It was Johnny Ramone, because it was a guitar, not a bass. And he said, "ohmigod, that guitar is gone." That's happened to me several times, where I show up at a show with a photograph from last time. The guitarist from the Patti Smith band, his guitar was stolen the night after a show in Chicago – Ivan Kral. And when he played here, I gave him a picture, and he said "ohmigod. That's probably one of the last photos that was ever taken of my guitar." It was definitely the last day – because all their equipment was stolen that night.
Sorry, but you shot Patti Smith?
No, she didn't show up for that. It was never agreed that she would come – the band had agreed that they would play in Lincoln Park. So the band played there, and then that night all of their stuff stolen. They continued on somehow. Iggy had all of his equipment taken a year or two ago.
Oh, the Stooges thing. Yeah, I remember that.
They went on to Toronto and played on all borrowed equipment.
That's heartbreaking stuff. So let's come to the album. Any opinions?
You know what my favourite song is on it? I really like the "Real Thing," but – I think the Sticks version is better; sorry. But "Welcome to My Castle," to hear it done by someone other than Nardwuar – it turns it into more of a song, as opposed to one of Nardwuar's performances. It's quite faithful to his version, but it just doesn't have his range of… squeaky. I guess that's why I prefer the Pointed Sticks version of "Real Thing" – I like Nick (Jones) 's whiny voice! I sort of miss it.
You can't really beat the original of that. Since there's also a Dishrags cover – the Cribs doing "Death in the Family" – and then there's a Dishrags photo, and there's also a Cub cover – did Nardwuar try to find out if you had any Cub photos?
He may have asked me! I just don't.
Any favourite photos of Nardwuar?
I love the drawings of him that they animate with the song, "Nardwuar!"
Speaking of which, have you seen the cartoon of him talking to Iggy about his exposing himself? It's pretty priceless.
No, I haven't seen it! He probably goes, "And Bev saw it, and her mother knows!" (Laughs).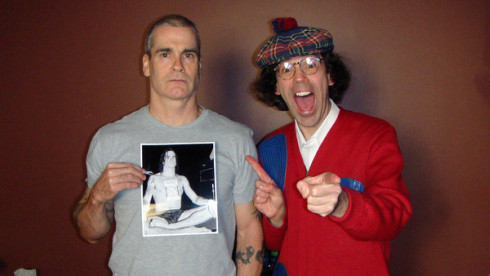 (Henry Rollins holding a bev.davies photo of himself. It's really not related to the surrounding text, but there is at least a spiritual connection between Rollins and Iggy, right?).
Let's talk about The Slits, here. The photo – that was taken in London, right?
Yeah, it was taken in London.
Were DOA playing with The Slits or something – was it when you went there with them?
Nope. I was over there the year before I went there with DOA. I went on tour with DOA in 1981, but I was in London in 1980 for a month. Immediately as soon as you get there you grab Time Out and try to figure out what's going on and plot out your week of what you're gonna do, and there was this movie theatre – a third run movie theatre, had-a-different-movie-every-night kinda thing – and there was The Slits on Wednesday night, and I phoned and said, "Is it a movie about The Slits, or are they actually playing?" "Oh no, they're actually playing!" So then I phoned the record company and got on the list, and they gave me a +1. I was in London with no one that I knew – I was just there by myself – so I headed off to the nearest tube station, and realized when I got there that I had no idea how to get to this theatre. So I went up to some very young punk-looking guy, and asked him how to get there, and he said – "well, you turn and walk down this street and…" And I said, "are you going to see the Slits?" And he said, "I don't have a ticket." And I said, "You do if you walk me there!" So he got in for free, and I found the place.
Aww. Were you aware of the Slits musically at that point?
Oh yeah.
There weren't that many all-women punk bands at the time, so did that make it any more interesting for you, to be going to see all women onstage?
There weren't that many all-women punk bands that did "I Heard It Through the Grapevine." I heard that somewhere – The Commodore between bands – and I just went "ohmigod, who is that." I think that was my way into who they were. A friend of mine who collects that song – he has thirty different versions of "I Heard It Through the Grapevine" – gave me the 45 of it, 'cos it was the worst version he's ever heard in his life! But I love it.
Yeah!
I may have known Ari Up before that, because I went over in 79, in 77… I went to a photo show, and saw some pictures of her Mom and maybe Hendrix? I think she went out with Hendrix for awhile.
Ari Up's Mom?
Yeah. I may be starting a horrible rumour – check it out online. I was pretty vague about writing stuff down. But I did see an incredible photo show, in York. And I don't know whose photos they were. I've often Googled that – "York photographs punk rock 1979."
Talking about Ari Up, was, uh, mortality on your mind with this calendar, because there's, uh…
…a lot of dead people?
Yeah.
No, it wasn't… when Nardwuar and I pick out the pictures, we way overpick the number of pictures. We had Peter Tosh, smoking a joint, really close up on him with no flash – that didn't make it in, because when the Dishrags were being covered on the record, we needed a photo of them, instead of the Peter Tosh one. But we usually – twice we've done this, anyhow – choose 25 or 26 pictures, and I send them to him and he printed them, just on normal paper, not on photography paper, because we didn't need that. And then he comes over and we lay them out, January-February-April, and then switch around, switch around, switch around and rationalize the order. There's usually the cheese shot –
As in cheesecake? Like a sexy pic?
No, as in really cheesy. I can't remember if we did a cheese shot this time. It was Adam Ant in the 2007. And we try to have a variety of where people come from – not all English people in one spot as you flip through the calendar, that kind of stuff. And then just pictures that have a scale to them. And then men and women… and we put it all together and no one thinks we thought of anything.
So it ended up being just an accident that, like, there's Lux and D. Boon and James Brown and Jeffrey Lee and a photo of The Slits, even if it's not of Ari…
Absolutely. We didn't make that as one of the parameters: "let's put six dead people in!"
Okay, good.
In reality, it's going to happen more and more.
Inevitably, yeah. So is there any reason you have James Brown for August, and Nardwuar is talking to him about sweat…?
Yeah, that's absolutely was it – visually it worked, and now we realize, August/ sweat. I hadn't read Nardwuar's interviews beforehand, so they had nothing to do with that. And I don't think Lux Interior had passed, when we were making the decisions to put him in the calendar. Because you've got to realize that this calendar has full page pictures for 2013, but it existed a year ago! So if you go back that far, I think he was probably still alive.
He looks really wasted, or exhausted, or something in this photo.
Exhausted. It was after the show.
Is there any other last minute stuff we should mention?
I want to do a book! I want a book of my photographs!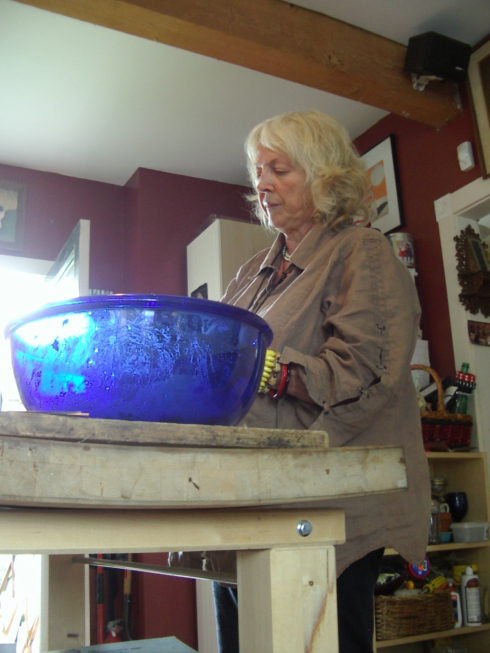 Thanks to Nardwuar and bev.davies for their participation in this interview! Publishers interested in putting together a book of bev.davies photographs can contact bev through her website or her Flickr page. Happy 2013!