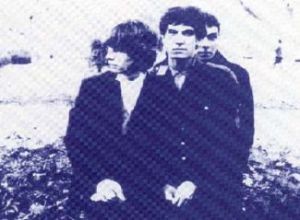 19 December 2005
In my last blog, I spoke about the death (tragic suicide, age 39) last December of someone who I admired and knew, someone who wasn't well known outside of underground Canadian rock circles and his home Montreal. But ALEX SORIA (1966-2004), leader of THE NILS, was one of the great singer/songwriters of the 1980s. A year later, I still miss him, having eulogized him briefly in issue 56 of The Big Takeover.
I also spoke of Soria's gifts as a songwriter and singer, and implored readers who wanted to hear some real early '80s melodic, heartfelt, post-punk greatness, to try The Nils' compilation Green Fields in Daylight on Canadian label Mag Wheel (and start from the end and work their way backwards).
I also included Part I of a fine memorial piece for him penned by Canadian writer CAROLINE EVANS, who generously offered it to us to run in this space. So, without further comment, here's Ms. Evans to conclude that thoughtful and informative look back:
Scratches and Needles [Part II]
by Caroline Evans
In spite of his drug [heroin] problems, the shy frontman never lost his gifts for songwriting and performing, sometimes playing until blood trickled down his pickguard. "Alex was so quiet and soft-spoken, when he got up on stage, it was like, 'How does he do that? How does he know to do that?'" longtime friend JOHN CAMPBELL says, remembering the first time he saw his high school chum rehearse.
"The way he wrote his lyrics, he was very concise. He could say so much in just one sentence," Mag Wheel Records head WOODY WHELAN wrote to me via e-mail shortly after Soria died. "I often think of that STEVE EARLE quote regarding TOWNES VAN ZANT: 'Townes Van Zant is the greatest songwriter, and I'll jump up on BOB DYLAN's coffee table with cowboy boots and say that to his face.' I would change that to Alex Soria, boots to Converse high-tops, and Bob Dylan to PAUL WESTERBERG."
Attempts to revive The Nils in the early '90 on guitarist/bassist brother CARLOS SORIA's return from California came to naught, and Alex formed another band, CHINO, in 1998, which issued a sole EP, the celebrated Mala Leche on Whelan's Mag Wheel label, then based in Montreal.
"It bothered him because he was so aware that 'making it' isn't always about the songwriting, it's also about timing and who you know. And you know, Alex wasn't a schmoozer," says Campbell.
Although The Nils were never commercially successful, their influence has been tremendous. As contemporaries of the American post-punk movement, they influenced the likes of SUPERCHUNK and HUSKER DU. "BOB MOULD's mum used to bake The Nils cookies while they were on tour," Whelan laughs, speaking from his Toronto home. His high voice conjures up a mental image of the Converse high-tops he had written about in his email. "But it's true that they were contemporaries, not copiers, of THE REPLACEMENTS and Husker Du." Other bands influenced by The Nils include SLOAN, DOWN BY LAW, and JOHN KASTNER outfits THE ASEXUALS, THE DOUGHBOYS, and ALL SYSTEMS GO.
The effect that Soria and his work had on people was seen in March of this year, as people flew in from Edmonton, The Maritimes, L.A. and New York to attend a memorial concert at Montreal's Main Hall, to watch former members of The Nils and Chino, John Kastner, and others pay tribute to the quiet frontman. "We had to turn away people at the door," says Campbell. "We fit 250 people into the place, but we could've easily fit 500 people in there." "There were over 100 people lined up to get in," echoes Whelan.
Campbell's gravelly voice wavers for a second. "As a fan, what I most regret is that, apart from Mala Leche, there are really no recordings of Alex's work that do justice to his songs. His was a case of great songwriting transcending mediocre production."
"The feeling you got being around Alex, was that you had to take care of him. And I just wish, I think we all do, that I had done more. Especially in those last days," says Whelan.
But since Soria's death in December 2004, several projects have been established to help keep his memory alive. Proceeds from the memorial concert went to a detox centre [Portage Program For Drug Dependencies]. Unissued tracks abound, and there are plans to release at least some of them in the future. But perhaps the most appropriate recognition is the establishment of a new annual award in Montreal: "The Alex Soria Fountains Memorial Award for Most Promising Local Songwriter."
[That might be the most fitting legacy of all. For lots more on Soria/The Nils and an oral history of sorts from those who knew him compiled by journalist CHRIS BARRY, see the March 3, 2005 Montreal Mirror cover story and also see Mag Wheel Records for info on obtaining Nils and Chino releases. -ed.]