I'd been looking forward to this show for a while and not just because it would be our first time seeing Wild Flag in a smaller, much more intimate venue than when they opened for Sonic Youth on the Williamsburg Waterfront back in August. I was also looking forward to it because it would be our first chance to see Fiery Furnaces singer Eleanor Friedberger play in support of her recently released first solo record Last Summer. Not only that, it was our first time at the newly opened club Union Transfer, a joint venture from R5 Productions, Bowery Presents and Philly215Bars that's housed in a former Spaghetti Warehouse on a still somewhat derelict-looking strip on the very northern edge of Center City.
To say that this club is nice might be the understatement of the year. The sound and sightlines are nearly perfect (as is the ventilation system, a notorious problem at the First Unitarian Church and Starlight Ballroom, especially during the warmer months), the bars are plentiful and good beer is on tap, re-entry is easy, there's a coat check and even a balcony with seats. And much like Bowery Ballroom in New York, it has a separate bar for those who want to relax before checking out their band of choice. Other than the fact that they don't serve food other than some snacks, it's as if they took all the complaints anyone could possibly have about any other venue and strived to correct them. It's an amazing place, really.
So how did Wild Flag fit into this context? Quite splendidly. Nearly filling up the almost 1,000 capacity (oh did I mention that the capacity is variable based on the adjustable stage?) venue, they absolutely tore through a nearly hour-long main set that found them playing virtually every song they know. Most are on their amazing new self-titled album (though there were a few new ones, too) and the best of these were "Romance" and "Boom". In fact, the segue of "Boom" and "Glass Tambourine" was perhaps the highlight of the night. Though singer/guitarists Carrie Brownstein and Mary Timony get the bulk of the attention (and perhaps, deservedly so), it was keyboaridst Rebecca Cole who is really Wild Flag's secret weapon. She pushes them away from conventional, hard-edged indie-rock and into psychedelic and even early prog-rock territory, particularly on the extended stretches they incorporated into the live versions of "Glass Tambourine" and "Racehorse". Still, though, it's quite a see to see how much energy Timony and in particular Brownstein have with the latter on the floor during some of the extended guitar jamming and the latter with high-kicks that would make Robert Pollard or even Roger Daltrey blush! It's clear that this group is having fun and this sense of fun, so crucial to their appeal, is evident on both record and especially on stage.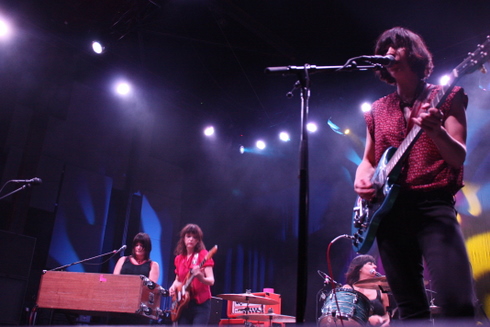 If all that weren't enough, they returned to the stage for a two song encore that payed tribute to one of their biggest influences. We got rousing versions of Television's "See No Evil" and The Misfits' "She". I've heard that they've also been playing Patti Smith's "Ask the Angels" on some stops of this tour, but unfortunately we didn't get to hear it on this night. Still, what a way to finish a set!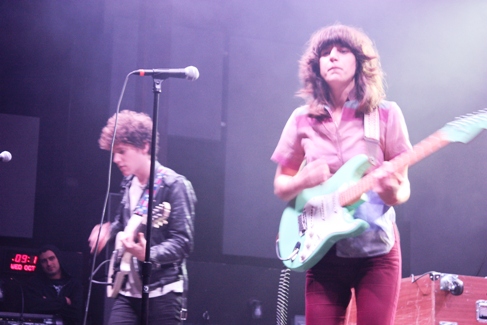 Opener Eleanor Friedberger played a short, politely-received set (as opposed to the folks visibly singing along to the headliners) that comprised material from Last Summer. I enjoyed it and it must be said that this material is much less arty and more poppy than just about anything Fiery Furnaces have ever done. As a long-time fan of Fiery Furnaces, though, I still welcome the change.
All of the above photos were taken by Anne Leavitt-Gruberger.
blog comments powered by

Disqus