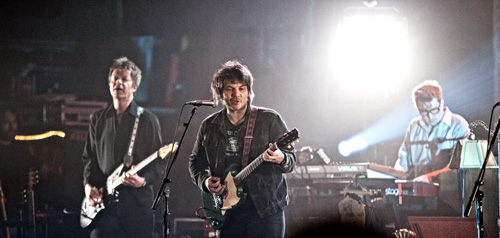 11 April 2010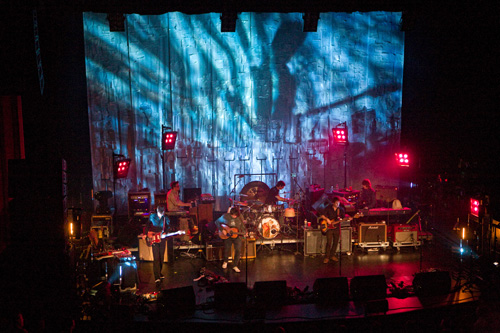 Touring without a support act can be incredibly liberating, or an exercise in excess. During WILCO's continued East Coast tour as 'an evening with,' the shows are emphatically on the former. Making it up to the capital city of New Hampshire for the first time and only the third ever trip to the Granite State, according to wilcobase, they were coming off a frankly incredible show the night before in Boston, and I was curious to see if they could match it. I cannot imagine how they could surpass it. Straight away, the venue had a different vibe- more posh and upscale as compared to the decaying elegance of the Orpheum, and the elderly security staff uniformed in tuxedos gave it an oddly formal touch. At a capacity of roughly 1300, it was the most intimate venue the band would play, and it didn't take long for JEFF TWEEDY to get acquainted with some of the audience, first complimenting Concord on their grapes, and getting a lesson in regional New England dialect in the process (he was pronouncing it like the plane, 'chord' rather 'curd'). He twisted it around by adopting a really obvious local accent (Cahn'-kuhd). Later on he'd recognize some kids who have put up Youtube videos of themselves playing Wilco songs, and noticed someone that was at the Tanglewood show in 2008. The funniest interaction came during a clap-along, when Tweedy called out someone's less than in-tempo style, reckoning it to the less than helpful situation when one is trying to count money and someone else is randomly calling out numbers.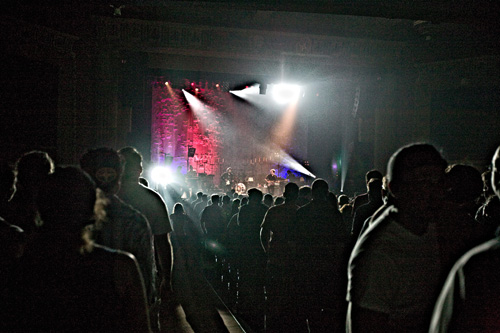 The variety of songs the band's rolled out in these shows has been impressive; of course there's going to be a core group of repeats, but when the average show is bordering on three hours in length and thirty-five plus songs, it's natural that the band would weave in and out of the corners of its discography, dusting off some obscurities or otherwise unplayed songs to delight the hardcore fans. For this show, qualifiers would be the lethargic "Radio Cure" and the perfectly sublime "Cars Can't Escape," a beautiful song which was given away via an online download to purchasers of Yankee Hotel Foxtrot yet has never been actually released.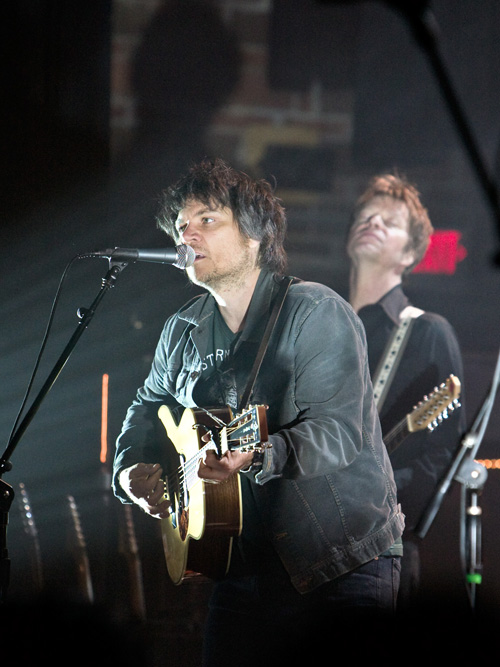 Of course, there were the well-known songs too, and even when you know what you are getting, it's hard to argue with the apex of "A Shot In The Arm" ("something in my veins/bloodier than blood"), when the guitars lock into an organically growing beast on "Impossible Germany," a very cool acoustic version of "Spiders (kidsmoke)" where the loud groove is replaced by gently insistent acoustic guitars, and the gong crash > drum stool stand/arms-outstretched stance of Glenn Kotche before launching into the gloriously upbeat "I Am The Man Who Loves You." These sorts of moments will never tire.
For the audience-sourced vocals of "Jesus etc" the output was about 1/10th the volume of the Boston show, and the energy of the show took a bit of a nosedive as a result; additionally, I'd say about a quarter of the people found their seats during the acoustic set whereas the audience I saw of Boston was standing the entire time. Tweedy asked the crowd if they were getting tired on this unseasonably hot April night, and that they could leave the stage if wanted. Of course, there were eight songs left to be played, but keen-eyed people near the stage noted that three songs on the list did end up getting trimmed; whether it was due to the perceived waning interest of the crowd or Tweedy's decision, we'll never know.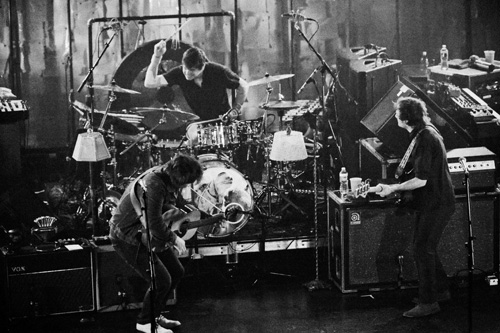 That said, you'll never find anyone complaining about a thirty-five song set, and the regular set ended in a glorious reading of BIG STAR's "In The Street" featuring a lead vocal by JOHN STIRRATT. Wilco's performance finally ended with a two song encore, first with "Hoodoo Voodoo" featuring a ridiculously awesome guitar duel between NELS CLINE and PAT SANSONE where they tried to up each other in turns, with Tweedy acting as a moderator, and then the crashing closer of "I'm A Wheel," Tweedy shouting vocals as if his very life depended on it. If you want to see a tight live band with all sorts of capacities and twists at their disposal, I'd be hard-pressed to think of a better alternative.
More photos can be seen here
Breakdown of songs played by record, courtesy of Wilcobase:


comments powered by