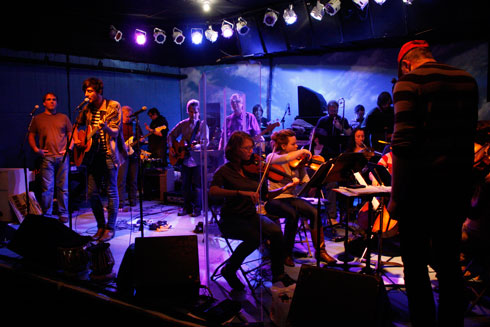 2 January 2011
It's Wednesday night, one night before the tribute to Big Star's third album (known to many as simply Third) bows before an audience. As the band churns through "Big Black Car," the strings come in, and everyone's eyes start to widen. At the end of the song, all of the musicians turn to each other, and simultaneously compliment the combination of the band and strings together.
In a moment, the thrill of these shows is crystallized. For years, Big Star's long-unreleased third album existed only in bootleg albums and cassettes, and in the minds of many of fan. The dark complexities of the album seemed unattainable, out of reach to many a listener. But with these shows, you were finally in the room with this album, sharing with the musicians the experience of witnessing the dream become real.
Put together by longtime Big Star fan and friend Chris Stamey, the band is a who's who of folks that were touched by Big Star's influence. Mitch Easter, Stamey's dBs cohort Will Rigby, REM bassist Mike Mills, and several of Chapel Hill's top singers and musicians. At the center of it all is Big Star drummer Jody Stephens, who now carries the band's torch with a quiet grace, after the recent passing of band vocalist and leader Alex Chilton.
After a Thursday night show that shared the thrill of opening night with a few rough edges, the band hit on all cylinders the following night. The packed crowd is ready for every song, from Matt McMichaels' vocals storming through "Kizza Me," to Django Haskins' spot-on vocals on "Holocaust." Throughout it all, the band and string section (led by Lost In The Trees leader Ari Picker, making his debut as conductor) stay faithful to the album's original sound, down to Megafaun's re-creation of Chilton's gleeful deconstruction on "Downs."
While Chilton might never have allowed himself to revisit this record, hearing these songs live brought a little more understanding about Chilton's muse, and the people that were a part of that record. When Stephens stepped to the mic to sing "For You," a song he also wrote for Third, you could feel the crowd rooting for Stephens in a way that this album deserved all along, and finally found it.