A band performing one of their older albums start-to-finish in concert is not an uncommon occurrence these days. I saw three such shows in 2011: Echo & the Bunnymen played their first two, Crocodiles and Heaven Up Here; X played their debut Los Angeles; and The Damned played their first and fourth, Damned Damned Damned and The Black Album. I even saw The Wedding Present themselves rip through their 1989 second LP Bizarro at NYC's South Street Seaport in August 2010. Still, I can't recall a band playing one of their older albums at a show, a day after also releasing a brand new album. But whatever prompted The Weddoes to dust off 1991's third LP Seamonsters, at #13 their highest-charting UK album, and play it in conjunction with the release of 2012's hot-off-the-presses eighth LP Valentina, it was a brilliant marketing strategy: The Bell House was filled to capacity with a buzzing, enthusiastic crowd. (To wit, I don't remember the similarly-sized Bowery Ballroom selling out in 2008, when the band played there in support of the excellent El Rey.)
Pepe le Moko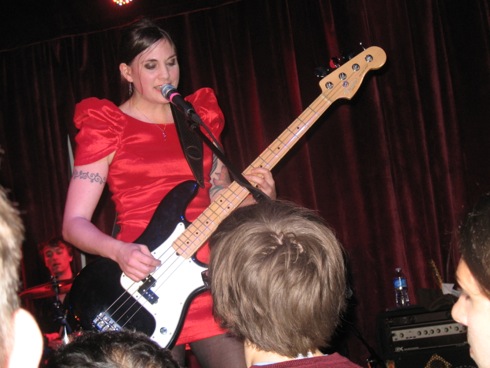 Of course, no special gimmicks or ploys are needed to warrant seeing The Wedding Present. The reasons never to miss one of their shows are plentiful: (1) leader David Gedge – including his 1997-2004 period in Cinerama – has never released a bad album in 25 years, and he's making some of his best music now, (2) they have a huge catalogue of amazing songs to choose from, and (3) they're still a flat-out fantastic live band, even if Gedge remains the only member left from the Seamonsters era. There were two changes in the lineup from the 2010 Seaport show. First, longtime bassist Terry de Castro left the band after 12 years, including her time in Cinerama. She was replaced by Switzerland-born Pepe le Moko (named after the 1937 French gangster film, I presume?), who looked classy and chic in a striking red dress. Second, Patrick Alexander replaced guitarist Graeme Ramsay, who left after playing on Valentina. However, le Moko and Alexander fit in seamlessly with Gedge and drummer Charlie Layton, and the group's razor-sharp attack suffered no detectable drop-off in quality.
David Gedge

Seamonsters was a change of direction for the band when it came out, with slower tempos than the two previous albums (and 1988's singles/sessions compilation, Tommy), so this show was not quite as blistering as the 2010 Seaport gig, which showcased the speedier Bizarro. But the more understated album still sounded 10x more hard-hitting in this lineup's hands, especially on the two hottest numbers, "Dare" and "Corduroy". Of the ten non-Seamonsters songs, roughly half came from the new album, and they closed with one of their earliest singles from 1986, "You Should Always Keep in Touch with Your Friends". (They also did a Cinerama tune, "Quick Before it Melts"). Gedge displayed his usual dry wit, good-naturedly chiding trendy Brooklynites for never dancing at shows, and responding to a woman's request to take off his clothes, "I think you're at the wrong show, darling." (However, he dispensed with all between-song banter during Seamonsters, saying it would "ruin the mood.") Hey, if they want to play 1987's George Best, 1994's Watusi, or 1996's Saturnalia the next time they're in town, you can bet I'll be there, too.
Charlie Layton

This was my first time seeing Washington, DC trio The Jet Age, but their opening set impressed. I was only familiar with their second album, 2008's "What Did You Do During the War, Daddy?", but they focused on their brand new fourth LP, Domestic Disturbances. Eric Tischler is an engaging frontman, tossing out catchy, rapid-fire guitar riffs with ease, and he was capably backed by rumbling bassist Greg Bennett and powerhouse drummer Pete Nuwayser (whose style and facial expressions reminded me of Descendents' Bill Stevenson). They delivered an enjoyable dose of blasting rock!
blog comments powered by

Disqus