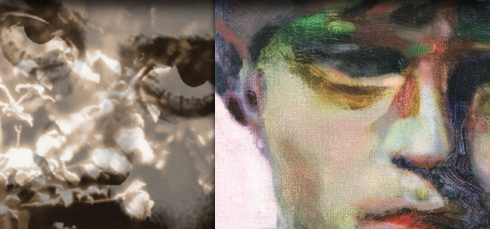 3 May 2011
A night spent with just one of these bands would be plenty solace for the lonely. A night spent with both is almost too much for the strongly beating heart. Someone had to make the tough decision of which of these bands gets to be the headliner, but since I thought of this close, heavy night at the Triple Rock as more of a perfectly balanced double bill, let me rock convention and progress chronologically.
And it's only appropriate I start here with Twin Shadow. One audience member, taking the temperature of the crowd, shouted out early in the set, "Why aren't you headlining?" For sure, Twin Shadow played the best set I've seen all year, the closest I'll ever come to seeing Prince & The Revolution live (which is not to say very close at all, but then I wasn't even searching for an approximation). Somehow I'd never thought of Twin Shadow in that context, probably because these songs are so soft and insular on stunning debut LP Forget. Nothing prepared me for the opening transformation of "Shooting Holes" from breezy disco to pulsing machine funk—as if Wendy and Lisa had been awoken in the deep computer blue of the room—but still retaining that stillness at its center, courtesy the croon of George Lewis, Jr., the most tender and purely romantic in modern music, maybe since Johnny Mathis.
I'd spent a lot of time with Forget before the show, and been wooed into hearing its brand of synth-pop as the sound of a solitary man standing at the center of his own artificial creation. So I'd thought of Twin Shadow as a bedroom pop solo artist, with occasional peaks of intensity that threaten to burst through the walls. But, alas, Twin Shadow is no solo artist, at least not in its touring formation, and as a full-formed band, they leave the idea of the bedroom behind and enact a grand rock 'n' roll. All those machine-hewn beats and bass lines are played by human beings after all (scarily adept ones, too), so now you know why they've made you cry. The previous night I'd seen the Pixies do amazing justice to their classic Doolittle, but here was a great album exploded into real life, given new dimension (literally).
"Shooting Holes" was the most markedly transformed song, but the whole set was pitched bolder, louder, at the level of the noise that erupts in "When We're Dancing," after the parting becomes too much sweet sorrow. Sample heartbreak:
I am trying to remember all the things that I've known
They all shine soft and stand alone
Like I picture you waiting at the end of a bridge
But it's hard for me to render all the things that we did
How do you handle a realization like that with anything but a metronomic squall? Elsewhere, the silky guitar solo that ends "Forget," very Fripp/Eno on record, smacked a bit more of "Purple Rain," probably in the context of Lewis' stage cool, and there was more such soloing in the brief pockets of repose between the bright, bursting action of "At My Heels." "Slow" took its title as a command and the opening verse became an occasion for an unaccompanied vocal audition. Ah, the gently cresting words.
And on and on. So why weren't they headlining? The best reason is that they only have one album, and made it through 10 of its 11 songs in their opening set. But if there are ten more songs as good as those waiting for some future show, they'll have to hold it on the moon.
The other reason for Twin Shadow's subordinate status is the spirited force called The Pains Of Being Pure At Heart, the other most romantic band of the past few years, less dramatic but more prolific in their relating of lovers gained and lost. "Our songs are layered, emphasis on the lay," as Kip Berman put it, not long into their set of songs about "terrible" friends, "friction," and wondering what the body's for. And yet there's something permanently virginal about their music, rooted in glances and stares. Genuinely lascivious music requires more loose threads. The Pains always keep it tight and clothed.
They've been subtly redefining their sound since their debut in 2009, though not in a way that threatens what they do best (early Slumberland Records to Postcard Records? An important aesthetic choice, but no major leap). They've done something similar with the new Belong, which in the first ten seconds of the opening title track announces a shift toward the bold, teasing you with a few seconds of twinkling guitar and then slamming the pedals and going full-on crunch, promising grunge revivalism before balancing these opposing forces. I suppose we can thank producer Alan Moulder for the new punchy sound, and when The Pains started their set with "Belong," I wondered if he also runs some kind of training camp for the arena-aspiring, as this was a band, a bit shy perhaps, but totally on target.
The nuances of record production don't quite register in concert, so all their songs, from each of their "eras," sort of blur together live into a heavy, strummy smear, a light jangle hidden somewhere deep inside. The Pains have a rich sense of the history of guitar-based pop music, and even their best songs can come off as applications of lessons learned: approximate the sound of handclaps as often as possible ("Heart In Your Heartbreak"); let a few hits of the snare drum comment on the lyrics (that lovely "everyone's just e-ve-ry-one – pah-pah!" on "My Terrible Friend"); give the bass player time to shine ("Heartbreak," again, "Young Adult Friction"); etc.
Confession: For the first six months or so of loving this band, I imagined singer Kip Berman to be a woman, based only on the sound of his voice, and even still, post-enlightenment, I think of him as a breathy, shaky descendent of the great sirens of twee- and Brit-pop, Echobelly's Sonya Aurora Madan or The Sundays' Harriet Wheeler or Heavenly's Amelia Fletcher, perhaps. He's an odd one, as classically handsome, in almost as obscure a way, as Bradford Cox, and just as full of nervous energy. His only extended remarks to the audience were an eloquent, tongue-in-cheek little piece about football drafting (or was it baseball? I don't recall the difference), his words so seemingly scripted that you might briefly doubt his sports-love.
I would guess he and his band have only recently shaken off their Painful shyness, as there's still a residue of stage fright in them. Berman's support comes from Peggy Wang-East on keyboard and vaporous harmonies, Alex Naidus on bass, Kurt Feldman on drums and Christoph Hochheim on lead guitar, all with eyes averted toward the workmanlike implementation of radness on their instruments. You might remember these last two as the men behind the late, great Depreciation Guild (a band so dearly missed, so soon, that their last Minneapolis show, October 2010 at the Entry, has already entered the annals of Important Concerts I Was Not Present At).
Berman promised to hang around after the show for anyone who wanted to talk about indie rock or football, but then Naidus quietly reminded that they'd all planned to check out Goth-Industrial night at The Saloon. Why didn't I follow?