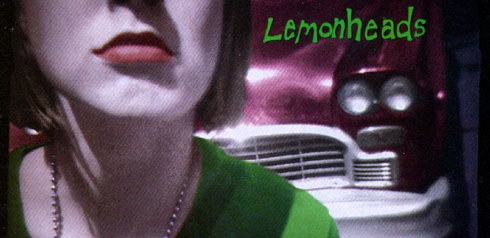 10 February 2012
"They say that acoustic demos are the last vestiges of the scoundrel," Joseph Kyle wrote in his review of The Lemonheads' new Hotel Sessions. One could say the same thing about touring a classic album when the new ones aren't paying, another thing that Evan Dando is up to in early 2012, but he's no scoundrel, I declare. To wit: Everything about his killer performance of It's A Shame About Ray in Albuquerque last Saturday suggested his aim remains true.
For those who missed the 1990s, Evan Dando was the perfected human form of the Cool Guitar Boy archetype, popularized by the band Heavenly in 1991 ("I love him lots and I wish that he'd see me"—but he never does) before becoming one of the great myths with which inhabitants of the ensuing decade had to contend. There's an air of timelessness about such boys, and it's been a question ever since what happens to them as they grow older: Do they not age, or do they necessarily disappear from view as they begin to? Dando in 2012, in his dark blue western shirt, with white piping that accentuates the continued perfect straightness of his guitar strap-bearing shoulders and the wiry thickness of his strumming arm, doesn't appear to have aged all that much. And as he plays, he squints upward, blinded by the lights, casually letting himself be loved. He still doesn't see you, or if he does, only obliquely. That's one question answered.
Another: Why is this guy playing his 30-minute masterpiece in its entirety 20 years after its release? It was easy enough to answer such a question when the Pixies played Doolittle in 2011, but It's A Shame About Ray was perfectly sized to its times, never trying to break beyond them with any kind of sonic ambitions that might have dated it. One explanation for this current tour is that Dando is a country singer at his core, destined to relive his early successes and continually open his past, leave his heart out to bake, etc. He has the means to be a prolific songwriter but not the attitude. Over the course of his performance he sprinted through dozens of songs with an efficiency that suggested Robert Pollard at home with a tape recorder, but the style of his generosity is altogether different. I believe he gave us the complete Dando, playing every song he reasonably might have. Before getting to the full album, and again directly after, he played a solo set of country songs, originals and covers, the best of which were his renditions of his hero Gram Parsons' "How Much I've Lied" and "A Song For You." The latter begs the question, after a dance floor invitation like that, why would you ever need another? Ray was Dando's greatest stab at writing the one song to last forever.
And that's the other explanation, that It's A Shame About Ray deserves the special attention. It's the kind of album our species is programmed to make in abundance but that rarely ends up very good, as energetic and melodic, short yet transcendent in its repeatability as Ray. Dando's latest repetition of that energy, live and with new touring band in tow, was easily one of my favorite trips through the album. When he restarted The Lemonheads in 2006, he had excellent support from the Descendents' Karl Alvarez and Bill Stevenson, and while it's superficially a bit less exciting to see him playing now with Fred Mascherino (ex-Taking Back Sunday) and Chuck Treece (peerless session man), these guys delivered, coming across as the sort of Ray superfans who've studied hard and never miss a note. "Rockin Stroll" set the tone, fuller and heavier than it was ever designed to be on record, mostly courtesy the powerhouse drumming of Treece, who seemed to take special delight in hitting all the most crucial beats (rendered nearly iconic): the punctuation through "smile at me"; the syncopated bit from 0:23 to 0:29.
Mascherino was equally impassioned on bass, but his greatest contribution was as a replacement for the night's most conspicuous absentee, Juliana Hatfield, whose harmonies are a large part of Ray's success, as permanently etched into my brain as everything that surrounds them. It must be at least a little bit painful for Dando to perform these songs without her; I've never known if she's supposed to be the secondary character, the friend/potential love interest, in "Confetti" or "My Drug Buddy" or "Bit Part," but either way she's an integral part of the album's romantic world. Thus, here's a partial catalog of Mascherino's vocal coverage:
a. "Confetti": the muffled "kinda shoulda sorta" – not Hatfield originally, but a good way for Mascherino to ease into the role of Dando's mirror/confessor
b. "It's A Shame About Ray": the chiming "shame, shame" – impeccable!
c. "Rudderless": the sad response "tired of getting high" – lovely, and necessary
d. "My Drug Buddy": along with Dando, "I'm too much with myself, I wanna be someone else" – crucial, because these two are alone even when they're together
e. "The Turnpike Down" – the falling series of "ooh's," such a great way to imply the embrace of gravity
And by this point audience speculation was at a fever pitch (I imagine): How would the introduction to "Bit Part"—"I JUST WANT A BIT PART IN YOUR LIFE!"—be delivered without Hatfield the album's anonymous cover star to scream it? Dando took the job, but simply spoke the line in a cursory fashion, inflecting like a question on the repetition as if to say: This moment belongs to someone else. Later in his vocal, he forgot to change key at the crucial moment, probably a side effect of the necessary downscaling of the song. I sort of stopped thinking about the harmonies and Juliana after that.
Also impossible to achieve live:
1. The continuation of the word "Ray" after the first chorus of "It's A Shame About Ray" into the following verse: Dando and Mascherino tried to tag team it but it didn't quite work. But kudos, because they didn't even have to try; the attempt was purely academic, as the effect lasts much longer on record than the casual listener probably realizes, like Peter Buck's solo on The Replacements' "I Will Dare."
2. The organ solo on "My Drug Buddy": replaced with a guitar solo, a pretty great one.
So I can say the execution was mostly flawless.
Opener Meredith Sheldon leads a great rock 'n' roll band but most affecting, mesmerizing even, was her solo lead-in to the full-band set, strummed electric guitar and large voice delivering upturned phrases a la Hope Sandoval (in particular her contribution to The Chemical Brothers' "Asleep From Day," where the intonation somehow denotes not questions but things that are known absolutely). The overall effect was that of a rock star creating herself in a moment of silence. Well, maybe not that great, but I swear I watched for her to strain against the illusion of truth and beauty she had called into existence and she never wavered.
Also not quite as great as the rock 'n' roll fantasies they conjured in my mind but still pretty damn good were local openers Lousy Robot. Ever since The Replacements, a band like this has existed in every city in America, and they're invariably the stars of the scene at their moment in time. Lousy Robot are a thoroughly engaging version of that. Jim Phillips sings sharp melodies with a sort of raspy indistinctness that only makes them better, and sometimes channels Frank Black when he screams, doing so at well-placed intervals.
comments powered by