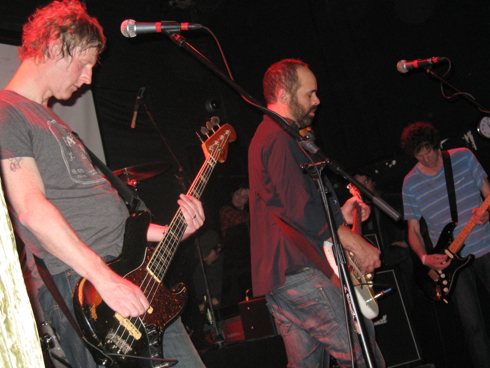 This is the third time I've seen this incredible quartet from Oxford since their unexpected reunion in 2008, to go along with two shows from their early days, both at San Francisco's Slim's: in 1993 supporting second LP Mezcal Head, and in 1998 supporting their fourth and final album 99th Dream. (From 2000-08, I also saw frontman Adam Franklin another ten times, solo and with his other incarnations Toshack Highway, Bolts of Melody, or Magnetic Morning.) It is still hard to believe they're back, in what seems more and more like an ongoing concern. In fact, with their recent appearance on Late Night with Jimmy Fallon, along with some new recordings – including the song "Deep Wound," which they played tonight – and a possible fifth album in the works, there's a more confident feeling that there will (hopefully) be more Swervedriver shows where these came from.
After playing last year at Irving Plaza, they were back again in the half-as-big Bowery Ballroom, where I saw them in 2008. Like that Irving show, the set focused on their first two albums, Raise and Mezcal Head, this time accounting for ten of the 18 songs they played. As well, the band did two b-sides from that period ("Scrawl & Scream" and the floating "Cars Converge on Paris"). We also got a couple each from Ejector Seat Reservation and 99th Dream, plus a chugging cover of Guided By Voices' "Motor Away." (Franklin's always had good taste in covers; I still recall a solo show he did at Asbury Park, NJ's The Saint, which included Elvis Costello's "What's So Funny About Peace, Love and Understanding," The Pretenders' "Talk of the Town," Mott the Hoople's "Roll Away the Stone," and The Ramones' "Oh Oh, I Love Her So," as well as The Velvet Underground's "Jesus," itself a Swervie b-side.)
In addition to singer/guitarist Franklin, the band included guitarist Jimmy Hartridge and bass player Steve George, who played on the band's final three LPs. Like last year, drummer Mikey Jones, who backs Franklin in Bolts of Melody, replaced regular stickman Graham Bonnar, who was not available due to work visa issues. (Bonnar was the band's drummer for their first album only. He was then replaced by Jez Hindmarsh, who played on albums 2-4, as well as the initial shows of the 2008 reunion, before Bonnar took over again in 2011.)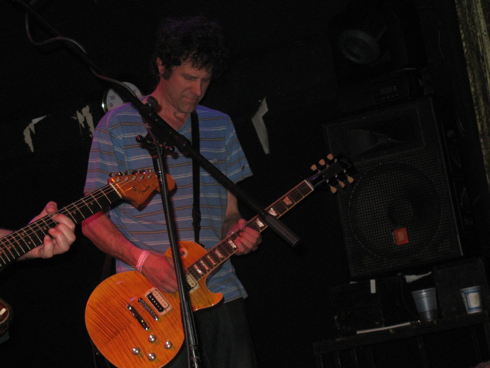 Unlike the last two shows, where I stood back a bit from the stage, this time I put my eardrums to the test and positioned myself right up front, just to George's right. Right from the opening "Last Train to Satansville," with its driving, lonely desert rhythms and cutting guitar riffs, I could feel his churning, grinding basslines like they were punching me in the gut. His playing was also noticeable on harder-rocking blasters like "Sunset" and "Son of Mustang Ford." Along with "Sandblasted" and "Rave Down," they made up a string of four straight Raise songs that closed the main set.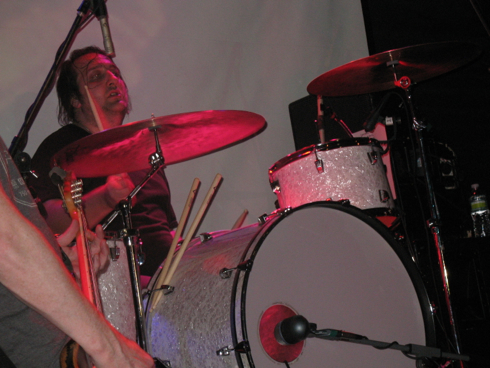 Best of all, Franklin's and Hartridge's elaborate and textured guitar playing, especially on Ejector tunes "The Birds" and "Son of Jaguar 'E'," the hypnotic Raise epic "Deep Seat," and the blistering show finale of Mezcal Head classic "Duel," was an equal combination of beauty and intensity. Once again, Swervedriver delivered another fantastic, lights out performance that left me feeling awestruck.
blog comments powered by

Disqus