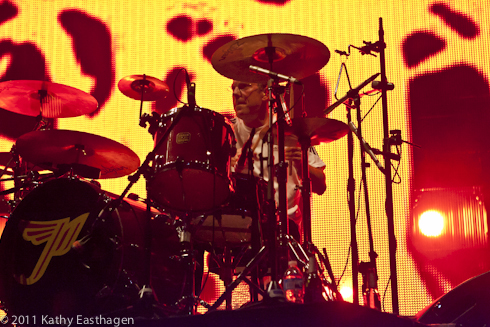 1 May 2011
Some people prefer concerts, and some people prefer albums. I don't know if the recent trend of bands playing their classic albums in full is an attempt to appease two different personality types, but as a fan who leans quite noticeably toward album-love, I can say that the Pixies' recreation of Doolittle at the Roy last weekend really did split the difference. Here was one of those gigantic, grinning, primeval, perfect-for-childhood-initiation rock shows that mostly seem to happen at the Roy, but also an honest attempt to recreate an album, sans rearrangements (nowhere more apparent than the band's decision to play the softer "UK Surf" version of "Wave of Mutilation" during the encore! No such revision of a central album track during the actual set!). The only departure from Doolittle's design was the extended coda of "No. 13 Baby," when the band went deeeeep into the groove. But the Pixies aren't really ones for improvisation, for newly minted guitar solos on age-old songs, so this was more a dilation of a moment, a lengthening and loudening, than an attempt to redefine the song.
The night went like this:
1.) A schizophrenically rearranged screening of "Debaser"-cited silent film Un Chien Andalou, with mood music, leading up to the band's epochal emergence.
2.) Four whip-quick b-sides from the Doolittle era.
3.) Doolittle in full, with attention-stealing video component.
4.) First encore, composed of more outtakes and b-sides, the second of these, "Into the White," accompanied by such a billowing mass of stage smoke—totally engulfing drummer David Lovering and then threatening the rest of the band and the audience—that the band had to clear the stage and let it dissipate before the…
5.) Second encore, composed of non-Doolittle favorites, including Surfer Rosa essentials "Broken Face," "Where Is My Mind?" and "Gigantic," and other artifacts from their punkish beginnings. It's always interesting to me when a band that's so massively appealing to such a wide audience plays their earliest songs, bordering on hardcore punk, without losing a single soul. I think everyone's looking for an excuse to listen to the world's fastest, loudest music.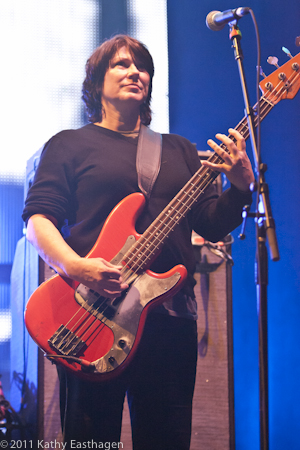 Anyway… through all of this, Kim Deal kept things on track: "We're going to start with some b-sides"; "We're halfway through the first side"; etc. And through all of this, I thought, isn't she great? There's no way she's ever pulled in crowds like this with the reformed Breeders, and far from the unattainable coolness I imagined in her as a kid, she seemed genuinely giddy and touched by the never-diminishing, always-expanding returns.
If the band was a bit underlit and impossibly far away (from my balcony seat I had a great view of the sea of heads in the pit below), there was some relief in the images behind them, a state of the art presentation of video ideas that could easily have been conceived in 1989, possibly by Keith Haring (see: the bright red heart shapes during "La La Love You," expanding and shrinking and sometimes sprouting legs or flames; the white chains against a black background, assembling link by link and then disintegrating during "Hey," which also found Frank Black's bark and whine beautifully intact). Best and most inviting of all was "Here Comes Your Man," during which were shown close-ups of each band member—neatly lined up with their tiny, real-life counterparts on the stage below—listening to their own song in some recent room and reacting: an inscrutable but amused Joey Santiago, a head-bobbing Black, a mostly inactive Lovering with an occasional hey-this-is-pretty-good smirk on his face, an airbass-playing Deal. Conclusion: They all seem really, really nice.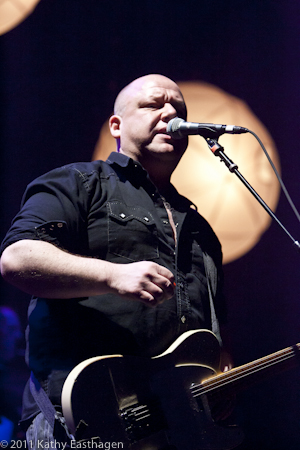 No two of these "videos" were alike (though quite a few had a sexual element—long, smooth mannequin legs and beyond—possibly inspired by the more lustful moments of Un Chien Andalou), and together they suggested the way in which the songs on a great album, even if tonally consistent, can each activate their own world in the listener's mind. Doolittle is such an album: there's no letup in its energetic onrush (save the aching beauty of "Silver," where even the wide empty spaces, echoed in the video backdrop's snatches of black-and-white desert, don't lack for immediacy), but for each of its songs I occupy a different chamber in my mind.
And these chambers are calming, loud. I could never quite figure out why that Pixies documentary is called loudQUIETloud, as this was a band that somehow found a way to always be LOUD without ever being oppressive (or maybe that's the idea behind the title's typography?). At the Roy they got off to a weirdly over-amplified, smothering start, especially on the b-sides that began the set, but tempered it a bit by the middle of Doolittle's side one. As natural as it is for us to hear this album beginning to end, it can't be easy for the band to play it that way, so I'd mark up the fluctuating roar to the band's need to generate momentum and/or conserve energy. Kim Deal commented on her band's loudness during "Gigantic," a wise choice for the night's final song: "After twenty years, we finally figured out how to take it down a notch." They did so, upon Deal's command, and over the song's conversational bass line they all wished each other a good night. Then they toured the stage for minutes upon minutes of waving to the audience, and took a group bow, and as they left I wondered if some element of this band's perfect friendliness and cooperation is expressed in the fact that they're all pretty much the same height.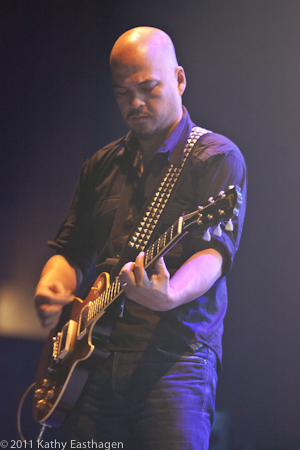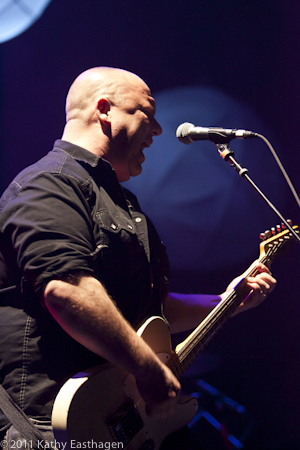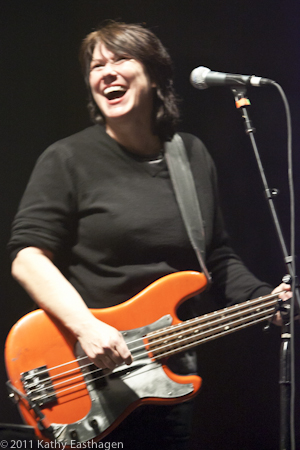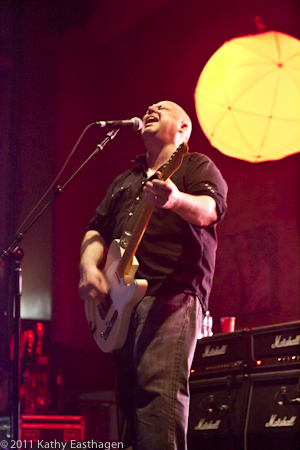 comments powered by