17 November 2009
A potent punch of alt.country blew into town this past week, with NEKO CASE still touring on her excellent Middle Cyclone (certainly a top 20 record of 2009) and bringing old friends JOEY BURNS and JOHN CONVERTINO of CALEXICO along. They've played together before, with Neko sitting in on a couple of songs that they played for a Peel session in 2001. The show would start off a bit late and a bit stormy, with Neko coming out about 30 minutes later than the expected start time and her mood matching her fiery red hair, explaining that she's really pissed off and has been arguing with the promoter. That gave 'People Got A Lot of Nerve' a bit more bile than the studio reading, and I'm sure Neko was mentally conjuring killer whales to share her indignation and take action against the grievances.
This was the first time for me seeing Neko play her own material (I'd seen her as part of the NEW PORNOGRAPHERS gig in 2007) and it was a true pleasure to hear her truly angelic voice. The old saw about singing the phone book rings so true with her; power, grace, purity of tone – she's got it all. On a song like "Middle Cyclone" she's reserved and withdrawn, ruefully detailing the holes in her life, while co-singer and general all-around emcee/audience relations tender KELLY HOGAN (who I'd not seen for at least two decades when she sang with the underrated JODY GRIND) added some levity via small music box tinkling.
She can also write some intriguing lyrics; "Fever" has a great turn of phrase with "I caught his words in my open mouth/I gagged and choked and spit them out," and the music gradually builds to a lulling waltz, not quite in step with the somewhat bitter and ambiguous lyrics. I like an artist that doesn't spell it out for you, and there are many variations and shades of meaning to Neko's songs.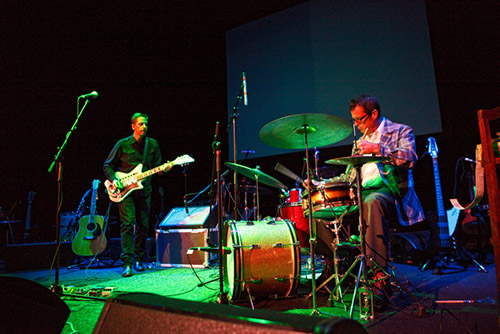 As Calexico routinely plays with some of the openers when they headline, both Joey and John returned to the stage at different points, John to add in some brushed drums to Neko's self-proclaimed break-up with Seattle ("Red Tide") and Joey to lend some guitar on "This Tornado Loves You," accompanied with some nice projected visuals (animation mainly) on the backdrop screen. She played what's probably my favorite song of hers, ("Hold On, Hold On" co-written with THE SADIES) and since most of her songs are rather short (most in the sub-three minute range, which is a tad unfortunate since she doesn't recycle some truly gorgeous choruses) even if one particular song isn't doing it for you, like ROBERT POLLARD another one's coming around the bend any second.
One final note…if current fans of hers are not clued into the beautiful back catalog of BARBARA MANNING, please take a look. I'd slap on an RIYL tag without hesitation, and this thought was sprung from my brain when the very Manning-esque "The Pharaohs" was played.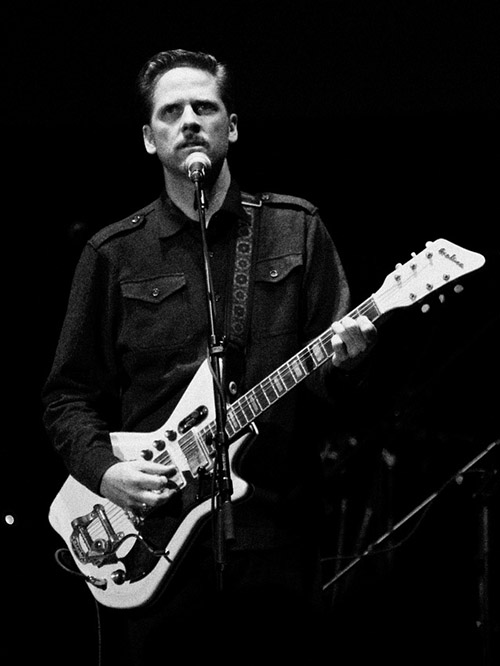 Calexico has been one of my favorite bands ever since Joey and John jettisoned from GIANT SAND to do their own full-time thing, and tonight would mark the seventh or eight time I've seen them in the last nine years (which reminds me, nine years is too long to go with hearing "The Glowing Heart Of The World" only once). However, tonight would be markedly different in the format. Much like the Long Stem Rant tour when Giant Sand was stripped down to the bare bones of Howe and John, tonight would just be Joey and John. Typically they have more modes of operation than a Swiss army knife, so I was interested to see what they could do without the brass, the steel guitar, the vibes, the accordion, and all the other facets and nuances of their regular sound.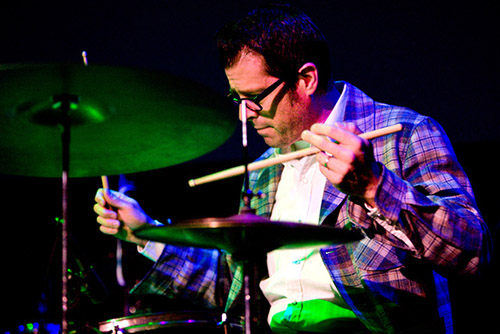 The good news is that first and foremost, Calexico can write a strong song, so the backbone was there. An aggressive take on "Bend In The Road" started the show off, with John off to Joey's left on the bare stage. Joey switched between acoustic guitar and his trusty white Airline while John mainly used brushes but did break out the sticks from time to time. "Two Silver Trees" and "Across The Wire" were rendered in a truthful fashion to the studio versions (the latter case, more along the lines of the acoustic version that was included on the Comes With A Smile compilation cd, sans violin and accordion), and the light and breezy "Bisbee Blue" showcased the tender ballad side of Joey (who was sporting a mustache; opinions were divided on his hirsute fashion choice). JON RAUHOUSE of Neko's band joined in for "In The Reins," a from the split with IRON & WINE. The energy level juiced up a bit when the Strummer-esque "Fractured Air" closed out the set; there was just enough of a busker strum and dub rhythm to recall the ghost of old Joe. This was a nice way to experience the band in a different mode, and they pulled it off beautifully. The only minor complaint is that I've still not heard them play "Service and Repair" and the sparse tale of urban desolation would have been perfectly matched with the stripped down approach afforded by the duo format. Maybe next time.
note – I was only approved to take photos of Calexico, which is why there are no shots of Neko.
comments powered by