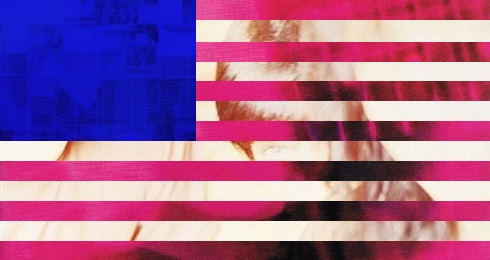 7 November 2013
MBV Invades America (Again)
Having spent most of my life hoping to someday reach that attitude of total submission to Loveless that its fans say it requires, I found myself in a long-awaited situation last week: tired, surrounded by people, lights flashing in my eyes, unreal guitar sounds draining past my carefully half-removed earplugs. Helpless, overcome. Yes, My Bloody Valentine were playing, and I felt lucky, even if what I was experiencing was a minor personal victory compared to the major validation happening all around me. So there might be about five (no, exactly five) early 90s British shoegaze bands I'd give more to see live (two of whom, Ride and Swervedriver, have made ventures into reunion-land, and three of whom, Catherine Wheel, Slowdive and Pale Saints, conceivably could), but the idea of seeing MBV piqued a unique curiosity no other band could satisfy. How do humans make those kinds of sounds? Can the songs remain interesting as live rather than studio creations?
Yes to the second question, but not because the first was answered. It wasn't. The show offered no visible evidence of creation, which was taking place instead in amps and cables, mysteriously controlled by inactive performers. Gentle strumming produces this music; soft words emanate from somewhere near Bilinda Butcher (enchanting) and into her microphone. I saw no use of pedals, but shoegazing remains an apt term, as the attitude hasn't changed. Only the rhythm section, bassist Debbie Googe and especially Colm Ó Cíosóig, a champion drummer and a more constantly active and athletic one than I'd imagined, breaks the illusion of purely psychic manifestation.
But action, however limited, can be heartbreaking, and mere strumming resulted in one of the best moments of the night, right at the beginning. For opening song "Sometimes," Kevin Shields (oh yeah, he was there too, over on the right), Ó Cíosóig and Googe, receding diagonally across the stage, played identical and overlapping chords on guitar, and against the of course awesome amplified result you could hear the sound of their fingers against the strings! Sure, the recorded version sounds that way; that they made it happen live, and announced themselves with it, was the astonishing thing. The translation of other elements from Loveless was sometimes a bit more imprecise, understandably, while the four songs played from mbv (the dizzying, bleary, queasy ones, with solos, and the cleaner, bouncy "New You"—lovely) were almost perfect replicas of the album versions. I guess these new songs really are new, if the band knows how to recreate them so effectively.
Is fidelity to the recordings even the goal? Maybe not, but it's one way, or maybe the only way, to judge the sound objectively, as reactions to the mix will always be highly subjective. Rock shows at the Roy, often deemed too large a space with bad acoustics, tend to be controversial anyway. I remember No Age (MBV's nearest descendents?) being accused of "muddiness" when they opened for Pavement a few years ago, and not being able to hear it, or at least not seeing why it was a problem. Reviews of MBV's sound might vary, but it's obvious they have it down to a science, even if the tech guys don't. I found myself pulling out my earplugs (not too far) to hear the crucial higher frequencies cutting through the lower noise, and not regretting the damage it caused.
Etc.:
The visuals were excellent, too, perfectly matched to the velocity of the music, and maybe not just via the power of suggestion.
The initiation, as it's apparently called, came at the end, five minutes of a nearly two-hour set. It didn't strike me as the loudest thing I'd ever heard, but at a certain point loudness gets a little bit quiet, in a great way.
I'd forgotten before I got to the show that opener Variety Lights is the current project of former Mercury Rev co-leader David Baker, so I didn't take them as seriously as I probably should have. It's certainly interesting to consider that Mercury Rev opened for MBV back in the early 90s, and I can see now how Variety Lights' aggressive, hypnotic dance-ish music has origins in that era. And this was certainly the same Baker whose "habit of nonchalantly wandering off-stage in the middle of a song to get a drink has been noted by more than one live concert reviewer" (per Allmusic). Odd guy. He wandered a few times. I'm trying to tell myself now that I was more intrigued than made uncomfortable by his uncensored vocalizations and movements—a different, less beautiful portrait of twenty years later, next to MBV.
My Bloody Valentine:
Sometimes
I Only Said
When You Sleep
New You
You Never Should
Honey Power
Cigarette In Your Bed
Only Tomorrow
Come In Alone
Only Shallow
Nothing Much To Lose
Who Sees You
To Here Knows When
Wonder 2
Soon
Feed Me With Your Kiss
You Made Me Realise