We missed Cheap Girls' headlining set at The Fire several months ago, so though this show was in a much bigger venue (opening for labelmates The Bouncing Souls during their record release party) and though I have no interest in the headliners (at least in this day and age, though I used to see them regularly in the New Brunswick area in the early to mid '90s), I made sure not to miss it! Though I'm glad I was finally able to catch this great East Lansing, MI band play live, this set was definitely a mixed bag.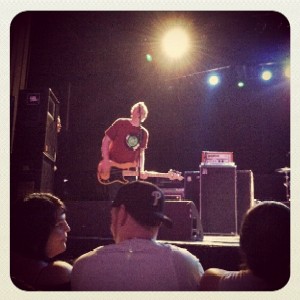 Though bassist/singer writes songs with gigantic, killer hooks and though he's an expressive vocalist (at times evoking Craig Finn of The Hold Steady as well as Bob Mould) on record, on a bigger stage he was shy and awkward and almost mumbled into the mic at times. It didn't help that the Troc's incompetent sound made his vocals barely audible during the first few songs (though they did jack them up to audible levels later). Still, I couldn't help feel that though the songs here (many from their 2012 masterpiece Giant Orange, including the amazing "Communication Blues" and other killers like "Gone All Summer," "Ruby," "If You Can't Swim" and "Pacer", but some from older albums as well) were great, Graham was overshadowed by his monster drummer (brother Ben Graham) and shit-hot guitarist Adam Aymor (who looks like a mid '80s metalhead but plays like a glammier, heavier Doug Gillard; one song even had a riff that brought David Bowie's "Rebel Rebel" to mind). If Graham can just be as expressive on stage is he is on record and with proper sound, this band could be as dangerous and exciting live as they are on record.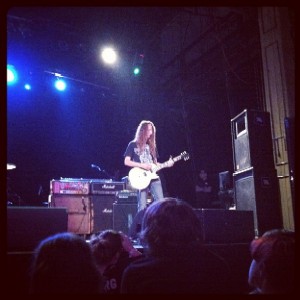 All of the above photos were taken by Greg Polard and are used with permission.
blog comments powered by

Disqus