8 August 2010
After staying out until 2 AM or so and not getting enough sleep the night before and after a morning and afternoon spent gallavanting around Fort Greene's awesome farmers market, stoop sales (including one where I found an early pressing of THE 13TH FLOOR ELEVATORS' Easter Everywhere Lp) and the Brooklyn Flea, it was tempting to just take a nap in our hotel, missing all of the afternoon's action as doors opened at 4 PM. However, we got our second wind and got to the club in time to catch the last song by the Boston-based dream-pop band THE CURTAIN SOCIETY.
I only knew their name from them backing MARK BURGESS at a show in their native Boston last year, but I thought the one song I heard was really good. It was, quite simply, vintage early '90s shoegaze/dream-pop that any lover of the genre would enjoy. It really made wish that I'd caught more of their set!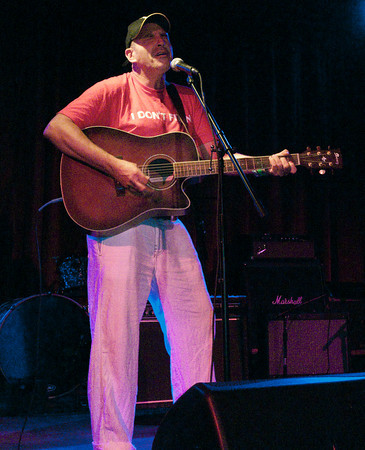 They were followed by the self-proclaimed "King of Power Pop" PAUL COLLINS. He played a mix of tunes by his old bands THE NERVES, THE BREAKAWAYS and THE BEAT (not the UK ska band) like "Hanging on the Telephone" (unexpected since it was written not by Collins but by his Nerves bandmate JACK LEE and then recorded by BLONDIE on their Parallel Lines album), "Walking Out on Love" (memorably covered by THE EXPLODING HEARTS) and "Rock and Roll Girl" along with newer solo material. Playing solo and talking lots between each song, Collins came across like a power pop father figure, talking openly of his love of the newfound freedom that veteran and young musicians now have to connect with their fans via the internet and of his experiences and battles with the record industry back in the early '80s.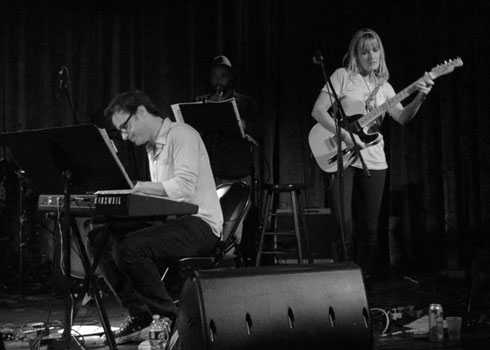 Admittedly, I missed most of THE SHARP THINGS' set while I was out getting some fresh air or conversing with other festival-goers. Of the three songs I did see, though, it was a mixed bag. It was interesting to see so many people (it's almost a full orchestra!) up on the small Bell House stage and I hope that guitarist JIM SANTO doesn't hate me for saying this, but I don't know if they were entirely my thing or not as it reminded me a bit too much of THE POLYPHONIC SPREE and artists of that nature. To be honest, I'd like to see a full set before I reserve judgment, as I was entirely unfamiliar with their recordings beforehand. One of the songs, though, (it was the penultimate song in their set) was absolutely fantastic and reminded me heavily of PREFAB SPROUT or perhaps even DEACON BLUE or THE WATERBOYS. It definitely had that mid '80s not quite indie but not quite mainstream classic pop vibe.
Next up was STEVE DREWETT of THE NEWTOWN NEUROTICS. Amazingly, this was not only his first U.S. and first New York show ever, but the first time he'd ever set foot in the U.S. as well and The Neurotics formed in 1979! Regardless, I'm very happy that we all finally got to see him as I really enjoyed his set. The first half consisted of newer material that I admittedly didn't recognize and just featured Drewett by himself on electric guitar. The real highlights of his set, though, came when JACK RABID (drums) and DAVE BUROKAS (bass) backed him up for a set of Neurotics tunes. Gems from the first album like "No Respect," "Agony" and "Does Anyone Know Where the March Is?" were played along with the very prescient "When the Oil Runs Out". The set would've been even hotter had it not been interrupted by the breaking of Jack's drum stool. Our friend MARK SUPPANZ suggested that BP was behind this just so they wouldn't play "When the Oil Runs Out" and that he wouldn't put it past them. Needless to say, I concur. I would've loved to see him play a longer set that featured other Neurotics classics like "Wake Up" and "Living with Unemployment", the latter especially relevant today, but in this case beggars CAN'T be choosers.
JON AUER was up next and performed a short, six-song solo set that interspersed covers (he opened, appropriately enough, with his version of THE CHAMELEONS' "Tears"), one song from his 2006 solo album Songs from the Year of Our Demise and even a new POSIES track from their forthcoming album. Nodding to his time in the reconstituted BIG STAR and acknowledging the recent passing of both ALEX CHILTON and ANDY HUMMEL, he also performed "Lady Sweet", his major contribution to the underrated 2005 Big Star album In Space. The tune is, of course, extremely evocative of CHRIS BELL, thereby acknowledging that like THE RAMONES, only one original member of Big Star survives today (and interestingly, it's the drummer in both cases).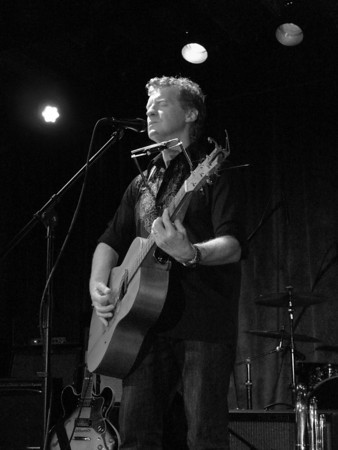 DON MCGLASHAN then proceeded to blow just about everyone away with his also short solo set. From what I heard, he sold almost 30 CDs right after the set and it was understandable why. Like DAMIEN JURADO's performance at Johnny Brenda's a few months ago, all he needs is a guitar and his voice and he can just blow you away with his talent and the beauty of his songs. Admittedly, I didn't recognize any of them as they all seemed to come from a newer solo album that I don't have yet. After his solo set, though, Jack Rabid and Jon Auer came back up on stage to back him up for a set of MUTTON BIRDS tunes. While I enjoyed this half of the set (and in particular, the awesome "While You Sleep"), I'd say that unlike Steve Drewett, I enjoyed the solo songs more!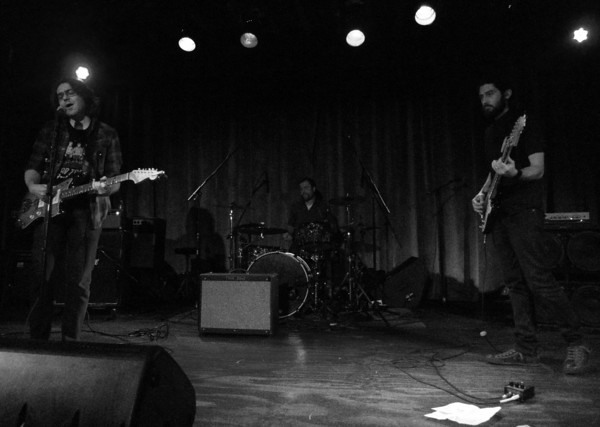 The Fresno, CA based shoegazer-revival band THE SLEEPOVER DISASTER followed next and more than held their own with all of the veteran acts on the bill. It should be noted, however, that while they're the youngest band on the bill, they've been a band since 1997 and have released 3 full length albums as well as a number of EPs (including 2005's incredible The Oceanographer). Playing on the East Coast for the first time ever, they played an excellent set that featured material from throughout their career.
After them came SPRINGHOUSE, the only band that played both nights of the festival. This night, however, was special because they played their 1993 album Postcards from the Arctic in its entirety. They REALLY brought it on this night as the set was livelier, more energetic, more engaging and just plain old more fun than their otherwise fine performance the previous night. Perhaps this is partly because original bassist LARRY HEINEMANN augmented the 3-piece lineup as Dave Burokas (who played bass the night before) moved to lead guitar. The highlights, for me at least, were the raging and explosive "Enslave Me" (which singer/guitarist MITCH FRIEDLAND) rightly suggested should've been the single from the album) and "Alley Park".
Springhouse's set was the perfect warmup for what we were about to witness next. Lincoln, NE's FOR AGAINST hadn't played New York in 15 years and reports from their Atlanta show in 2009 were nothing short of fawning. Thus, I thought that we'd be in for something special and boy was I right. Concentrating on material from the albums on which guitarist HARRY DINGMAN III (back in the band since 2008's excellent Shade Side Sunny Side) appears, they opened with the title track of 1988's _December and didn't let up for their entire (too short) set. Other highlights included "Stranded in Greenland" and "Why Are You So Angry?".
As great as For Against were, though, no one was expecting what came next. When we saw Mark Burgess play Chameleons songs last year, he was backed by a makeshift band comprised of members of The Curtain Society as well as New York-based musicians. This time around, from last year's lineup only bassist FRANK DESERTO from REVEL HOTEL remained as other musicians were recruited from Los Angeles. Specifically, ANDRU AESTHETIK and JUSTIN LOMERY, who backed him on the West Coast last year, and drummer GLENN MARYANSKY of BLACKLIST on drums were now added. I don't know much about them, but I can tell you that they were absolutely incredible! Better even than last year's stunning Blockley Pourhouse show or the 2002 Chameleons reunion show that I saw at Maxwell's, this was on a completely different level. Once again playing an all-Chameleons set, Burgess stuck mostly to material from Script of the Bridge and What Does Anything Mean, Basically as well as both sides of the "In Shreds" single and crucially, the two best songs from 1986's Strange Times (opener "Swamp Thing" and "Soul in Isolation"). For the encore, we got "Don't Fall" and a jaw-dropping, insanely intense version of ALTERNATIVE TV's "Splitting in Two" that featured Deserto just totally going off, playing his bass with drumsticks and rolling around on the floor like a madman! Throughout the set, Burgess interjected bits of other songs into his own repertoire to form medleys. These included THE BEATLES' "Get Back", JOY DIVISON's "Transmission" and perhaps most surprisingly, GERRY AND THE PACEMAKERS' "I Like It" (covered memorably by THE REZILLOS). Instead of being cheesy in any way, this made the originals that much more powerful. What a show!
After all was said and done, it was once again time to go back to the hotel and get what little sleep I could. Still, for as tired as the past few days had made me, it was worth it to witness this once-in-a-lifetime event, to meet Big Takeover list members and contributors who I only knew by name beforehand and to reconnect with old friends. Long may this magazine live on for another 30 years and beyond!
All of the above photos were taken by ELIZABETH KLISIEWICZ and are used with permission. You can see more of her photos here.