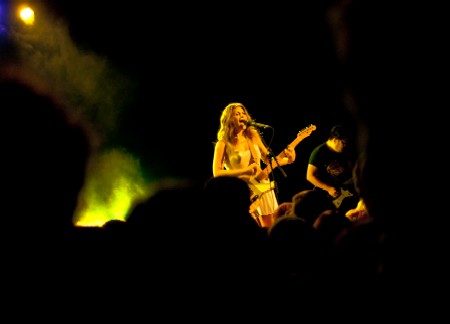 28 July 2012
Although Best Coast are one of my favorite bands of the last few years and one of my favorite current bands period, this was my first time seeing them. I'd somehow missed all of their previous area appearances from their early shows supporting 2010's Crazy for You at the First Unitarian Church and the Barbary to more recent stints opening for The Decemberists last year as well as playing with Wavves and No Joy at the Starlight Ballroom (right down the street from this night's show) earlier in 2011 as well. Thus, at this point Best Coast are seasoned road veterans and boy did that come through in this performance! To be fair, though I love their records, I'd heard some not-so-great things about their live performances in the past. I can't vouch for any of those since I wasn't there, but on this night they were absolutely stunning.
Opening with 3 upbeat songs in a row from their much-loved debut, at first it seemed that Best Coast were backing away from playing material from their equally fabulous, new 2nd Lp The Only Place, perhaps not wanting to bum out the sold-out crowd with its ballad and angst-heavy tunes. This assumption was, thankfully, proven wrong when they launched right into "Last Year", one of those aforementioned ballads from the new Lp. The rest of their set alternated between material from the 1st Lp like "Our Deal" and 2nd Lp gems like the ethereal "Dreaming My Life Away", even adding non-Lp track "Something in the Way" (from an early 7") into the set as well. The set culminated with what I think is their greatest song to date, the stunning "Up All Night", the closing track on The Only Place.
Of course, there was more and the single encore turned out to be a mini-set, 5 songs deep with the clear highlight being their absolutely gorgeous cover of Fleetwood Mac's "Storms". Though I think their version is good on record (it's a B-side of the promo-only 7" featuring the title track of The Only Place), live is where it really shined. To be blunt, I got goosebumps listening to and watching Bethany Cosentino belt this song through Union Transfer's exquisite sound system. I thought for sure that they couldn't follow that, but they did with "When I'm with You" (another song from an early 7" and a bonus track on digital version of Crazy for You) and ended the night with "Boyfriend", perhaps their most well-known song. What a show!
As if Best Coast's headline performance wasn't enough, on this night we were treated to sets by two wonderful openers. The first of these was Those Darlins, a fantastic countrified garage band from Tennessee. Since I listened to their most recent album (2011's Screws Get Loose) after this show on others' recommendations, I went in cold not hearing a note of their music. Perhaps had I heard it beforehand, I would've been way more into the set or perhaps it was just an off night for them, but the few songs I watched seemed fussy and much less direct and to-the-point than they are on record. There was even sax (not present at all on their recordings) and keyboards in the mix and that seemed to distract from their wonderful melodies. Even having never heard them before, I could hear the good songs struggling to get through the muck. Perhaps it's just that they're better seen in a small, sweaty club and not the larger, more refined confines of Union Transfer as I imagine they'd be a lot of fun in that kind of environment.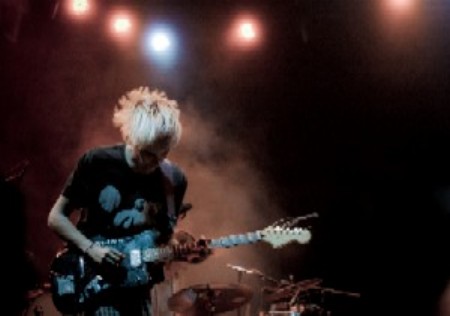 Opening the show was DIIV, who (when they were still known as Dive) blew me away a few months before opening for Frankie Rose at the North Star Bar with a short sharp shock of a 15-minute set that sounded like the world's fastest, most impatient dream-pop outfit. They had more time on this go-round and even a calmer, more patient and more seasoned-sounding DIIV still played a wonderful set of their The Cure circa 17 Seconds meets The Chameleons circa Script of the Bridge style dreaminess.
The above photos were taken by Chris Zak are used with permission.
comments powered by